When Michail Antonio joined West Ham United on transfer deadline day in the summer of 2015, nobody would have predicted how his career in Claret and Blue would play out.
Antonio had worked his way up from non-league through the Football League to the Premier League, before belatedly making his top-flight debut for the Irons at the age of 25.
Even then, the south Londoner had to prove himself again and again as he was played in a variety of positions under a succession of managers.
Every time, Antonio rose to the challenge and, since being converted into a full-time centre-forward under David Moyes, has become the Hammers' all-time leading Premier League goalscorer and a full Jamaica international. At the age of 33, he remains one of the most feared strikers in the best league in the world.
When I step on the field, I know what I bring and I know what I can do.
When he looks back on his eight-plus seasons at the Club, the No9 is naturally filled with a sense of pride and achievement.
"I obviously didn't set out to be a striker, I obviously didn't set out to be here for nine years, so it's just one of the things that I kind of came here to try to set my ground in the Premier League and try and show what I can do, show I could do what I did in the Championship and in League One and just to show my class it's been a crazy rollercoaster ride for me over the last nine years being here!" he smiled.
"It's been weird because every single year I've had to prove myself again. Different managers come in, or the manager who had been here the year before was looking to bring someone in because I'm not the prettiest footballer, and I know who I am, so I understand that.
"Every time someone comes in, they want to bring in someone who is a better tactician or someone else who looks better but, at the end of the day, when I step on the field, I know what I bring and I know what I can do and, at the end of the day, every manager who sees the positives that I can bring to the team and every manager starts using me."
Antonio's unique skillset makes him a truly invaluable commodity in the modern game and, as has been proven over the last few years, irreplaceable in the West Ham United team.
Blessed with immense natural strength, pace and a desire and will to win honed on the pitches of Wandsworth Common as a schoolboy, Antonio is truly one of a kind – and he knows it.
"I feel that if I'm not scoring goals, I'm assisting goals, and if I'm not assisting goals, I'm helping create space for other players," he observed. "It is the all-round package. I might not get 20 goals a season, but I might get ten goals and seven assists. I might not be scoring goals, but I'm bringing other players into into the game, so it is the package that I bring and it's what people are struggling to find right now.
"He [David Moyes] picks me because obviously I do the job at the end of the day and he always believes that and as a manager he needs players like me who are going to go out there and do the job.
"They fans see that every time I'm out on the field, I give 100%. I'll give my all. Sometimes I might not have the best games but one thing they can guarantee me is that I'm giving 100%."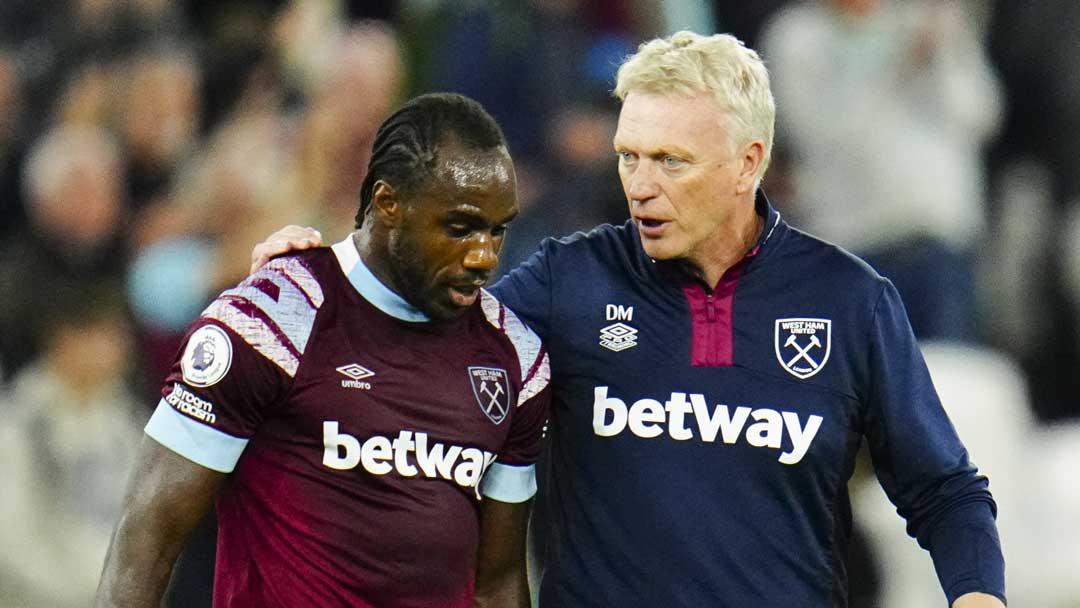 Antonio will turn 34 in March. His time at the peak of his powers will come to an end one day in the not too distant future, but he is not willing to give up his place leading the West Ham forward line just yet.
With 77 goals for the Club to his name, he could reach 100 before he hangs up his boots, while he needs just five more assists to break Mark Noble's Premier League record of 35 – and that is the next target on his list!
"I feel like there is definitely a good legacy that I'll leave," he concluded. "Obviously, I've got a lot of accolades for the Club. I was one of the last people to score at the Boleyn Ground [against Manchester United in May 2016] and was also the first person to score at the London Stadium in the Premier League [against AFC Bournemouth in 2016]. I was the first player to score four goals in the Premier League [against Norwich City in July 2020]. I've got a list!
"The only one I'm going for right now is to beat Mark Noble for the most assists. That's the next one. I think there are only a few to go, so that's one to go for and then I'll be happy, to be fair!"