Angelo Ogbonna has witnessed a change in the mentality of West Ham United of late.
Now in his seventh season in east London – having played every minute of every Premier League game this season so far – the experienced centre-back feels the ambition his team are showing is reflected in the manner in which they are attacking games and attaining results.
Speaking to West Ham TV shortly after scoring the winning goal against Everton at Goodison Park on Sunday, the 33-year-old reflected on the Irons' evolution into a team that challenges in the upper echelons of the Premier League and continues to compete well in domestic and European cup competitions…
 
Angelo, a goal, a clean sheet and a 1-0 win – for a centre-back, is that a perfect day at the office?
"Yeah, it's a perfect day!
"We didn't play very well last time. I take all the responsibility because as a senior player, I was the one who made the foul at the end. We wanted to bounce back from that, and this is the good way – this is our way to play. 
"Sometimes we won't play that well, but if you stick together until the end, you can achieve something that is positive."
 
What was that victory founded upon?
"For a long time we dominated the ball, we had our chances, but it's football – everything comes from the back. 
"If the back is solid, whatever happens… football is unpredictable – we can even miss three chances, and if they have one chance, they can score – but if we stay concentrated until the end, until our chance, we can take away something really good."
 
How big a threat have we been from set pieces recently?
"I think we are one of the teams who are really going to be a big threat from set pieces with me, with Kurt [Zouma], with Tomas [Souček], with whoever is going to play. 
"I hope my goal can open other goals in the season, because we're still waiting for Tomas' goals, Kurt's goals… the way he jumps is unbelievable, so I think this is the good way."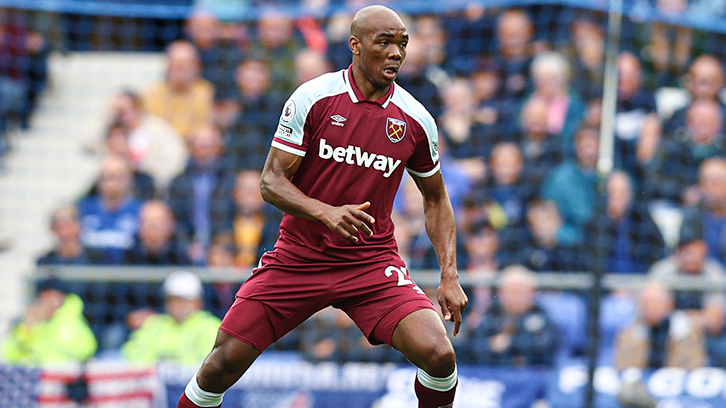 We've now won four of our last seven games at Goodison Park…
"It's not just here – it's really hard to play here – but now I think there are a lot of changes. Even when we lost against Manchester United at home, I think our performance improved a lot, and the way we see things, in an ambitious way, I think is something that gives us pride. 
"It's really good. We wanted to do something different and it's even harder because we have many games, and sometimes the energy is less, but it's a new mentality and we try to deal with this."
 
Speaking of that mentality, Kurt Zouma – a UEFA Champions League winner – must be helping with that…
"Kurt's brought a lot of experience. He knows the game and we know that we can improve more and more every time, because it's not easy.
"If you want to do something important, I think he's someone who can give us something positive and bring us a little bit of European experience and Premier League experience."
 
And next up in the Premier League, we face Tottenham Hotspur at London Stadium!
"Yeah, before Tottenham, we've got Genk at home, and now we want to bounce back at home, so maybe if we carry on on Thursday, we can think about Tottenham.
"We know against Tottenham it's always interesting, and something we want to deal with and even win, of course."