Alphonse Areola has revealed the love of the Claret and Blue Army convinced him to join West Ham United on a permanent basis.
The France international goalkeeper put pen to paper on a five-year contract with a further one-year option at Rush Green on Monday, committing his future to a Club he helped reach the UEFA Europa League semi-finals and the latter stages of Emirates FA Cup and Carabao Cup last season.
The 29-year-old's heroics between the sticks, warm personality, big smile and entertaining and revealing social media posts have all endeared him to West Ham supporters, who will now have the opportunity to cheer him on until the summer of 2027.
With European qualification secured again for the upcoming campaign through a seventh-place Premier League finish, Areola is excited by the prospect of performing for the fans, his teammates, manager David Moyes and goalkeeper coach Xavi Valero alike, and helping the Irons continue the upward trajectory the Club has been on since Moyes' arrival two-and-a-half years ago.
The popular No13 sat down with West Ham TV to talk about his mutual affection for the supporters, his respect for Valero and his ambitions for Club and country ahead of a busy 2022/23 season and with the 2022 FIFA World Cup finals fast approaching…
Alphonse, you're now officially a West Ham United player, so how does it feel?
"I feel good, I feel great, I'm happy to sign and happy to stay here permanently and I can't wait to start to train and to do the job."
Many clubs were interested in signing you, so why did you decide to return to West Ham?
"The main thing is that I felt the love of the supporters last season. Something for me that is really important is to feel that I'm loved. I know that I have to do my job and to do everything to make them happy. Obviously, the team, my teammates, the staff and Xavi Valero as well. The vibe of last season was great, so I just wanted to do everything to stay here."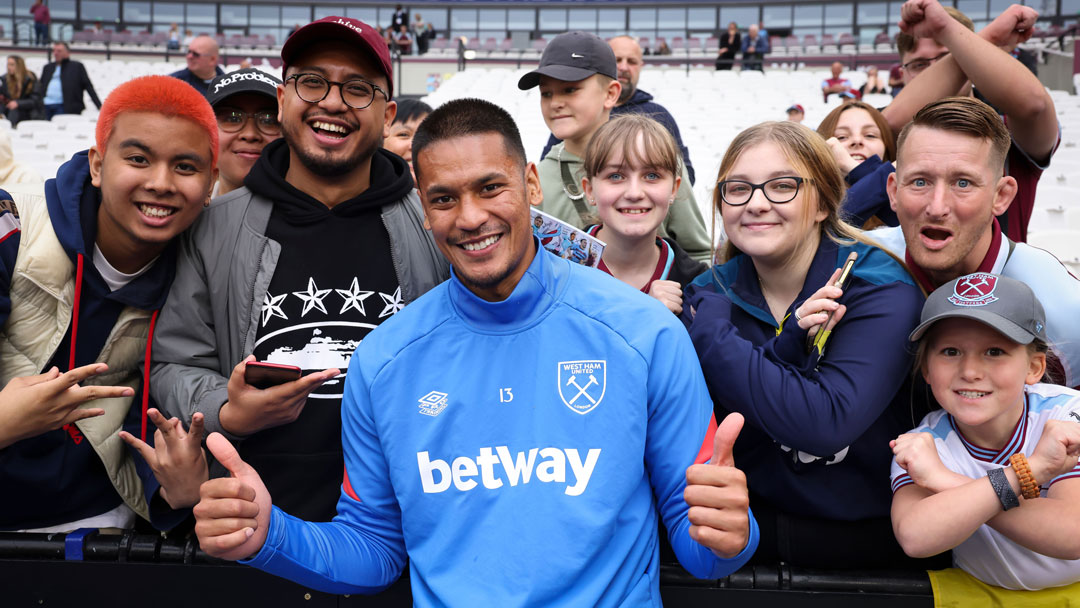 You had some good experiences in a West Ham shirt last season, didn't you, winning at Manchester United on your debut and beating Manchester City on penalties in the Carabao Cup and starring in our run to the UEFA Europa League semi-finals?
"That's why I am here, just to give my best and give it all to help the team and obviously to show that I am here to compete and to give my best. I think I was lucky to play against big teams, because it's what I'm aiming for, to play big teams. Obviously in the Premier League they are always tough games, really intense games, and I was lucky to play in cups against the big teams and to show myself."
Was the highlight our Europa League round of 16 second-leg win over Sevilla, which is considered to be the best night we've had at London Stadium?
"I felt the same vibe. It was a great atmosphere, the fans were singing all through the game, every minute, and they were pushing us. We didn't concede a goal and we scored two so it was a perfect night for us."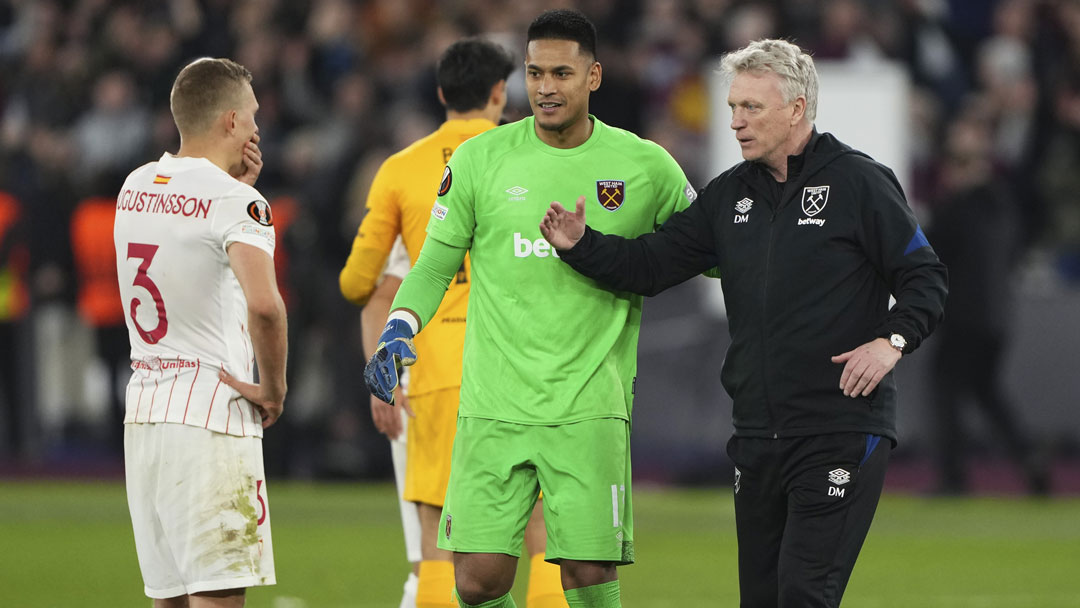 You seem very comfortable here at the Club?
"I feel comfortable, I feel like when I'm signing in a club, I want to feel that it's like my second family. Obviously, we're here every day and we are sharing lots of times together, so I have to feel comfortable with everyone and feel them comfortable with me as well, so I just feel comfortable here.
You also seem very happy in London?
"I wasn't supposed to come to London this early in my life! I was planning to come here after my career, but I had the opportunity to come here to just enjoy our lives here and to have a feeling about the Premier League as well. I played in Ligue 1 and La Liga and I feel that this is another atmosphere."
We now have six French speakers in the squad, including our recent signing Nayef Aguerd, which must also make it easier to be comfortable when you can speak your native language and share a common culture?
"Of course, it's good to have this French community in the Club, but we are here and we're staying together but we're just sharing lots of times with all our teammates and enjoying every moment with everyone and we're just here to try to bring that good vibe, I'd say, just having fun and enjoying our time here."
You're also in a family of goalkeepers here, too, with Łukasz Fabiański and Darren Randolph?
"We really enjoy our training sessions. From day one, I really felt that they were happy to work with me, and I was happy to work with them and it's not done. Now it's for many years now. With Xavi, we're working very well with him and we're just trying to give our best on the on the pitch during the training sessions and just help the team."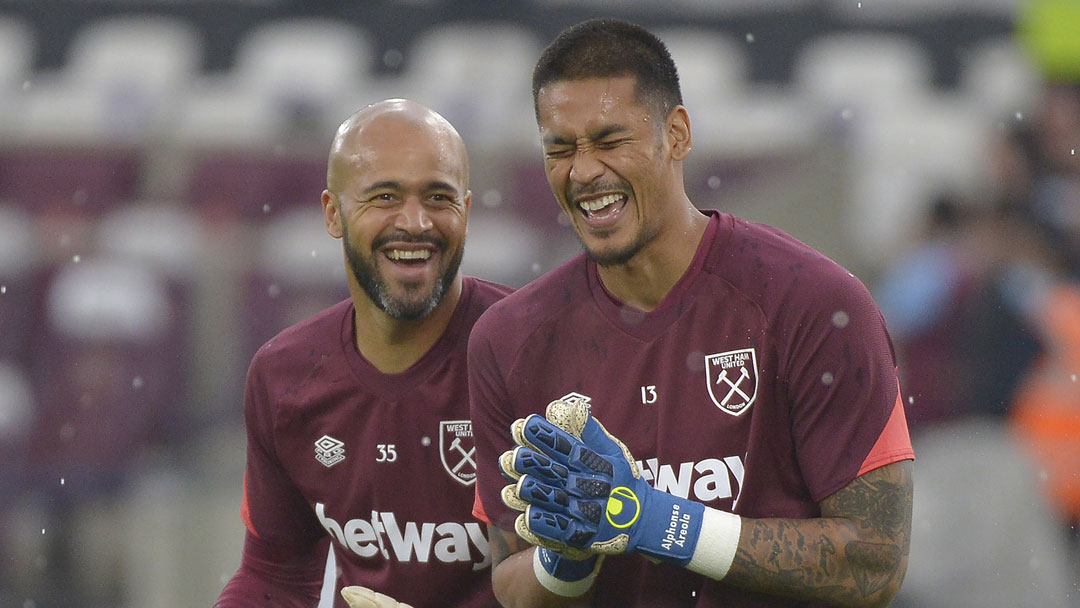 What is it about Xavi Valero that makes him one of the best goalkeeper coaches in the world and improve the goalkeepers he works with so much?
"When you're a goalkeeper, you need that calmness and he's just calm when you meet him, when you see him in Rush Green, just a person that's calm and is just doing his job. He's not showing off, he is just really humble – that's the word, Xavi is humble and working very hard, so I'm really good with him."
Long term, your ambition is surely to be the No1 here at West Ham United?
"When you sign for a club, you want to play, obviously. The Gaffer will do the job and he will choose and our job is just to train hard every day as much as can and just give our best to give the Gaffer a good choice. I am here just to compete, to help the team and, as I said to my family, the most important thing for me is that the team works well and after that, individual feats will follow. If we're all like this and aim for something big for the team, individually you'll be happy as well and you'll have what you want."
You're describing the way we've worked under David Moyes, and our aim now is to keep following that way or working and keep improving?
"It's two seasons now that will compete in European games and this shows that the Club is growing and we have to keep pushing and keep doing our job to keep the Club as high as we can."
It's a big season ahead, with West Ham United involved in four competitions again?
"It's going to be exciting and when it's busy it's always good as it means that you have lots of games and big competitions, so it's better that we'll be busy this season."
We will have 62,500 fans in our stadium for the first Premier League game – a new record attendance – and you can sense the size of the Club here and around the world?
"It's a big occasion and hopefully a big season for them. We're here for that, to make them happy, and that's it, so let's do the job and make them happy."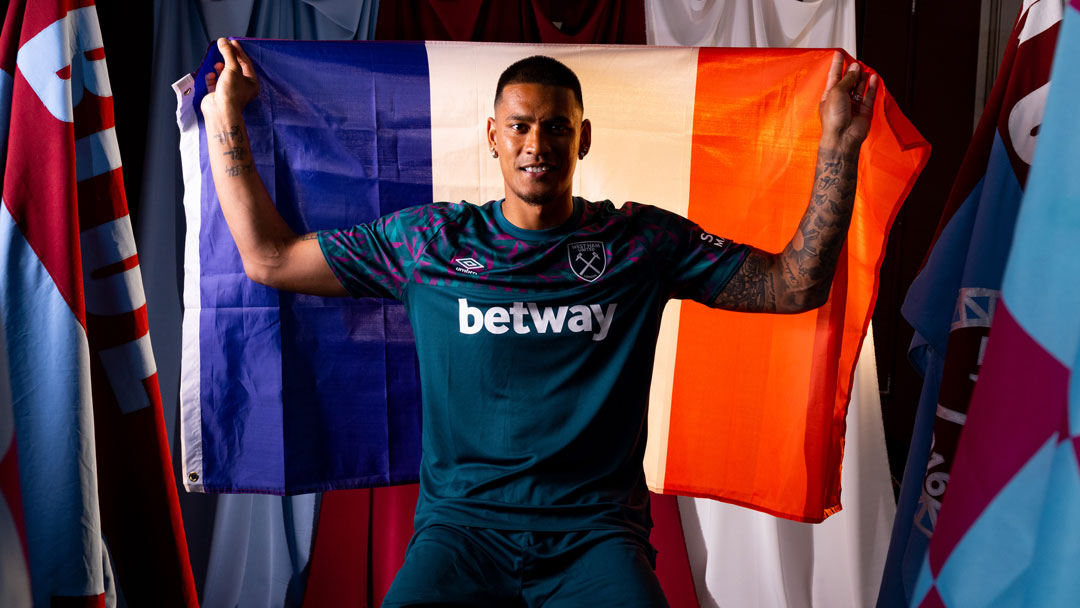 And, of course, it is also a big season with France, with the 2022 FIFA World Cup finals in the winter – and you go to Qatar as the reigning world champions!
"I think we have to keep this kind of objectives in mind as well. When you're a football player, you want to play in the big competitions or be part of the squad. It's something that lots of players want to reach, so let's work and we'll see if I will be there."
Finally, you said the West Ham supporters played their part in convincing you to stay, so what's your message to them?
"I just wanted to say 'thank you' for all the support for because I saw during these last three weeks, when I was talking with my manager and with my family and obviously I was watching the news on my social medias as well, and I saw all the messages from them hoping that I will stay here. So now I'm here 'thank you very much for your support and for the messages and let's get to it."