Aaron Cresswell says West Ham United's prowess from set plays has turned them into Premier League defenders' 'worst nightmare'!
The Hammers have scored a record 32 goals from set-piece situations since David Moyes returned to east London in late December 2019, 12 of which were assisted by Cresswell's inch-perfect corners and free-kicks.
With Moyes and assistant coaches Kevin Nolan and Paul Nevin drawing up undefendable routines, Jarrod Bowen and Pablo Fornals also able to deliver quality balls into the penalty area and a bevvy of hungry six-footers eager to get on the end of them, the England international believes the Irons are striking fear into opposition defenders.
West Ham travel to Wolverhampton Wanderers in the Premier League on Saturday, followed by away games at Rapid Vienna and Manchester City, and the popular No3 is hoping the Hammers' set-piece prowess helps to extend our unbeaten away run to 12 matches in all competitions…
Aarron, after a few days off, you are back at Rush Green and working hard ahead of Saturday's trip to Molineux…
"We had a few days off over the last week and the lads fully deserved it because of the amount of games we'd played. It's kind of new to us as a Club, the challenge of playing so many games in such a short space of time, but it's one we're relishing and we're playing well and that always helps. We just need to keep the momentum going and not rest on our laurels, so to speak."
Has your own personal background playing 46-game seasons in the Football League with Tranmere Rovers and Ipswich Town helped you cope with the additional fixtures this season?
"In the Football League, you're only travelling around England, but we're travelling overseas and the time it takes to get there and back is a lot longer. But, look, we're enjoying it as a Club and to get through to the Europa League knockout stages – we want to get the points we need to top the group – is a great achievement. As I said, we just want to keep the momentum up and not stop."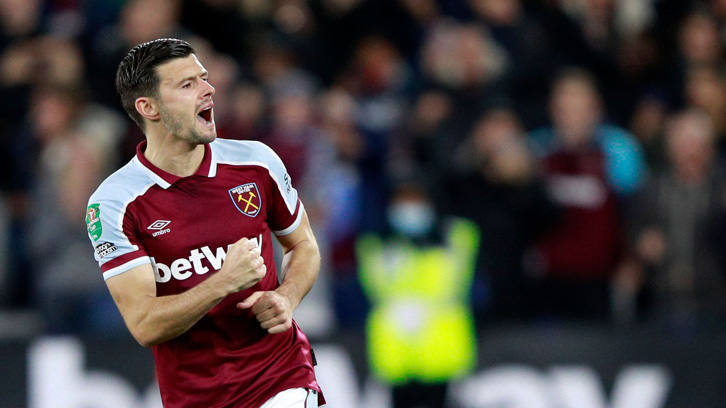 A lot of nice things have been said and written about your form this season, including some calling for you to make a return to the England squad…
"I could arguably say I'm at the top of my form, as I was four or five years ago when I played for England and it was an unbelievable experience, but now my main focus is West Ham. With the amount of games we've got, I can't think about anything else. It's nice when you pick up a 'paper and read some bits and bobs and nice stuff being written, but I don't really concentrate on it."
Why is it you are playing so well?
"As a team, everything has gone so well and I feel happy, confidence and content down here. My two kids were born here and I've been here a long time now, so to be playing European football in a fantastic stadium in my eighth season at West Ham, it's going well!"
The atmosphere at London Stadium has been sensational this season, hasn't it?
"It has, and the challenge for us now is to keep entertaining them and winning games. Anyone who spent a week with us at the training ground would see our togetherness and spirit. I'm a big believer in team spirit and the lads we've got here might have a laugh and a joke having breakfast, but the minute we walk over that white line it's serious and the Gaffer won't allow anyone's standards to slip. On the fans, the atmosphere around the ground is fantastic. In the last five minutes of the Liverpool game, when we needed that little bit of backing to give us energy, the crowd certainly lifted us."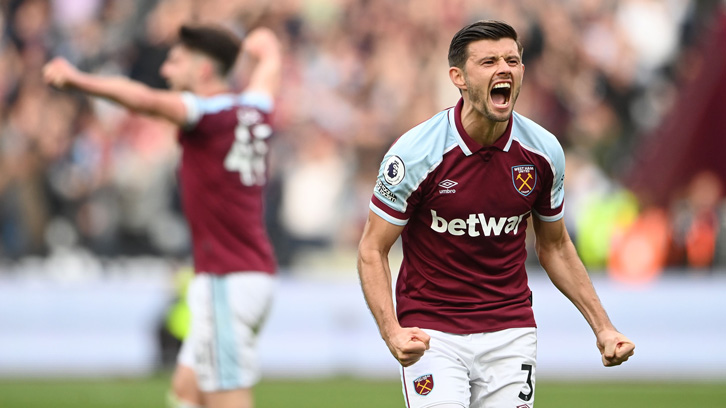 We go on the road for three games next week, but our record suggests we are really confident playing away from home?
"The stats say that. We are eleven games unbeaten away from home going back to last season and obviously everywhere we've gone we've had a gameplan. If you look at some of our recent away games, the ones which stand are Everton away in the Premier League, Man United in the Carabao Cup and Dinamo Zagreb in the Europa League. In previous years, we might have gone 1-0 down and then the game was all but over, but we're a different team since the Gaffer came in. We have a 'never say die' attitude and got some fantastic results."
You mention how our away form used to be patchy, but do you now look forward to getting on the bus for away matches?
"It doesn't matter who we're playing, whether they're teams at the top of the league, we're going there with the intention of turning them over. I mentioned the Everton game and we dominated that, then the Gaffer made a lot of changes for the Man United cup tie and the lads performed incredibly. That's what we're about – a squad, rather than just eleven players – and everyone knows we'll need every single player this season and everyone is ready."
Just lastly, we've scored more set-piece goals than any other Premier League club since David Moyes returned nearly two years ago. Why?
"We work on it on a Friday and always spend time on it. The Gaffer, Kevin and Nev take a lot of pride in it and we've scored the most set-piece goals of anyone over the last two years. The work is there and we've had some fantastic results off the back of them. It always helps when you have got Daws, Angelo, Kurt, Issa, Tomas, Mick… as you've got so many people to aim for and as a defender it's your worst nightmare and not what you wanting to be marking against!"