Aaron Cresswell said Declan Rice's introduction was the difference between victory and defeat in Saturday's Emirates FA Cup fourth round win at Kidderminster Harriers.
The Hammers were pushed all the way by their National League North opponents, falling behind to Alex Penny's first-half goal and needing goals in the final minute of both normal and extra-time from Rice and Jarrod Bowen to sneak through and set up a last-16 tie at Southampton.
Cresswell joined the large chorus of voices praising Kidderminster for their performance at Aggborough Stadium, where the sixth-tier hosts produced an inspired display in challenging conditions in front of a large, noisy and colourful crowd.
The left-back, who was introduced as a second-half substitute and assisted Bowen's last-gasp winner ten seconds from the end, also paid tribute to Rice, who ran from inside his own half and exchanged passes with Pablo Fornals before netting a dramatic equaliser.
But while those goals and victory were welcome, the No3 knows standards will need to be higher when the Irons return to Premier League action against Roy Hodgson's Hornets in midweek…
That was hard work, wasn't it?
"It was. Even though I didn't start the game, I was watching on from the sidelines and there are no excuses. I thought Kidderminster were brilliant at times in the way they played. Obviously, they made it very difficult for us and it kind of suited them with the pitch being really difficult, but we were expecting this before the game and thankfully in the last minute we managed to get back in the game and take it to extra time."
It was obviously frustrating that it took so long to break them down, but we also have to respect Kidderminster. They may be in the sixth tier, but they are full-time professionals and are good players in their own right, and you know how good players can be in the lower divisions yourself…
"One hundred per cent, and I don't think any of the lads showed them anything but respect. Sometimes it's easy to say 'They're in the sixth tier and we should be beating them six of seven-nil', but football doesn't work like that. We respected them and the way they played made it difficult.
"It doesn't matter if you're the best team in the world, when you come to places like this, they'll make it difficult. It was a difficult pitch in a difficult stadium and their fans were really up for it and it was kind of their Cup final, and full credit to them because I thought they were brilliant in the way they played. Even with their lads after the game, there was definitely some respect there.
"It's heartbreaking for them, but that's what we wanted, to be in the next round."
I know we've said this a lot in the last couple of years, but West Ham would have lost this game a few years ago, but we didn't, we won…
"It was hard to defend against some of their play – the long balls, the wind, the pitch – and I thought the lads did well. We could have been better, we know that, but the main thing is to take the positives and we're in the next round."
Dec's goal – nobody else on the pitch could have scored that, could they?
"That's why he's ranked so highly and he's a top, top player. We brought him on and it changed the game in our favour and to kick on in extra-time. I just felt that sometimes we got into great areas and didn't really make enough of those spells but, as I say, it went right to the wire again, but Jarrod tapped one in from a yard out which was brilliant."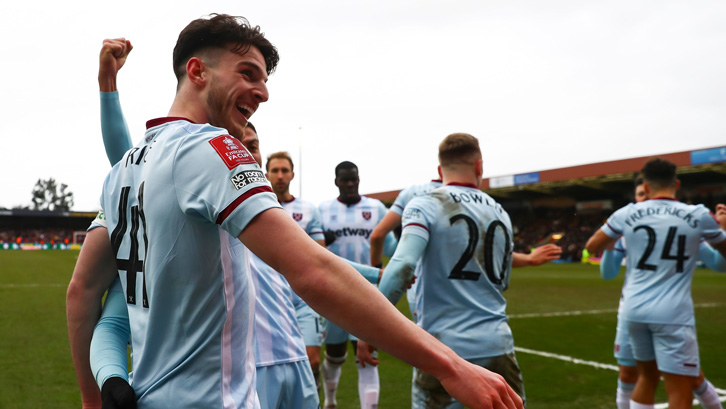 What were you doing up there in the last minute of extra-time?!
"I just carried on my run. I remember looking up at the clock at the far end and there was only a minute to go so I thought 'Why not carry my run on?' and Yarma had the shot and the ball trickled through and it was there for me to tap across the goal for Jarrod. I knew there was no VAR, so I was happy with that!"
Finally, we return to action on Tuesday evening at home to Watford in the Premier League, and we'll need to play much better, as the manager said after Saturday's game?
"The Gaffer is right. There were certain spells in the game weren't good enough on our part, but we're back to work in the morning and we'll get ready for Tuesday night against Watford."