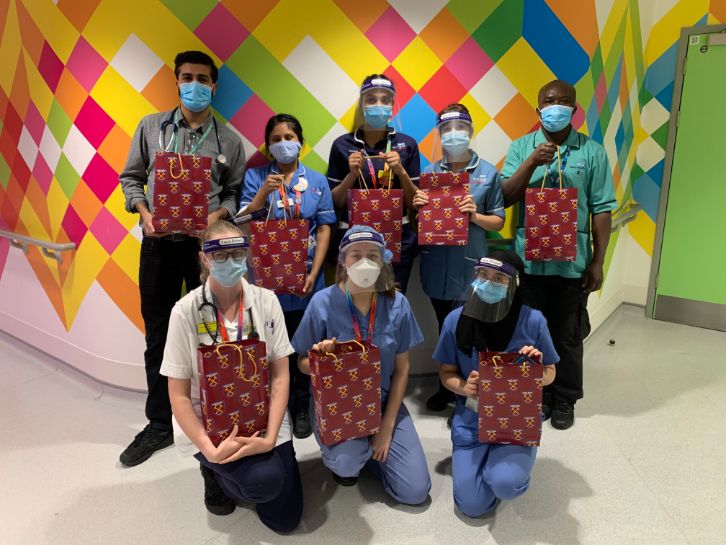 West Ham United has helped spread festive cheer to children in local hospitals by donating goody bags full of Christmas gifts.
The Hammers sent the gifts to children at Newham Hospital in Plaistow and Queen's Hospital in Romford, as part of its 12 Days of Christmas campaign to celebrate the third anniversary of The Players' Project
The 12 Days of Christmas initiative has reached out to various sectors of the community and has featured players across all Hammers teams.
The Club has supported Barking, Havering and Redbridge University Hospitals NHS Trust and Barts Health NHS Trust throughout the COVID-19 pandemic and the Christmas donation of Hammers goodies continues our long history of supporting local hospitals and bringing smiles to the faces of young children and parents, as well as all the doctors and nurses.
Sophie Hart, a Children's Site Practitioner at Barking, Havering and Redbridge University Hospitals NHS Trust, said: "It's lovely to see our young patients happy at this time of year, even when they are unwell. Thank you to West Ham, their generosity has been appreciated by the children, their families and by all of our staff on the ward."   
Chief Medical Officer Magda Smith was delighted to be able to hand out the goody bags and said: "Spending Christmas in hospital is very hard, especially for children, so it makes a real difference when we can do something like this to help cheer them up.
"It gave me great joy to see the children smiling and we must thank West Ham United for that. The club's generosity throughout the past year has been appreciated by everyone here at the Trust and we are extremely grateful for the close relationship we have. 
"It's a difficult time of year for our staff and patients, but the treats the club have provided in recent weeks has helped lift morale."