West Ham United's The 12 Days of Christmas community drive continues today with first-team goalkeeper Darren Randolph visiting The Training Ground.
Through the power of the West Ham United badge, the Club's Official Charity, the West Ham United Foundation, has been breaking down barriers and giving people across our community unique opportunities to develop their skills, understandings and personal attributes to help them on their career pathway.
As part of the Players' Project, Randolph joined participants on The Training Ground programme for a session focused on resilience whereby he gave an insight into how he's improved his own mind-set, as well as the importance of feedback and goal-setting in order to develop.
Launched in October 2020, The Training Ground is a free employability scheme which works with the Street Soccer Foundation to offer a football themed personal development programme for young people in east London aged 16-25-years.
Believe in what you're doing, have confidence in what you're doing and also in yourself

Darren Randolph
In response to a question on what he believes the motivation is to keep trying when opportunities aren't occurring, Darren explained that it's important to focus on what is controllable. "In football, the early days of your career, your career is sort of in the hands of somebody else," he noted. 
"So, when your chance does come you need to make sure that you're ready so therefore you need to be doing everything that you can and ticking all the boxes for everything that's in your control, that you can actually affect, to be ready for when that chance comes. 
"Because it's very easy for me to say 'oh, you don't like me so I'm not going to do any work'. Then all of a sudden one day you turn to me and say, 'I need your help' and I haven't been doing the work and I've just accepted that you don't like me, and then when my chance does come I just miss it. And I've only got myself to blame then because I wasn't ready and I wasn't prepared just in case."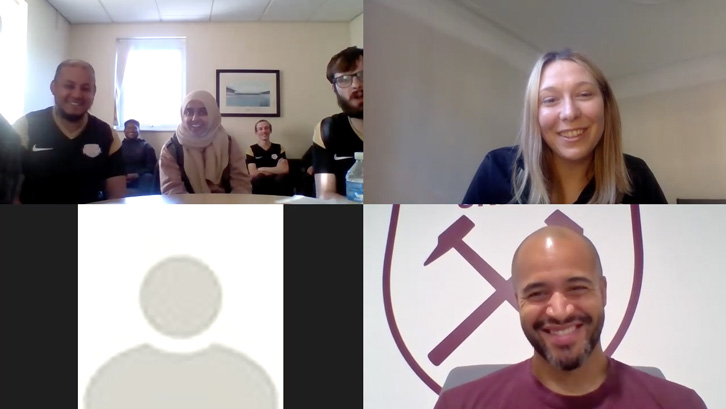 The free ten-week scheme provides participants with core employability sessions, including: CV masterclasses, job searching, job application, networking, interview skills, communication skills, professional workplace and employer insight experience.
Workshops are themed around improving participants' skills, mind-set and acquiring new opportunities with the objective of advancing their career success.
The Republic of Ireland international concluded the resilience session by imploring the young people to pursue their aspirations, stating: "Believe in what you're doing, have confidence in what you're doing and also in yourself."
To find out more about The Training Ground, email Rashid Abba on [email protected].