West Ham United's perfect start to the U18 Premier League South season continued with a 1-0 home win over West Bromwich Albion last weekend.
While the Hammers were not able to replicate the free-scoring form that had seen them net 18 goals in their opening four fixtures, Kevin Keen's youngsters were still good value for all three points at Little Heath.
It was substitute Liam Jones who was West Ham's match-winner, belated celebrating his recent 17th birthday by striking with just 13 minutes remaining to spark jubilant celebrations.
A fifth straight success was enough to maintain the Irons' three-point lead ahead of Crystal Palace, who Keen's side beat 3-2 in south London on the opening day of the 2022/23 season.
Keen's assistant Gerard Prenderville was delighted with his side's performance, as well as their fantastic start to the season.
It was a different test for us today and it was a real tough game, so to win 1-0 in the manner that we did is a real credit to the boys.
"The boys have started this season superbly," Prenderville confirmed. "They have applied themselves properly in every game so far and they did that again today. It was a different test for us today and it was a real tough game, so to win 1-0 in the manner that we did is a real credit to the boys.
"They've trained so hard this week and we came up against a strong West Brom team and they made things difficult for us. The longer the match went on, the more you start to worry if the goal will come but once we took the lead we probably could have scored another couple. It was a great win and I am delighted for the boys."
In truth, West Ham could have taken the lead much earlier, only for West Brom goalkeeper Ben Cisse to keep out efforts from Patrick Kelly and, twice, from Lewis Orford. Northern Irish midfielder Kelly then fired narrowly over.
The hosts continued to dominate after half-time and were denied again when Gideon Kodua collected from Orford, raced through and rattled the crossbar.
West Ham's pressure finally paid off in the 77th minute. Orford drove forwards with and played a superb through pass to Jones, who finished superbly bottom right-hand corner.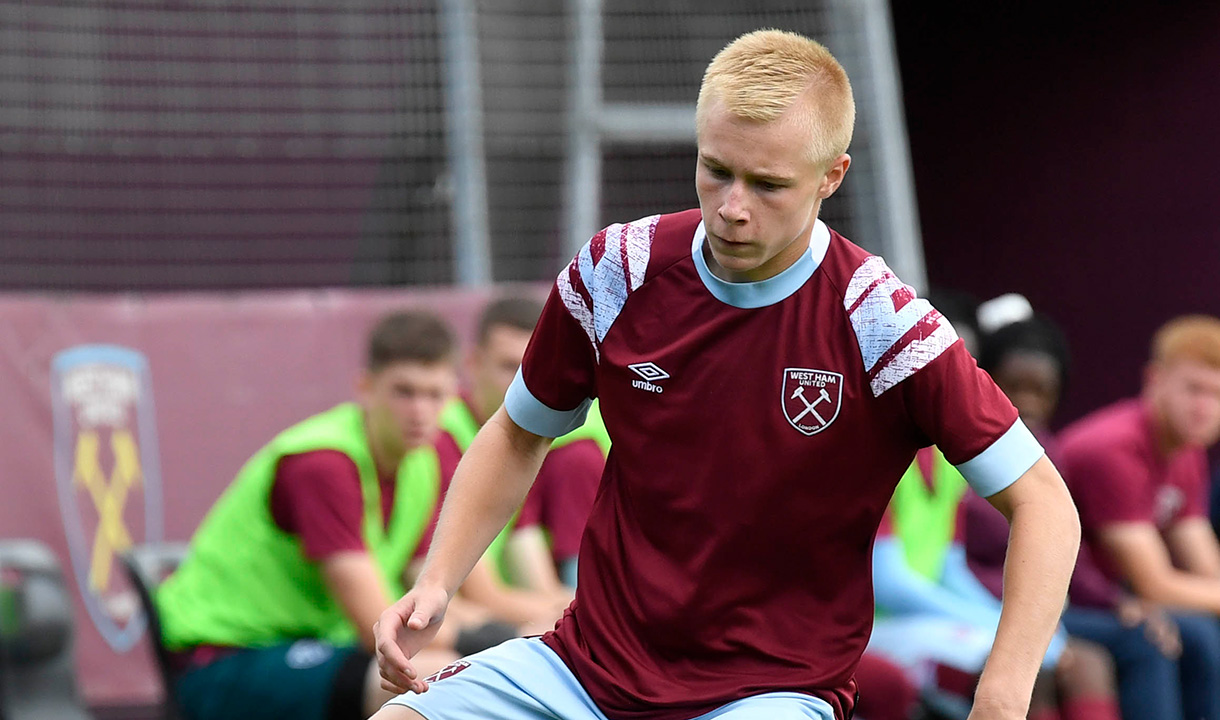 The Baggies made a late push for an equaliser, but the Hammers' defence stood firm to secure their first clean sheet of the campaign, and with that extend their unbeaten start to the 2022/23 season.
"The clean sheet is massive for us," Prenderville confirmed. "We kept a lot of clean sheets last season, but they have been hard to come by this year, so it was so important for us. It wasn't pretty at times, but the mentality of the lads was spot on.
"We have scored an abundance of goals so far this year which is great, but some matches have been like basketball games, so we made sure that we were tight from the start and to the boys' credit that is exactly what they did, and as a coach 1-0 victories are always lovely.
"We had two weeks to prepare for this game and we have done a lot of work on shape and defending in training and I think that was clear to see."
The assistant coach said it was also important for the Club's scholars to learn how to win matches in different ways, whether that be by scoring freely or grinding out gritty victories like this one.
He evaluated: "It is all part of the learning for these players and it is really pleasing to see them adapt so well to different types of matches. It is great when we score four or five goals in a match, but that won't happen every week.
"We stuck at it and got the goal we deserved. I wouldn't even label it as a scrappy 1-0 win because I thought we played really well. We controlled large periods of the game and I don't remember [goalkeeper] Mason [Terry] making many saves, so it was a really pleasing 90 minutes."
Finally, Prenderville was keen to praise the mentality of the whole squad, highlighting the impact made by substitutes Jones, Favour Fawunmi and Blaise Uwandji.
He concluded: "We didn't really change much at half-time; I don't think that we needed to. We have such a good squad and everyone plays their part. Kevin told the subs to make sure they were ready at half-time and the ones who came on made an impact.
"We made three subs and Liam obviously popped up with the all-important goal. It is a squad game and that will be the case throughout the course of the year, and everyone will play their part over the next few months."
The U18s were seeking to make it two wins out of two in U-18 Premier League Cup Group A when they travelled to Nottingham Forest on Saturday. Head to whufc.com for a report, reaction and highlights.