Iconic West Ham United goalscorer Frank McAvennie, who celebrates his 63nd birthday on 22 November, reveals the full story behind his move to east London in 1985, and his return in 1989…

A prolific goalscorer, the star of the iconic 'Boys of '86' team, and a truly special player. 
Frank McAvennie's time with West Ham United is legendary. In his first spell, the Hammers secured their highest-ever top-flight finish. In his second, the Club returned to the First Division. 
When McAvennie played in Claret and Blue, magic usually followed.
Prior to his first transfer to West Ham, McAvennie spent five years in the core of a St Mirren side that regularly pushed Scottish heavyweights Celtic, Rangers and Aberdeen, while also testing themselves on the European stage.
The 1982 Scottish PFA Young Player of the Year had begun life as a professional footballer in midfield. It wasn't until over three years into his first stint with The Buddies that the young Scotsman found his natural place in the team; a desire for more recognition for his efforts pushing McAvennie further up the pitch.
"When I was at St Mirren, I started out as a midfield player," McAvennie revealed. "I played in midfield for the first three-and-a-half years.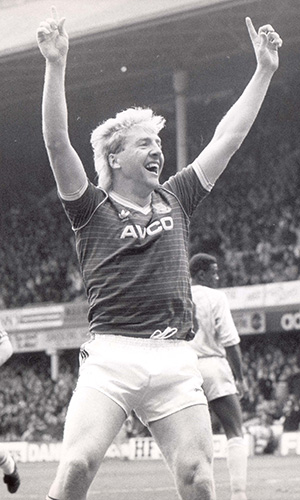 "I was getting double figures amounts of goals every year and the strikers weren't doing that. They'd get the odd goal and then get the headlines. I wanted those headlines. Sometimes I would get a Man of the Match award but, in a way, that wasn't enough, and I decided I wanted to play up front. 
"For the last year and a bit of my time at St Mirren, I played up front and I loved every minute of it. I really had found my position."
With 48 goals in 135 league appearances, McAvennie's value to the team was evident. Whether playing in midfield, or in attack, the Scotsman was pivotal to success for St Mirren. 
Amid the pacey attacker's good form, whispers began to spread surrounding a potential move down south. England, and the First Division, could soon be calling for McAvennie. 
The bright lights of the English game would appeal to any young superstar, but McAvennie knew the importance of making that move at the right time, when he could be sure of showing his best. 
A change of direction for the Paisley club, with Alex Miller replacing the departed Rikki McFarlane as manager, convinced the striker he was ready for a new challenge. 
"I had a few offers to leave St Mirren and go down to England before I did but, to be completely honest, I wasn't ready," he admitted. "I knew in myself that I wasn't. I wanted to wait until I was ready, and I knew I would get into a team. 
"St Mirren were a good team at the time too. We were getting into cup semi-finals and we were getting into Europe. It was amazing for the fans. We had trips to Italy and Holland during those years, and it was great for everyone. 
"It was probably after around four years at St Mirren that I started to think I was ready. The club had got a new manager in as well and, when new managers come in, they want to change things. The first thing our new manager did was get rid of my strike partner at the time. It didn't feel right for me."
McAvennie was ready to try his hand in England. West Ham United were waiting - although history might have played out much differently for the striker, and the Irons, had a meeting with Luton Town gone smoother. It was not until after declining a move to the Hatters that McAvennie would learn of interest from the Hammers. By his own admission, McAvennie was inches from putting pen-to-paper on a Luton contract, only for the Club to scupper the deal.
If the Luton Town chairman hadn't have slapped me on the back of the head, I probably would have signed for them!
He recalled: "I actually came down to sign for Luton Town. If the chairman hadn't have slapped me on the back of the head, I probably would have signed for them.
"Luton were a really good side at the time, and they had David Pleat as their manager. David was a great manager and he was great at talking about football. He was a good footballing man. I came down to England to sign for them, but the Luton chairman slapped me on the head, and said 'Welcome to Luton, Macca!'
"When the chairman came in, apart from slapping me, he wouldn't tell my agent or I how much I was going to be getting. He was saying the right things, but it was all 'ifs' and 'buts'. 
"With that, and with the slap on the head, that was enough for me. I knew Luton wasn't for me. That ended up being the reason I didn't sign for them."
It was only by rejecting Luton that McAvennie learned of another potential route into English football, just down the M1.
"When I told St Mirren that I didn't want to go to Luton, they told me that West Ham wanted to speak to me. My agent and I didn't know anything about it, but apparently St Mirren had to give Luton the first option; the first refusal. 
"If I had signed for Luton, I would never have known about West Ham's interest."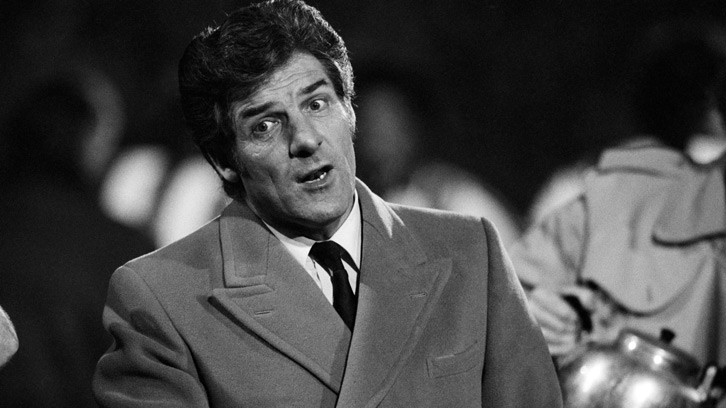 The 1980s had been successful for West Ham United. Under the guidance of John Lyall, who had been in the manager's hotseat since 1974, the Irons had lifted the FA Cup in 1980 before returning to Division One a year later.
Consistency and gradual improvement continued for the Hammers, who secured three successive top ten finishes in the English top-flight, making the Claret and Blue an attractive proposition for any potential new signing. 
The 1984/85 campaign, however, ended with the Irons just two places and one point above the relegation zone. A slump in form in early '85 had almost proved disastrous, and Lyall knew that fresh blood was needed. 
Despite the previous campaign, McAvennie could see similarities between Lyall's Hammers and the St Mirren team he had featured in for half-a-decade. The move appealed to him.
"I used to wind the boys up by saying 'even a Scotsman knows that West Ham won the World Cup'," he laughed. "I knew about Bobby Moore and Geoff Hurst and Martin Peters; these great West Ham players.  
"I had heard that West Ham was the Academy of Football too. St Mirren played great football. We had great players, but it was easy to go to West Ham because you knew that the team played football, liked playing football and playing it the right way."
With a move to Luton rejected, it was time for McAvennie to meet with West Ham, to meet with Lyall. 
There was only one, small problem. McAvennie was in England, in Luton, thanks to the generosity of the club he was planning on turning down. The forward's flights and accommodation had been covered by Luton. Any meeting with West Ham would need to be conducted covertly. 
A solution was devised. 
McAvennie explained: "Luton had paid for all my flights and accommodation, so we couldn't tell them I wasn't going to sign for them until I was on the plane back to Scotland, otherwise they might have charged us! 
"St Mirren didn't have that much money at the time and, if I had told Luton I didn't want to sign for them straight away and fallen out with them, they might have told us we needed to pay for those flights and hotel rooms. 
"We had told Luton that they would have my answer the next day. I had gone back to the hotel and told them I would give them my answer tomorrow, knowing full well I wasn't going to sign for them no matter what happened. When the directors of Luton left, my agent and I jumped in a taxi!
"I met John Lyall at Toddington service station on the M1 at two o'clock in the morning."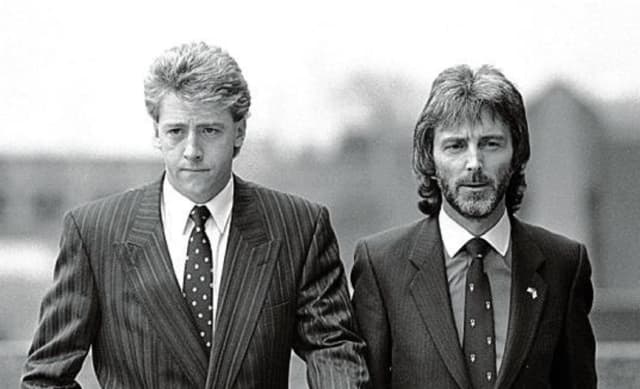 Sat under the florescent lights of the service station, against the pitch-black backdrop of the night sky, McAvennie met Lyall for the very first time. 
It was there and then, that night, that the Scottish striker was convinced his future lay at West Ham United.
"When we met at Toddington service station, it was me, my agent, John Lyall, Eddie Baily [then West Ham chief scout] and a cleaner. I spent most of the time speaking to her while the other boys talked football, and then it was time for John and me to speak. 
"We spoke for about 40 minutes and that was enough for me. I knew. I was sold. Anyone who has ever spoken to John will know that once you're in front of the great man, it was a done deal. 
"John was a great guy. He was so enthusiastic, and he made me feel that he really wanted me. His knowledge of football was second to none. He was a great man."
If McAvennie had any small, lingering doubts, they were quickly dispelled when it came to signing his contract, and the lengths that his new manager went to in order to ensure he got his man. 
"John flew up to me, signed me, and then flew back," McAvennie recalled. "He flew up to Glasgow, I met him at the airport, and he flew back on the next flight. I signed the contract there in the airport, subject to medical. 
"Two weeks later, I went down for the medical. John picked me up at the airport and drove me through London, and I remember that the Queen was doing something in London, so the streets were all cordoned off. 
"I turned to John and said: 'You didn't need to get The Queen out to see me!'"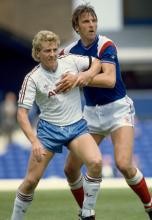 Lyall's original plan for his new signing – one of two, alongside midfielder Mark Ward – was to deploy McAvennie in the attacking midfield role behind strikers Paul Goddard and Tony Cottee; utilising his experience at playing slightly deeper during his St Mirren days. 
Both Cottee and Goddard had proven their goalscoring prowess the season prior, despite West Ham's lowly league finish. Academy graduate Cottee had netted 24 goals in all competitions, while former record signing Goddard had scored 14. 
However, one match into the 1985/86 season, plans were forced to change. Goddard suffered a serious injury in the opening day defeat to Birmingham City. The forward was out of action, and it was down to McAvennie to take his place. 
"John originally wanted me to play in behind Paul Goddard and Tony Cottee; it would have been what is now known as a No10," he said. "To be honest, when we started with that, I don't think it was working. But we had a good team and we probably would have got it right. 
"Paul was a wonderful player and who knows what could have happened once we got it right, but unfortunately, he got injured in the first game of the season, and I went up front in the very next game, against QPR. I scored two goals and the rest, as they say, is history."
'History', as McAvennie put it, would come in the form of a record-setting season on both a personal front for the forward, and for West Ham United as a Club.
The striker would end the campaign on 26 league goals – with 28 in all competitions – the second-most in the division, behind Everton's Gary Lineker. 
With McAvennie in such fine goalscoring form, and Cottee also striking regularly for the Irons, the duo fired the Hammers into an unlikely bid for the First Division title, competing with Liverpool and Everton into the final days of the season. 
It was only a late Liverpool win at Chelsea, on the penultimate day of the season, which meant West Ham could not win the trophy. Instead, the Hammers would play against Everton in a straight battle for second place in the campaign's closing fixture. 
McAvennie said: "We had two games left. We had a game in hand and, if we had beaten West Brom on the Saturday, and Liverpool had drawn with Chelsea on the same day, then Everton couldn't win the league. We could still win the league as long as Liverpool didn't win. That's how close it was. 
"We beat West Brom 3-2 and then we heard Liverpool and Chelsea was a 0-0 draw. John had to come into the dressing room and tell us that Kenny Dalglish had scored late on, giving Liverpool the win. It was heart-breaking. I had never seen so many grown men crying.
"Because of that, no one wanted to play on the Monday, against Everton. At the time, it didn't matter to us if we finished second or third. I didn't want to play on that Monday because of the heartbreak, and many of us didn't.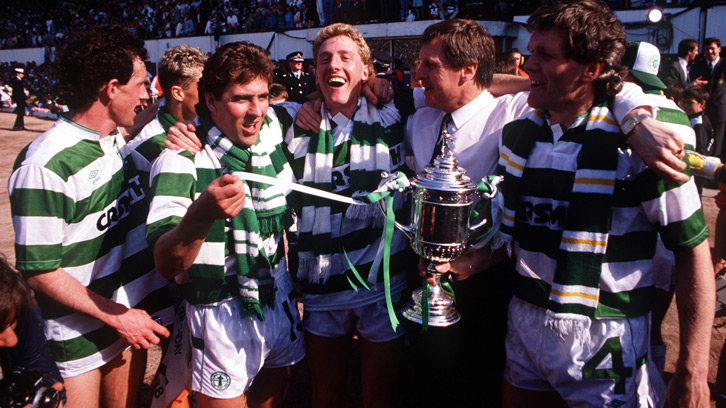 "Looking back, I wish we had gone for it and gone for second and got that at the very least for our fans."
After the heights of finishing third in 1986, the 86/87 campaign was less successful, both for West Ham and McAvennie. The Irons finished 15th, while the forward managed eleven goals in 47 matches in all competitions. 
Two years on from leaving Scotland to come to London, a move back north was on the cards. Celtic, the club of McAvennie's childhood, had come calling. 
What seemed like the opportunity of a lifetime to return to Glasgow quickly soured, however, as promises and assurances quickly went unfulfilled. 
He continued: "John was very honest with me and told me that Celtic had come in with an offer. He knew that Celtic was my love; my boyhood club. I was a Celtic supporter and I knew they were going into their centenary year. 
"It was one of those where I honestly didn't want to leave West Ham, but Celtic was my club. Celtic gave me what I wanted, but football was different in those days. I got promised a lot of things, but they didn't materialise. 
"I won my two medals. I got to win a cup and a league, and I was happy with that. It gave me a chance to play in Europe too. With West Ham, we got into Europe, but we couldn't play because of the ban on English clubs. So that had been playing on my mind too. With Celtic, I knew I could play in Europe. I got to experience that, and I loved it. 
"But because of those broken promises, I wanted to leave again."
Just 18 months after returning to his native Scotland, McAvennie was ready for another challenge. West Ham looked to bring the forward back but, with the Club battling against the drop, they would face tough competition in London rivals and title hopefuls Arsenal. 
With Gunners manager George Graham looking to partner McAvennie with Alan Smith, a switch to north London and the chance to win more championships seemed likely, but McAvennie showed how much West Ham meant to him by instead opting to return to the Boleyn Ground.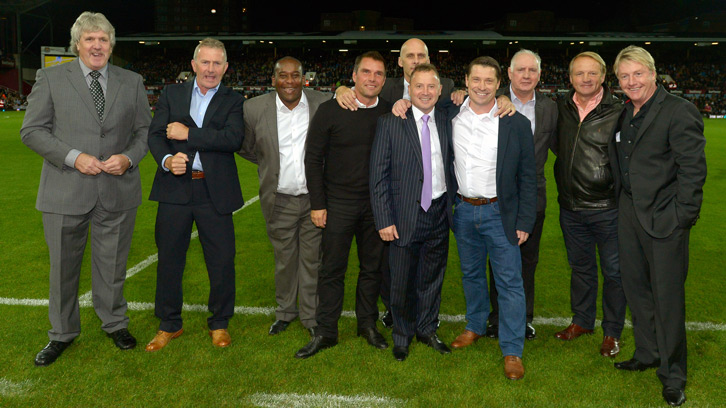 "I had the chance to go to Arsenal. My options were Arsenal or West Ham. West Ham were battling relegation and Arsenal were going to win the league. But I think I'm a loyal guy and West Ham meant everything to me. 
"I just wanted to go somewhere I knew I would be cared about. I had been so disappointed with football at Celtic and I was disillusioned a bit, so I wanted to go somewhere where I could just play and enjoy my football. I always enjoyed my football at West Ham."
With 60 goals in 190 appearances across his two spells with West Ham, and his pivotal role in both the title-challenging campaign of 1985/86, and the 1990/91 promotion-winning season, McAvennie's status as a Hammers legend is secured. 
The young boy from Glasgow grew up at West Ham, and the DNA of the Club will be with McAvennie forever more. 
He added: "West Ham United and the West Ham fans mean everything to me. Celtic is my boyhood club, but West Ham took to me and I took to them. We've just got this special relationship. 
"Everyone knows how much I love West Ham. The Club is in my blood and it always will be. I still can't believe, to this day, that they took this wee boy from Glasgow under their arms. I'll always be a part of West Ham, and the Club will always be a part of me."