West Ham United's Academy of Football has welcomed two promising additions to its existing talented coaching staff, providing high-quality personal development work placements to coaches from under-represented groups in football. 
Nicole Farley – who has worked in both men's and women's development football at clubs including LA Galaxy, Reading, Arsenal and Chelsea – arrives as the Club's first female coach, having applied through the Premier League's Coach Inclusion & Diversity Scheme (CIDS) 2020/21.
The Hammers were specifically seeking applications from talented women looking to further their coaching aspirations with a Category 1 Academy in an elite environment.
Having come through a thorough and staged recruitment process to identify the right candidate who embodied the Club's values and standards, Farley is now immersed in a 23-month coaching placement, with additional financial support provided for her development.
In that time, Farley will benefit from rotational work experience with schoolboy and professional teams across the full range of Academy age groups, learning from a strong coaching workforce to better equip herself for future full-time coaching work.
 
With everyone's different backgrounds, we create an eclectic wider experience and an open culture. We need that diversity to be able to connect with the boys

Nicole Farley

"My first impressions of the Academy have been absolutely fantastic in terms of it having such a family feel," Farley told West Ham TV. "West Ham is a real Club, with open arms and an open mindset. I feel like I'm in it and just ready to go now.
"There are so many passionate people here, so many passionate coaches with great backgrounds, and we're all in one mixing pot together. When you walk around, you think 'that's that pro player I know!', but there's no ego. I like that I'm just Coach Nicole here. 
"For a Club of this calibre to present this opportunity, it's great in bridging that gap. That's why I want to be promoting equality, diversity and Inclusion – because I know I have quality. I can perform and I'm a coach ready to learn, but also deliver the best.
"With everyone's different backgrounds, we create an eclectic wider experience and an open culture. We need that diversity to be able to connect with the boys and come from different angles. 
"What a great move from the Premier League as well to keep fighting those barriers. Ultimately, our values all align here at West Ham, and that's exciting."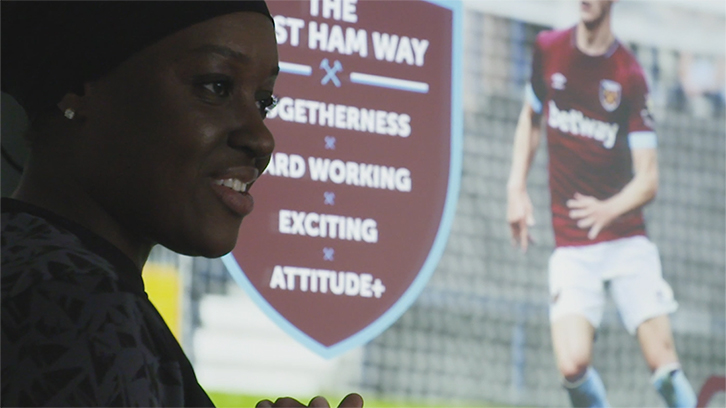 Elliot Whitely, meanwhile, has been working with the Academy of Football since January, having arrived after the Club committed to enrolling in the Football Association's Black, Asian and Minority Ethnic/female coaching programme.
Starting out in grassroots football before brief spells at Chelsea and Fulham's academies, Whitely, who joined West Ham via the FA's Club Placement Programme, will now enjoy a carefully structured programme of learning and development opportunities.
The Club is proud to use its influence and resources to inspire and deliver on a range of inclusion schemes from Active United - Walking Football, Premier League Kicks and Young Adult Diabetes, to more traditional grassroots through to elite level. In addition, West Ham has previously supported pilot coaching schemes with the FA, with Black, Asian and minority ethnic candidates successfully going into permanent roles in football.
"West Ham, as everybody knows, is a top-class facility and top-class Club," Whitely explained. "Just coming in from day one, I felt the vibe was positive and definitely something I wanted to be a part of.
"It's important for coaches to push themselves out of their comfort zones, and to enjoy what they're doing. I love football coaching and being in an environment like the Academy of Football is a brilliant opportunity for me.
"I was fortunate enough to get on a course for my UEFA B Licence and just being with coaches like myself is inspiration. There's a lack of people like me and Nicole within football, but hopefully we're a small part in changing that and it progresses to bigger things and better things."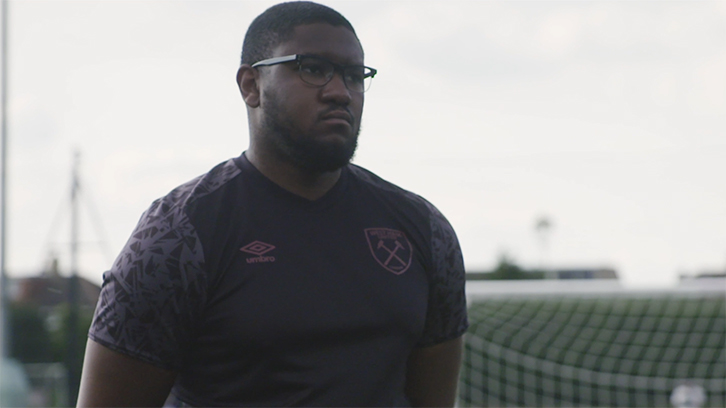 Kalam Mooniaruck, Head Of Academy Coach Development, said: "Nicole comes across as a positive, enthusiastic member of the team and I think we found that out in the in-depth recruitment process.
"Elliot has settled in really well and been a great part of what we've been doing for the players here. He's helping support training and games, and we're trying to give as much opportunity as we can to help him be more employable as a coach.
"We try to give both coaches support through having their own personal development plan, but we've also allocated them a peer-to-peer mentor in Lauris Coggin, our Lead Phase Coach. He's done a fantastic job with Elliot and he's starting to do a great job with Nicole.
"Our recruitment processes have allowed us to try and find a type of person who brings out the West Ham Way values of togetherness, being hard-working and having a positive attitude.
"We want the right people in this environment for our kids to continue growing and developing themselves, and having a diverse workforce will help us do that."
As part of its commitment to cultivating an environment in which everyone feels they can belong and flourish, the Academy, through these kind of partnerships with the Premier League and The FA, reap the rewards of improving the diversity of football coaches in the professional game. It also provides West Ham players with genuine opportunities to work with talented coaches from all backgrounds to ensure the best on and off pitch outcomes.
Both placements mark another positive step for the Club in furthering their commitment to championing equality, diversity and Inclusion in all aspects.
In addition, the wider Club continues to lead the way in its inclusion and equity work, having set up a Staff Equality Forum to support the Equality Strategic Group and Board by providing a staff voice for equality-related issues.
West Ham United were also recently awarded the Premier League's Equality Standard Advanced level, recognising the Club's ongoing dedication and commitment to EDI.