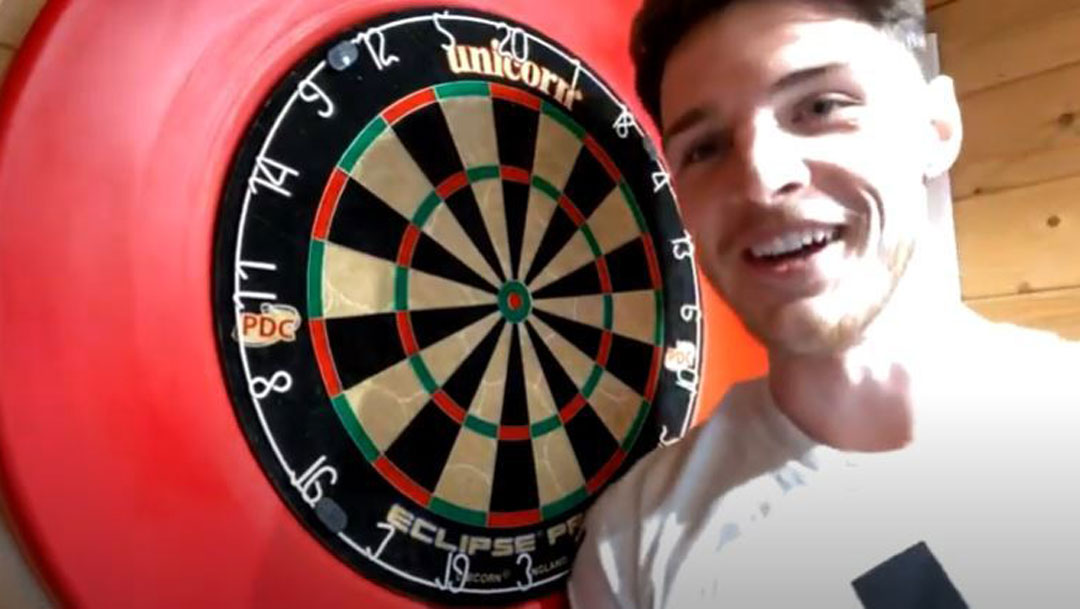 Declan Rice has hit almost every sporting target he has set himself – but a big one still eludes West Ham United's England international midfielder.
Since first picking up a set of darts while watching the PDC World Championship just over a year ago, Rice has been practising hard, first on a board hanging in his parents' garage and more recently on an oche he has set up in a new games room.
Armed with a set of replica Michael van Gerwen darts, Rice has steadily improved, regularly hitting treble 20s but, as he turns 22 today, all Rice wants for his birthday is to hit that elusive first 180!
"I've been throwing and throwing and trying and trying, but the closest I've come is a 140!" smiled Rice, who took part in the PDC's 'Darts At Home' Footballers' Special NHS fundraising event in May last year. "I'm a massive darts fan and hopefully one day I'll hit a 180.
"I started playing against my Dad and we put a board up in the house and started in the garage. Now we've got a games room with a proper mat, so I am practising hard, working on my consistency and I'm getting better.
"I love loads of the top players, Dave Chisnall, Michael van Gerwen and I really like Gerwyn Price, he's really growing on me. I was actually buzzing when he won the world title a couple of weeks back because he was a professional rugby player ten years ago and then he started playing darts so, if I keep throwing my arrows after my football career, you never know how far I could go…!"
Of course, Rice's darting dream is tongue in cheek, but he is totally serious about his other birthday wish – beating Burnley in the Premier League on Saturday.
West Ham go into the game unbeaten in four matches in all competitions, including the last three in the league, and the Hammer of the Year is determined to keep that run going at London Stadium this weekend.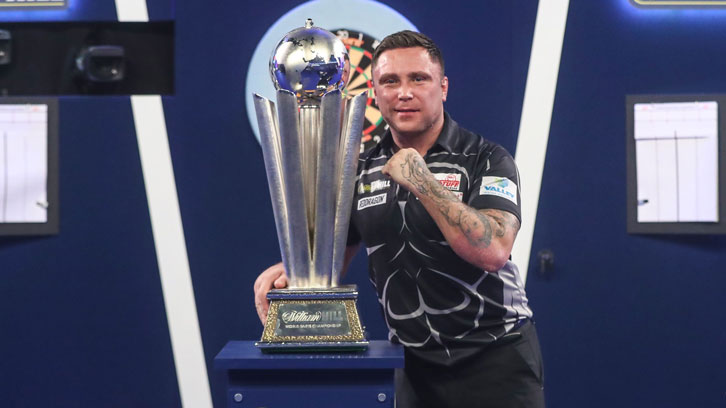 "It's a massive game," he confirmed. "It's also our first three o'clock kick-off since before the first lockdown last March, so that's going to be a weird one, but we're coming off a great run with three clean sheets and the wins at Everton and Stockport so everything is looking positive and if we win we go to 29 points which is massive for us, so we want to win.
"A lot of people used to look at us and think we'll concede easy goals and cave in, but that's not the case under this manager now. We're much more solid, we look a threat and we know what Burnley are like and we know what they do.
"We were unlucky to lose to them at home in July when we absolutely battered them, so we'll go into the game positive and see what we can do. We shouldn't fear anyone."
So, there you have it, three Premier League points and the points of his three darts in the treble 20 would be Declan Rice's perfect birthday present!