West Ham United is uniting with football clubs across the country to kick off the biggest ever conversation on mental health, as new research shows just one in three football fans regularly talk about mental health with their friends.
For two weekends in February, every football team from across the Premier League, English Football League, The National League, The Barclays FA Women's Super League, The FA Women's Championship and The FA Women's National League will dedicate their matches to Heads Up, a partnership between The FA and Heads Together.
Spearheaded by HRH The Duke of Cambridge, the season-long Heads Up campaign aims to harness the influence and popularity of football to normalise the conversation around mental health, working closely with charity partners Mind, CALM and Sporting Chance.
The Heads Up Weekends will highlight the power of talking as a way to support one another and dispel the stigma, with activity planned at fixtures across the men's and women's football calendar.
West Ham United has joined clubs across the nation to focus on the Heads Up campaign, with Michail Antonio, Dave Martin, Angelo Ogbonna and Gilly Flaherty using their personal experiences to speak about the importance of talking about mental health.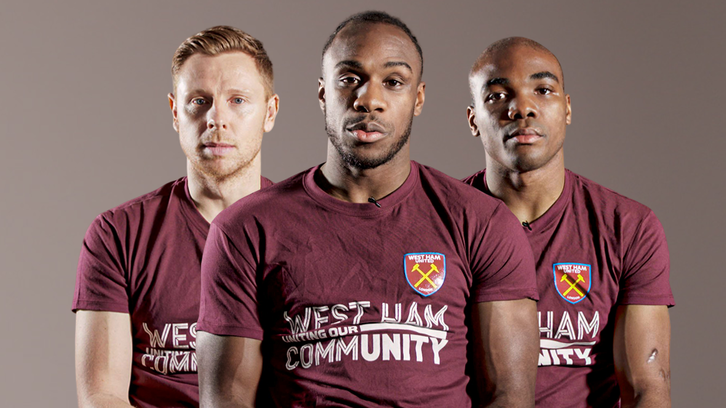 Goalkeeper Dave Martin said; "I'm a human being at the end of the day and I have worries like anyone else. Obviously football is a short career and I am at the back end of that, even though I feel like I still have a lot to give, and it's worrying to think in five or six years, I won't be able to be a professional footballer anymore. They're the things I worry about, how I'm going to provide for my family.
"I think if I am feeling like I am slipping into a negative frame of mind, the best way to get positive is to voice those concerns and talk to people. I'm lucky enough to have a great wife and I speak to her daily about my day, what went well, what didn't go well, and I think talking about things is the first step to make yourself feel better.
"When we are feeling not quite right in ourselves, talking to someone and letting someone know can be a massive help."
A Heads Up survey of 2,014 football fans, carried out by Censuswide, showed football is the number one topic of conversation (75%) between fans and their friends, however, only 1 in 3 (34%) regularly talk about mental health with their friends – with male fans much less likely to do so (27% of male respondents, compared to 47% of women).
In a message included in every matchday programme over the Heads Up Weekends, HRH The Duke of Cambridge wrote: "Imagine if we talked about mental health as much as we talk about football…. Many of us won't go a day without talking about it. And whatever team we support, every single fan, player and manager has one thing in common – we all have mental health, in the same way that we all have physical health. And we will all face ups and downs in life which will affect it. It's time we start taking our mental fitness as seriously as we do our physical fitness, and that starts with talking."
West Ham United is committed to ensuring players and staff receive all the support they need, and actively promotes ways in which employees can improve their mental health and wellbeing. In addition, all staff are given mandatory mental health awareness training.
Whether you or someone you know is struggling, or if you want to help dispel the stigma, kick off a conversation about mental health this weekend.
Join the conversation using #KickOffAConversation and #HeadsUp.  
Find out more and get tips from Heads Up's charity partners (Mind, CALM, Sporting Chance and Heads Together) – visit www.headstogether.org.uk/heads-up.
Those wanting immediate support can also text 'HeadsUp' to 85258 to connect with a trained crisis volunteer – a service run by 'Shout' and powered by Crisis Text Line, which is available 24/7 and free to text from most mobile networks.