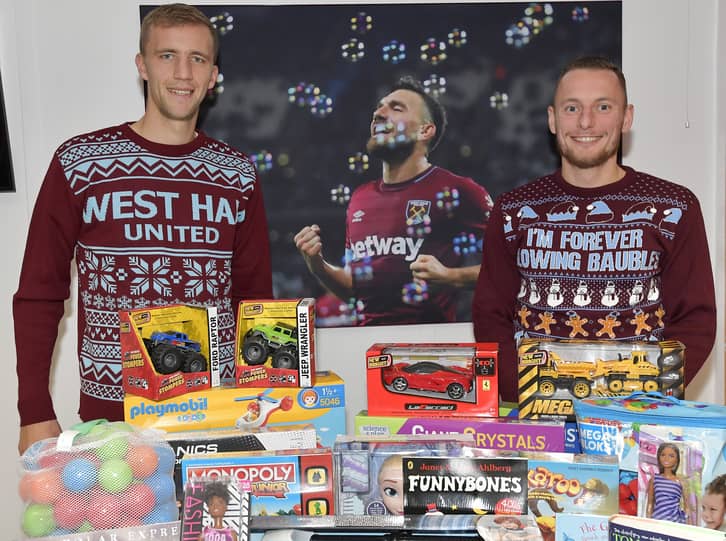 Building on the Club's promise to support its local NHS Trusts, the Hammers have donated toys to Queen's Hospital in Romford, to provide some festive cheer to those children spending Christmas Day in hospital this year.
The Club has supported King George and Queen's Hospitals Charity throughout 2020, assisting them with the impact of the pandemic, in the ways in which NHS specialists felt the Club could help most.
These activities have included work to promote their critically important charitable appeals, fundraising initiatives for equipment and staff wellbeing, donating 500 shirts for West Ham supporting patients and NHS staff, special VIP experiences for Hammers Heroes and morale-boosting video calls for patients and staff.
Earlier this month, the West Ham United family came together to support campaigns close to the Hammers fans' hearts. The Club donated over 1,000 toys to local children - to the Newham Christmas Toy Appeal and to Barking and Dagenham's Christmas Cheer campaign, so that as many children as possible have presents to wake up to on Christmas morning.
The Club; its Board, players and manager have also donated much-needed money to the Newham Foodbank through Irons Supporting Foodbanks, as well as Barking and Dagenham Council's campaign, to add to the funds already raised by the Club's fans and local residents. The Club's donations will also go towards selection boxes for thousands of children in Newham.
West Ham United midfielder Tomas Soucek said: "The Club has continued to work closely with local hospitals this year and it is a privilege for us to keep helping them at this important time at Christmas.
"My teammates have told me that each year we usually visit the hospitals to deliver the gifts and, although this year we are unable to go in person because of COVID, we are all pleased that these gifts are being donated, hopefully to put a smile on children's faces this Christmas."
Lynda Head, Head of Fundraising for King George and Queen's Hospitals Charity said: "On behalf of the charity we cannot thank everyone enough at West Ham for supporting us through 2020. Our staff and patients are so grateful for the regular interest shown by both management and players. The donation of signed shirts and football tops has also helped us to raise funds that we have spent on wellbeing for patients, and staff caring for them, in our hospitals."