Club
West Ham United invite NHS key workers to be London Stadium flagbearers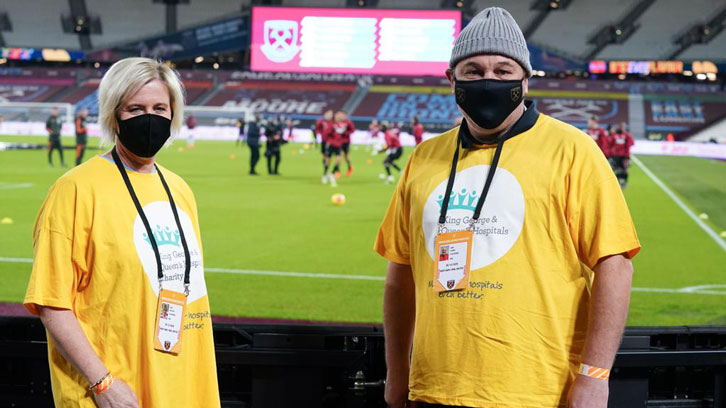 West Ham United welcomed key workers from two local NHS Trusts to London Stadium for Saturday's Premier League fixture with Manchester United.
As part of the Hammers' pledge of support for the Club's local NHS trusts across East London and Essex, the Club invited members of staff from the Barts Health NHS Trust and Barking, Havering and Redbridge University Hospitals NHS Trust (BHRUT) to the game.
With Government guidelines allowing 2,000 supporters to attend their first Premier League match since March, Bianca Nunez-Jaros and Nasiha Sadia, who work in the children's Rainbow Centre at Barts' Newham Hospital, and BHRUT's Andy Clark and Emer Szczygiel acted as flagbearers, earning a standing ovation from the Claret and Blue Army.
All four enjoyed a once-in-a-lifetime experience, despite seeing West Ham relinquish a half-time lead and ultimately lose a thrilling game 3-1.
"The game was such good fun except the result!" said nurse Nunez-Jaros. "It was an experience that I personally won't forget! The atmosphere was amazing. Everybody was so friendly, both staff and supporters, which made it all the nicer!
"The continued support and experiences such as these that West Ham United offer to Barts Health and Barts Charity are invaluable and so many at Barts, me included, are super grateful for all they do!
"Once again, thank you for the opportunity of a lifetime that not only made me happy, but also my whole family West Ham United supporters!"
Her colleague Sadia agreed: "The West Ham team has been very supportive of Rainbow Centre. This was a great opportunity and experience and I loved every single moment!"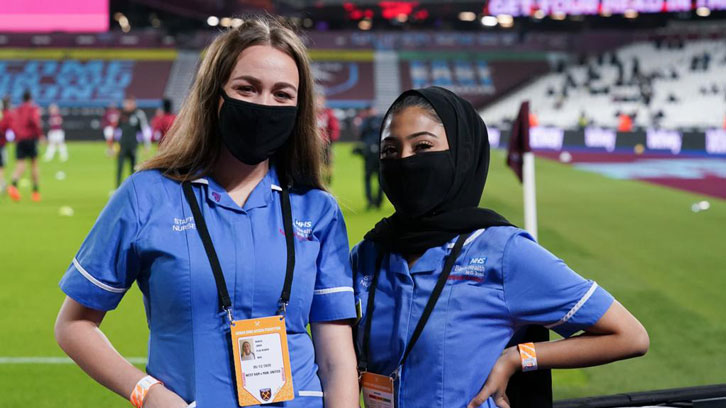 In addition to inviting key workers to Saturday's match, West Ham United has organised a host of other events to support both Trusts during the COVID-19 pandemic, including video calls from first-team players to frontline staff, profiles in the Official Programme, the provision of signed shirts and other items for fundraising and a pledge to support Christmas campaigns.
Nurse Clark and matron Szczygiel thanked the Hammers for their ongoing support and were privileged to represent BHRUT at London Stadium.
"As NHS staff, we have always dealt with emergencies but nothing could really prepare us for how the arrival COVID-19 would change our lives, including our jobs within the NHS," Clark explained. "As one united team our staff have supported our patients, our hospitals and each other.
"These have been very scary times so, as West Ham fans, having our favourite players give up their time to chat to us by video link has been so uplifting. On Saturday, we had the privilege to stand in front of supporters on the sacred pitch proudly holding the West Ham United flags, which was a dream come true.
"When a tribute was paid to us as NHS staff, the roar of the crowd in support of our hospitals was simply breathtaking and totally filled us with pride. Having West Ham United supporting us has made these ten difficult months so much more bearable. We can't thank the Club enough for helping us get through it."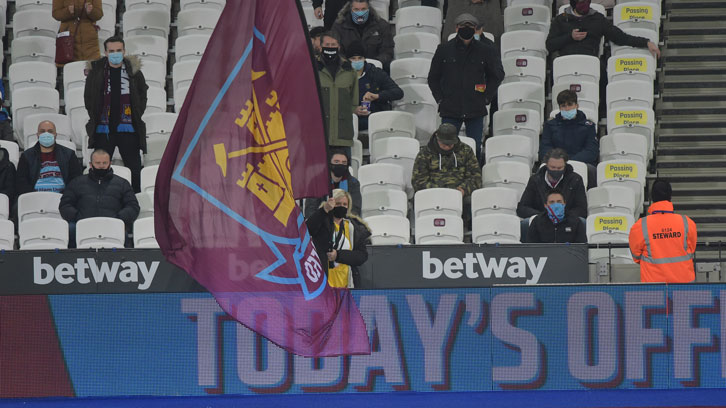 In addition to the above, the Club also played host to the family of Denis Murphy, a lifelong supporter who sadly passed away after battling COVID-19, having received a video call from Pablo Zabaleta in May while receiving treatment at Newham Hospital.
His daughter Denise said: "Thank you to West Ham United for your amazing hospitality at this week's match in remembrance of my Dad Denis Murphy – a lifelong Hammers fan. We had a brilliant time being wined and dined and enjoyed the excitement of being part of the crowd, something we have missed this season. All the staff were welcoming and the excitement of having fans back to the ground was palpable. It was poignant at times as we remembered Dad, knowing that he would have loved being spoilt in such great surroundings.  
"Dad was a Season Ticket Holder at Upton Park and the new London Stadium and enjoyed the highs and lows that football brings to its fans. Dad contracted COVID-19 early in the pandemic and through the amazing care and dedication of Newham General Hospital recovered enough to return home for a few months before he died in October this year.
"During his time in hospital, Barts Charity and the club organised a Zoom call with Pablo. This lifted not only Dad's spirits, but also those of his very large family and friends across the globe. Staying connected has become so important this year and we were so happy that West Ham shared Dad's experience through the West Ham website.
"I also want to extend my thanks to Barts Charity who through their links with West Ham offered this experience to me and my family. This is just a small part of the amazing work to support patients and staff at our hospitals and just one of many successful collaborations to bring our community and partner organisations together."
For more information about West Ham United's pledge of support to local NHS Trusts, click here.