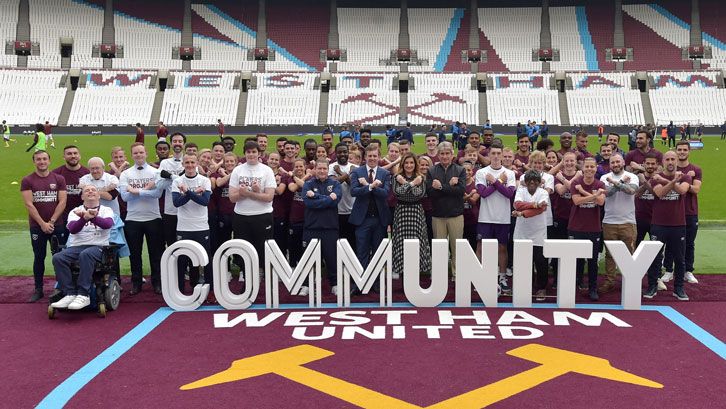 The coronavirus (COVID-19) pandemic has hit the charity sector hard – a sector which provides support for some of the most vulnerable corners of our local community.
At West Ham United, we are thankful for the untold hours that charities put in to help local people and we want to raise awareness of our official charity partners during their hour of need. The Club has seven official charities, each of whom are supported each season with awareness matches and assistance from the West Ham United Foundation, and are profiled on this page. In addition to this, the Club assists a range of other charities when we are able to, with activities to raise awareness.
Between the move to London Stadium being announced and the end of the 2020/21 season, the Club will have invested a total of £28 million into local communities across a range of programmes. So far, these programmes have created £1.4million of annual savings to the NHS delivered through diabetes prevention, 281 school and educational partnerships and they directly work with 50,000 participants in Foundation led initiatives each year.
We would like to remind supporters of our charity partners and the great work they do to support the community. Each and every one of our partner charities' fundraising initiatives have been hit hard by coronavirus and it is imperative that their endeavours continue during this difficult time. With the backing of the Claret & Blue Army, we can continue to shine a light on those that do most for the vulnerable across east London and Essex.
Moore Family Foundation
Set up in memory of Bobby Moore, the Moore Family Foundation (MFF) programme was devised to engage with vulnerable young people in east London and Essex, with the aim of instilling and inspiring them with the six central values displayed by the 1966 FIFA World Cup-winning captain – courtesy, generosity, hard work, humbleness, respect for others and self-discipline.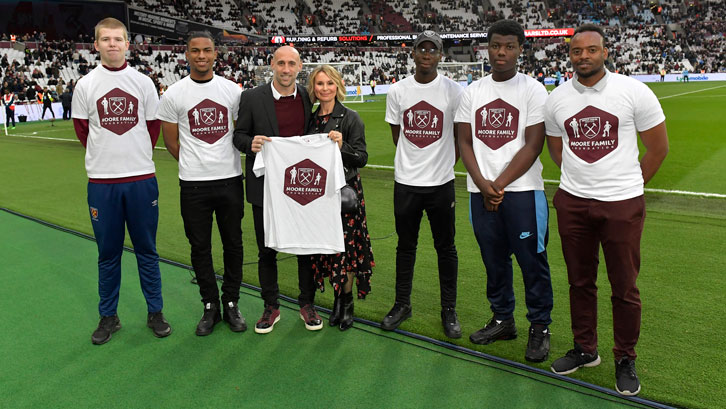 Due to the pandemic the project's physical delivery has come to a halt and the needs of beneficiaries have shifted, with participants and their families requiring support with aspects such as wellbeing assistance, acquisition of food and employability guidance. They're calling for you to assist by donating your normal commute cost, or non-perishable food items – please contact [email protected] to get involved, or donations can be made here.
DT38 Foundation
The DT38 Foundation was set up in memory of Dylan Tombides to raise awareness and education of the importance of early diagnosis of testicular cancer. As a result of the COVID-19 crisis, their fundraising events have had to be cancelled, however DT38's current campaign is encouraging men to check themselves on the first of every month. Donations can be made here.
The Bobby Moore Fund for Cancer Research UK
The Bobby Moore Fund (BMF) was set up by Stephanie Moore MBE following Bobby's death at just 51 from bowel cancer. BMF is a restricted fund of Cancer Research UK to fund pioneering bowel cancer research and increase awareness of the disease.
April is Bowel Cancer Awareness Month and every Sunday, Cancer Research UK are running The Big Quiz to raise funds for life-saving cancer research. The quiz will feature a sports round which is dedicated to Bobby Moore. If you want to show your support for BMF, join The Big Quiz's Facebook event page and tune in at 8pm every Sunday for the quiz which will streamed on Facebook Live and donations can be made here.
Richard House Children's Hospice
The current crisis has proved very challenging for Richard House Children's Hospice, which provides support for children with life-limiting and other serious medical conditions in Beckton. Their income has plummeted overnight, their shops have closed and their fundraising events have been cancelled.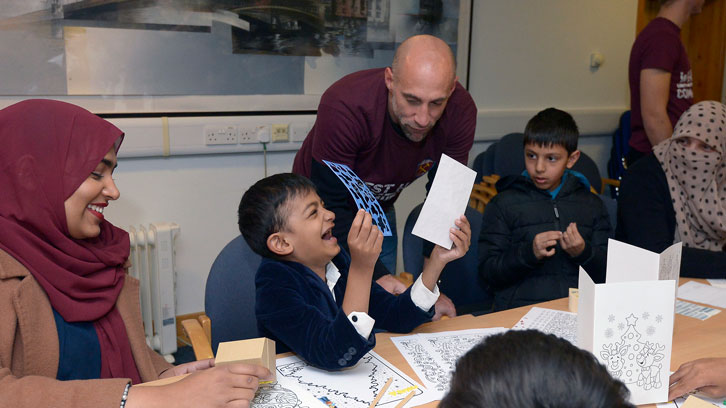 Richard House will be remaining open to provide vital support to the NHS. As hospitals focus on COVID-19 patients, Richard House will be taking children with long term conditions from hospitals, both to provide more beds for the NHS effort, and also to provide a safer environment for these children. Richard House has launched an emergency appeal to help keep the hospice open. Donations can be made here.
Saint Francis Hospice
Saint Francis Hospice is an independent charity and one of the largest adult hospices in the UK, serving Havering, Brentwood, Barking and Dagenham, Redbridge and West Essex. Their team of specialist health and social care professionals provide care and support to individuals with a life-limiting illness, as well as their carers and family members, completely free of charge.
Saint Francis Hospice is facing a funding crisis for the first time in its 35 year history as a result of the COVID-19 pandemic. Fundraising events and activities have had to be cancelled and their 16 retail stores and online outlets have had to close. Only 23% of their funding comes from the government, and the Hospice needs to raise £7.8 million in voluntary income this year. Donations can be made here.
Ambition Aspire Achieve
Ambition Aspire Achieve's (AAA) work focuses on and supports children and young people most in need, including those with disabilities or additional needs. Sadly AAA have had to close their centres across east London and suspend their street work programmes due to COVID-19. They are continuing to offer ongoing support to the most vulnerable young people and families through regular phone calls and a crisis phone number to contact when needed, the delivery of food and other essential item parcels every other week, and activity packs including games and books.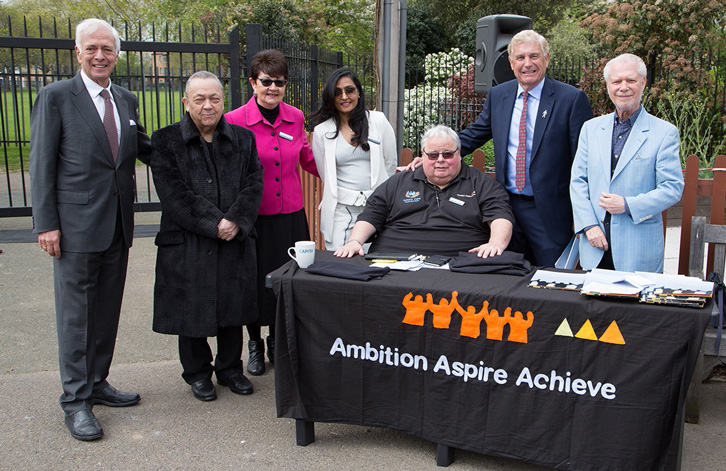 Like many of the charities AAA has been severely impacted by the loss of income through fundraising activities, which have been cancelled. Ambition, Aspire, Achieve would welcome and greatly appreciate donations of non-perishable foods and other household basics, children's games, books and toys (all ages) and donations can be made here.
Blesma, The Limbless Veterans
Since 1932, Blesma, The Limbless Veterans has been the only national Armed Forces Charity that supports limbless and injured veterans for the duration of their lives. Blesma, helps all serving and ex-Service men and women who have lost limbs, or lost the use of limbs or eyes, to rebuild their lives by providing rehabilitation activities and welfare support.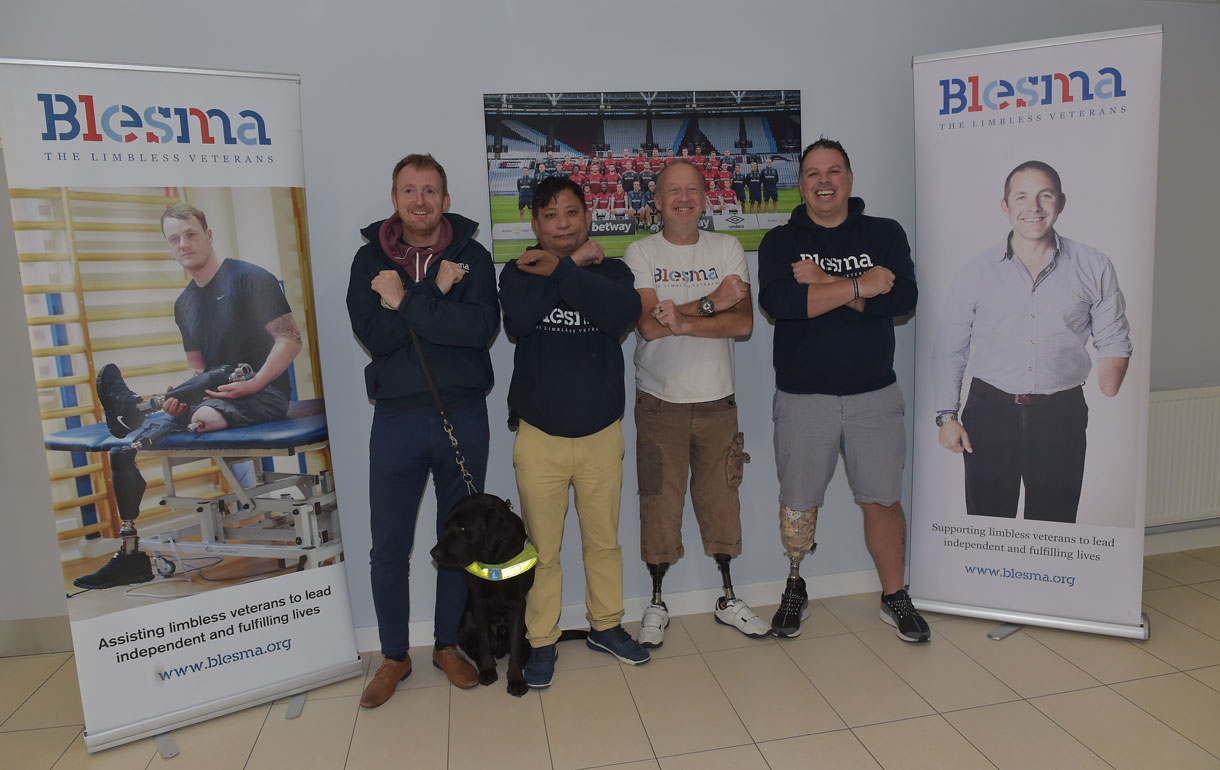 During COVID-19 Blesma are working around the clock to ensure that its often already isolated Members, especially those most vulnerable, continue to receive vital human contact and practical, emotional and financial support, with almost 2,500 non-physical contacts made since 18 March. As quickly as our Members needs are shifting, we are adapting. This work cannot continue without your valuable support and donations can be made here.
West Ham United Foundation
The community drives the West Ham United Foundation's work and directs the projects it delivers. By harnessing the power of football, the Foundation is uniquely positioned to support those who need it most.
The challenges facing our community at the moment are unlike anything we've seen before and although it is not business as usual, they've adapted their services so they can continue to help as many people as possible, whilst following Government advice.
Through the newly created Hammers At Home initiative the Foundation has been working in conjunction with the Club to provide daily challenges, activities and tasks for people to complete in the safety of their own home. Furthermore, there's cooking tips, wellbeing guidance and workouts available to keep people engaged, healthy and physically active. Particular effort has gone towards helping the vulnerable to remain engaged and supported, when loneliness as a result of social distancing and isolation could add to the troubles they face. There's been real success amongst over-60's supporters and 150Club participants with closed social media groups and newsletters, and this is something the Foundation is looking to grow further.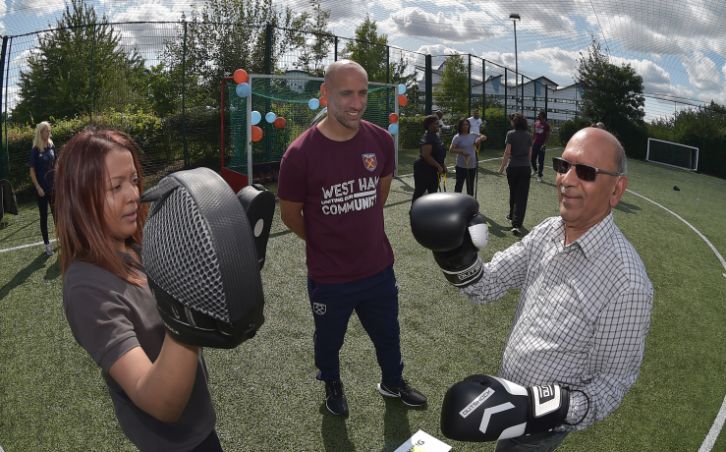 Joseph Lyons, CEO of West Ham United Foundation, said: "Our objectives to respond to local need, unite our community and provide an environment for all to thrive, are more relevant than ever, and although our strategy has altered, our focus has not. In the coming weeks we will be continuing to deepen our impact and while charities, including the Foundation, need as much support as possible in this unprecedented period, we want to continue to reiterate the Government's key message to please Stay Home, Protect the NHS and Save Lives."
The Foundation is currently working behind the scenes to transform its website, to be launched in the next few weeks. Keep a look out on their social media pages (@WHUFoundation) for the new website announcement and all the latest information and activities. Alternatively, get in contact by emailing [email protected].