Marko Arnautovic has reiterated his 100 percent commitment to West Ham United after signing a contract extension and opting to put an end to speculation linking him with a move to China.
The Hammers forward says he cannot wait to score more goals in the Claret & Blue and help lift the Club further up the Premier League table over the rest of the 2018/19 season.
Arnautovic admitted that the offer from China was one he had to consider, but says that now his decision has been made he is ready to feature when Manuel Pellegrini's men travel to Wolverhampton Wanderers on Tuesday evening.
"First of all, this has not been an easy time for me and my family," he admitted. "I said yesterday on my Instagram page that obviously it was a big offer, an interesting offer and me and my family took some time and thought about this because I think any human being would think about this.
"Everyone who deals with this club knows I never, ever refused to play or refused to train. I was training every day. Why should I refuse? It was just hard for my head. Some people can deal with this, some people can't deal with it.
"At the end of the day, I sat down with my family, I sat down with the people around me and I said stop all this talking, stop all this waiting, I'm going to go the coach and tell him 'I'm ready to play'.
"I'm back and I can focus now completely on West Ham because I have committed to stay and I'm going to give everything."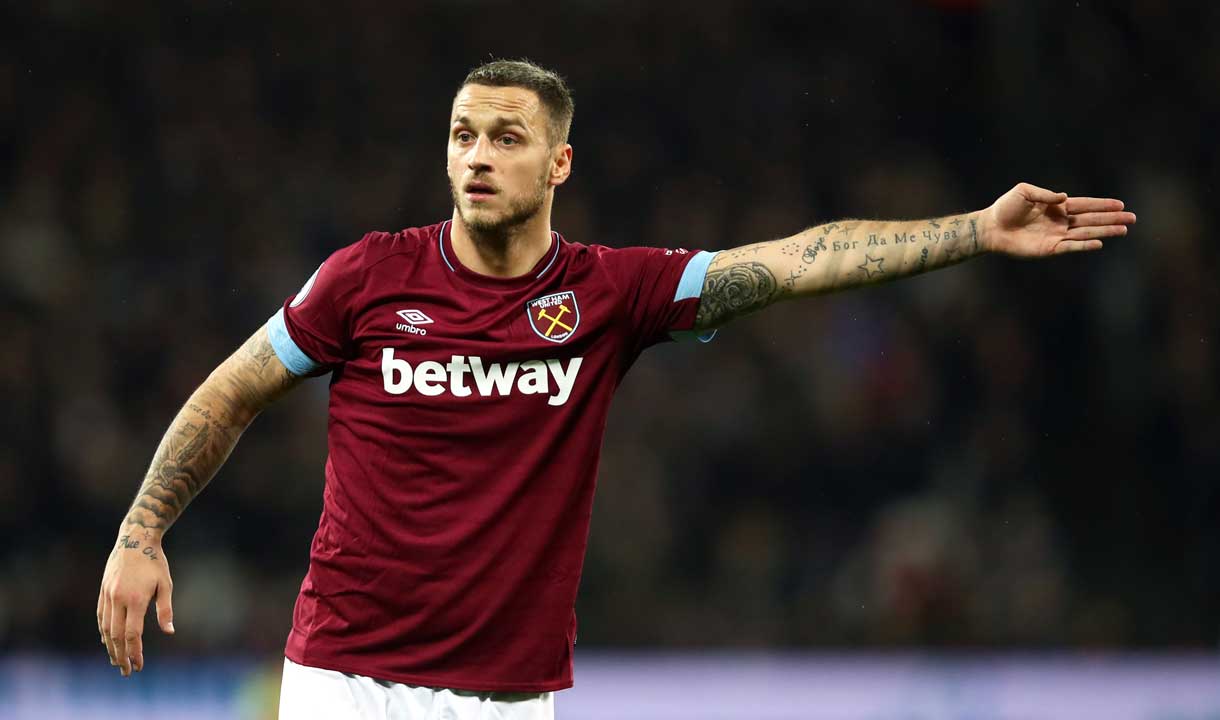 Arnautovic revealed that advice from Hammers skipper Mark Noble helped him arrive at his final decision, and having been unable to help his teammates at Bournemouth last week, wants to repay them as quickly as possible.
He continued: "I was talking especially to Mark, to Nobes, because he is a legend here, everyone loves him and he is a king here because he has been here for years. He was agreeing completely with me, this is the situation, but he was also saying to me 'look what you've got from this club, look what you've got from the fans. We all love you here, we all can go further up, we are all improving', so of course I took this to my heart and I decided for this.
"I'm happy for this and in this interview I want to say to the fans that I'm happy to stay, I glad to play again, show myself and score goals, to make assists, but also to say that the major point is Marko Arnautovic never refused [to play or train].
"I'm happy, I'm happy to come to this point. I'm happy that this club is improving. Step by step, every week, every month we are seeing some improvement and that's good.
"You can feel this also from outside, from the fans, because they can see this team is improving.
"I want to stop all this noise and focus on my job, to play football, and the fans hopefully are going to support us in every game that we play and we keep on winning games.
"Believe me, it was terrible for myself to sit at home and watch the team against Bournemouth, because I couldn't affect it. It was a very bad feeling for myself and I felt kind of mad, angry at myself because I couldn't help the team. But I'm back, and I will give everything now here.
"We go again on Tuesday, against Wolverhampton away, and I want to play and am hungry to score goals."
I sat down with my family, I sat down with the people around me and I said stop all this talking, stop all this waiting, I'm going to go the coach and tell him 'I'm ready to play'

Marko Arnautovic
Feeling settled in London, now Arnautovic is determined to help the Hammers finish as high as possible in the Premier League table.
He added: "Our target, of course, is to climb as high as possible in the league table. We need to start again taking some points. We know it won't be easy against Wolverhampton away and Liverpool at home. It's never easy in this league but I'm sure we have enough quality to win games and to climb as high as possible in the table and then we'll see.
"I have an amazing relationship with the fans. I don't know after what game I didn't applaud the whole stadium, whether we won or lost because they deserve this. It's a normal procedure for a player to give to the fans and I have a good relationship.
"I don't know what is waiting for me now, but I am happy to play in front of the fans, and score in front of the fans. I'm happy to do this and I promise you now, I will score in front of them. There is no doubt, because I know what I am capable of and I know my teammates have a lot of quality. They can set me up or I can set them up to win games together and we will all be happy again.
"The fans gave me the power, they gave me the energy and that's why I have to be here and that's why I want to stay. I never wanted to run away because I hate this club, this was never my intention.
"I love this club and I will always love this club no matter what. You have decisions you have to make in life, but I say from now it doesn't matter what happens I will always love West Ham and it was always be a big part in my life. I love this happiness, so listen, I'm here, I'm ready. I hope the fans are also ready and we go again."