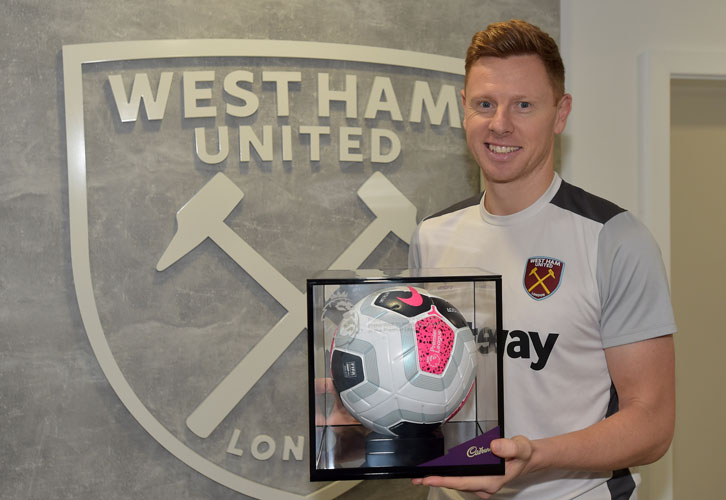 David Martin has been presented with his official Premier League debut ball following his dramatic West Ham United bow at Chelsea.
The 33-year-old lifelong Hammer kept a clean sheet as the Irons won 1-0 at Stamford Bridge, making a series of smart saves to lay the foundation for Aaron Cresswell's second-half winner.
Martin, who burst into tears at the final whistle before celebrating with his famous father, West Ham legend Alvin, was delighted to receive a memento of an unforgettable occasion.
"Even though I was third-choice at the start of the season, I'd still travel in case someone picked up an illness during the night or an injury during the warm-up, so I'd be out there warming-up with everyone, then you're almost ready to go. It's a different mentality between being a third-choice and a second-choice," he explained.
"I have never been that nervous. I was looking at my pre-match food and I had Cress sitting across the table and he was laughing at me because I literally couldn't eat or put it in my mouth!
"As soon that the final whistle went, I just went! It was just relief that I hadn't let anyone down. The supporters were so loud all day and I could see my Dad in the stand. I went up and I could see him welling up and we just hugged. It's a bit embarrassing, but it's something I could never have planned."
Martin has started West Ham's last four Premier League matches, keeping a second clean sheet Saturday's 1-0 win at Southampton.