Chicharito put his impressive performance in West Ham United's 3-0 victory over Newcastle United on Saturday down to confidence as the Mexican's double helped give the visitors an important three points.
The Hammers' No17, who returned to the starting XI for the Premier League contest, scored once in each half at St. James' Park to set West Ham on their way to a second away win of the season.
Poking Robert Snodgrass' beautiful cross home in the first period was followed by a smart finish following Marko Arnautovic's flick on in the second, before the forward's Brazilian teammate Felipe Anderson added a third goal late on.
Chicharito claimed he always had belief in himself prior to the victory, which lifts his side to 13th in the league table.
"I was always confident because I always know that I am doing well in training and I've been patient," the striker said. "I scored one goal against Burnley and I've done my best when I've come on in matches. 
"In this world, when you have the confidence and the manager gives you the opportunity, it's more easy to perform like I did today and thankfully I was able to score twice.  
"Two [goals] is not bad! When you have those kind of chances, of course you want to be ruthless and get a third, but the most important thing in my mind was getting the next goal when the next chance came. 
I was always confident. It's more easy to perform like I did today and thankfully I was able to score twice.

Chicharito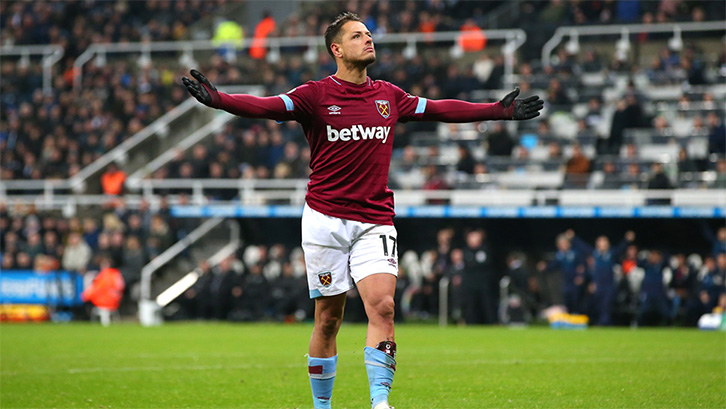 "After the first goal, I knew the next chance was the most important. Then when I missed that, I knew the next would be most important. I did it very good and it was very good because 1-0 against Newcastle is difficult.
"Then Felipe got his goal and he deserved that because he did well one-v-one, and it was a great goal. All my teammates did a very good job."
There were a host of chances at both ends of the pitch throughout the clash, with West Ham spurning a number of opportunities on the break.
But the visitors were not left wondering what might have been, instead defending resolutely to claim the clean sheet, something Chicharito was delighted with.
"We are very happy because we came here to get the three points and we did it and the most important thing is scoring first," continued the forward. "In this stadium, it's very difficult with the support they have here, they keep pressing us so scoring first was very important for us.
"We also were able to keep a clean sheet and score three, and we could have scored more – I had two more chances that I missed – so I think we did very well because we scored and created chances and got the clean sheet.
"We have a very big squad and someone like myself, we've been waiting for our opportunities to show that we can start. We have an opportunity to get three points at home now on Tuesday and hopefully we can do that and start thinking about the weekend."