David Moyes was in positive mood as he sat down to talk to the media ahead of Sunday's Premier League trip to Chelsea.
The West Ham United manager was asked how many points his team need to secure their safety, about Marko Arnautovic's contribution, Chelsea's form and the importance of having four home matches still to play.
Here is what he had to say…
Our target is still to get to 40 points
Beating Southampton only got us three points and at the moment we're not safe yet, so what I think it got us was three really important points, but we're keeping our focus as we've not got enough points to be safe yet. We have to pick up more.
The next game is Chelsea and we need to try and do something more against them and try to pick up some points against them.
It was a really big victory for us against Southampton, for the team, for the Club, and I think for everybody it gave us all a boost. More importantly, it was the type of performance we gave as well. It was an emphatic performance in the first half which got us the goals and we went on and it gave us the chance to go on and win the game quite well.
I'm always basing myself on the fact that 40 points is roughly where you need to get to. It's really difficult to work out what the points tally will be this year, but hopefully it won't take as much as that, but if I am thinking it's going to take 40 for me, it is a long way to go for the teams below us as well, if that's the case.
We need our minds focused on winning and picking up another seven or eight points if we can between now and the end of the season.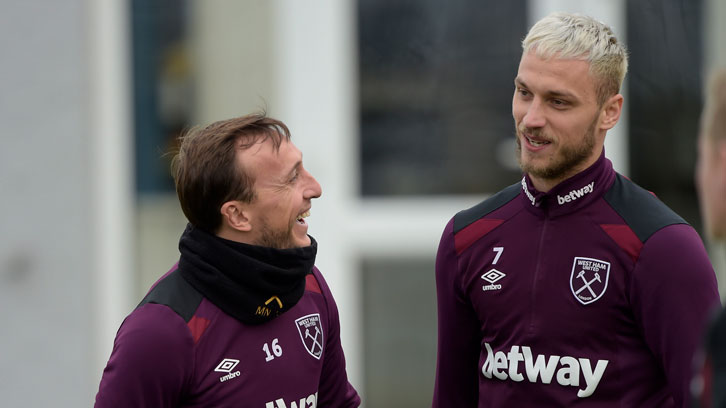 Marko has been a big team player for us
Marko Arnautovic has become an important player for us, but I don't necessarily think that down to anything I've done, but rather that Marko has done.
I think he's always had the ability, as people will tell you who watched Stoke City for years and his career before that as well, which is why he was at so many big clubs.
We've just given him a licence to go and show what he can do, but also with the instructions that he has got to be a big team player as well and he has done that.
He has shown individual qualities with his goalscoring and his finishing but, when we've needed him to work for the team and do the jobs required, he's been good at it and he's helped us.
He's a really important member of the team just now and he'll feel good about that because he's the sort of player who needs that status.
Can lightning strike twice? I hope so!
We're playing the current Premier League champions on Sunday and I really hope West Ham can pick up the points and move up the league.
We beat Chelsea at home in December and I hope lightning can strike twice and we can do it again.
I've seen Chelsea quite a lot and they're a really good team with some excellent players and, up until Manchester City win the league, they are the champions.
We'll go there and give them great respect but obviously go there with a game-plan to get a result and bring some points back here to West Ham.
Chelsea might not win the title this season but, as a top club, they have to win all their games. It's part of their job, they have to win, so don't think for a minute that they will switch off. They won't.
We have to hope we catch them on an off-day and we perform well, like we did in our home game against them. If we can do that again, I hope we can give them a really good game.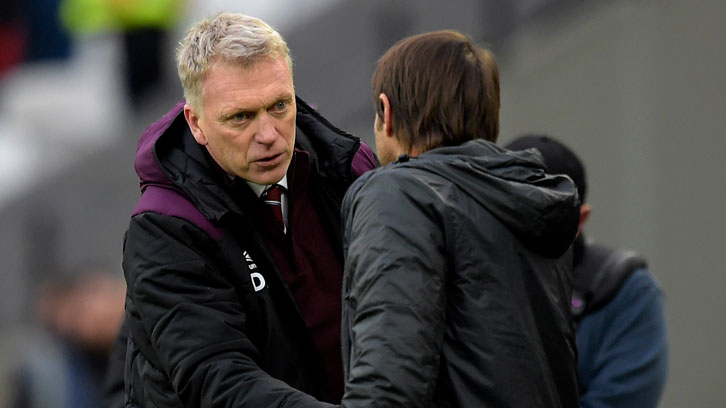 The London Stadium crowd can inspire us to safety
Psychologically, it's massively important to be in control of our own destiny because we want to be the ones winning our own games and not being reliant on other results.
Don't get me wrong, I think everyone in the bottom ten wants the other results to go their way, and we're no different.
But we do know that if we win our games, especially our home games, where the crowd have been fans have been fantastic and have helped us, we will stay up.
We've got Stoke City next weekend, then Manchester City, Manchester United and Everton all at home and I'm hopeful the crowd and everyone associated with the Club will play their part in getting us over the line.