Slaven Bilic was proud of the way his players came close to pulling off a miraculous Premier League comeback against Tottenham Hotspur.
West Ham United fell 3-0 down at London Stadium through two first-half goals from Harry Kane and a third on the hour-mark from Christian Eriksen, while they also lost Michail Antonio to a groin injury.
However, rather than crumble, the Hammers battled back and scored themselves through Chicharito and Cheikhou Kouyate either side of Serge Aurier's red card, but could not quite snatch a late leveller.
Here is what the manager had to say…
Pride and disappointment in defeat
West Ham looked dead and buried when Eriksen's low shot found the bottom corner of Joe Hart's net on the hour-mark.
To the Hammers credit, however, they battled back and ended the game frantically trying to fashion an unlikely equaliser.
In the final analysis, the home side left themselves too much to do, but Bilic took pride in the way his players did not give up in a seemingly hopeless situation.
"There is pride, but obviously we are disappointed with the result," he said. "We started really well, we defended well and in shape and we didn't give them those kinds of pockets they are good at [playing in].
"Before the first goal we were in good counter-attacking situations four or five times with Marko, Chicha or Michail, and we had open space and three against three and good occasions, but we didn't score or materialise those opportunities.
"Then, as happens against teams of that quality, we made a mistake in our half of the pitch and their finishing was clinical. The rest of the first half, it was nowhere near a 2-0 game in the first half. It's very hard to come back from 2-0.
"The second half, we started well, but then they hit the post and one good shot it was 3-0 and we were in trouble. After that we came back with a goal, we pressed them, changed the system and tried to get the advantage on the wings and create two against one situations and make crosses, but some of the were good and some of them were bad.
"At the end we got back to 3-2. We had enough time to create another chance but the game was very stop-start with fouls and it was just time-wasting, to be fair. At the end we were very disappointed with the game, but we took pride from our comeback."
"Of course, it is much better than to lose 3-2 and to have the crowd behind us to the end big time and expecting, really, because it looked like if one team was going to score, it was going to be us.
"There is a big difference than if you lost 5-1 or 4-0 like we were last year to losing 3-2 and in a position where you are looking to score a goal.
"Of course, though, we are disappointed that we lost three goals in and lost the game."
'The first goal was key'
West Ham started the game well at London Stadium and could have opened the scoring themselves had things fallen for them in the early stages.
Marko Arnautovic, for one, looked threatening down the left flank and went close on a couple of occasions, including one strong run that appeared to be halted by a foul by Aurier.
However, the wind was taken out of the hosts' sails in a five-minute spell before half-time, when lapses allowed Kane to put Tottenham in control.
"We played really good and I thought we thought we were good, but then that mistake happened in the middle of the pitch, but even then they were too far from the goal and made a brilliant move with a great cross and a great finish.
"That happens when you play against the top teams, if you give them a little chance, they create a chance and they score."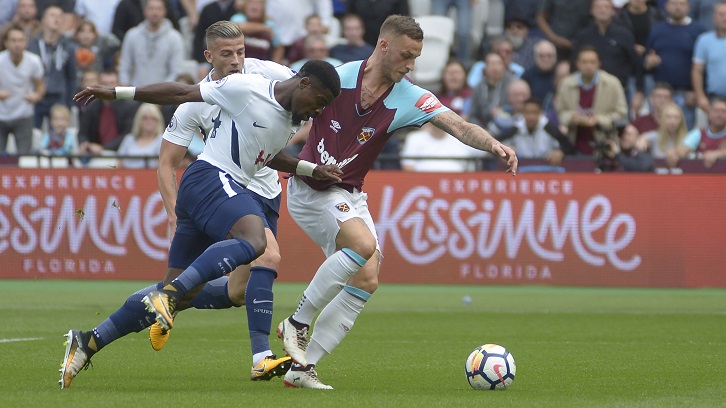 Penalty shouts
As mentioned above, West Ham were denied a possible penalty when Arnautovic's shirt was pulled by Aurier with the game still goalless, and that was not the only spot-kick shout the hosts had turned down by referee Michael Oliver.
Aurier also appeared to handle a cross midway through the second half with Spurs leading 3-1, before Davinson Sanchez appeared to shove Carroll with moments remaining and the Hammers desperately seeking an equaliser.
"For me Serge Aurier handled the ball and there was a tug on Arnautovic in the first half," the manager observed. "There was also a nudge on Andy Carroll on the last corner, I think from Sanchez. It was a free header for Andy, so maybe there, but…"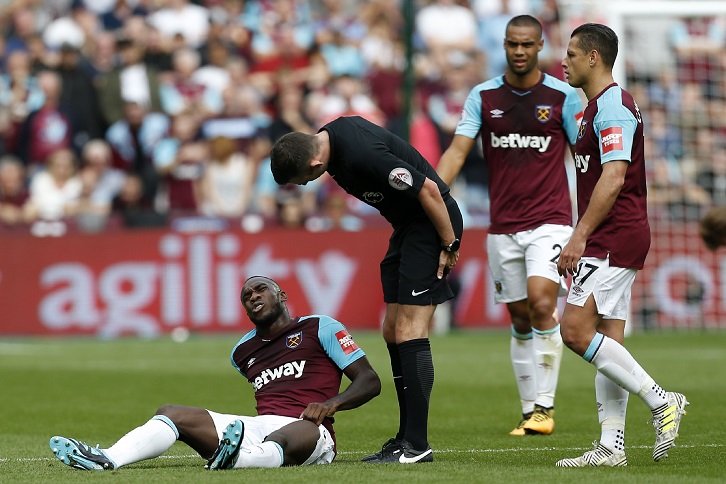 Antonio injury update
To add injury to insult, West Ham lost Antonio to a groin injury midway through the first half, prompting the introduction of Andy Carroll and a positional switch for Chicharito.
When asked about the injury and its knock-on effect, the manager explained that he wanted to retain the 3-4-3 formation that had served his team well in a victory over Huddersfield and draw at West Bromwich Albion.
"It is a groin," Bilic confirmed. "He felt it a bit. He didn't pull it big time, but we have to scan it first to see how big or how bad it is.
"We are not taking a risk, as we are very cautious about that. He passed a test on Friday – not on Saturday because it was an early kick-off – and it was all-clear. We're not taking those kind of risks here, knowing that it can harm him in the long term. It just happened and it is in a different spot, not the same spot."
"Antonio had to go off, so we had to shuffle a bit. Andy needed a bit of time to get into the game and we had to move Chicharito into another position because we wanted to stay in that system that we played in the two games before Spurs.
"Of course, it hurts you to lose a player like Michail in a time that you are doing really well, then they scored, but we should have scored the second goal before.
"Those five minutes after they scored the first we were a little bit lost, so we needed half-time."