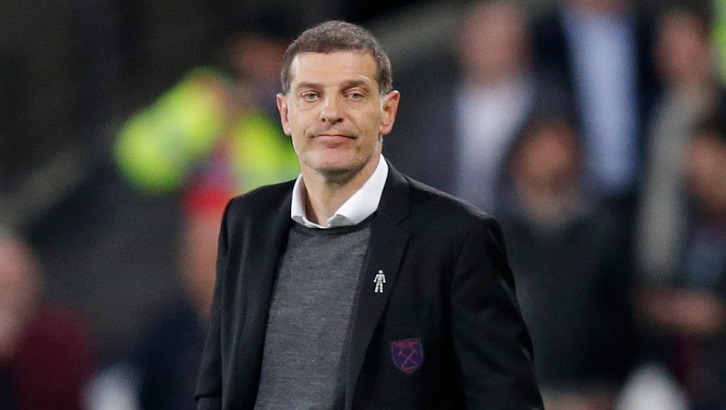 Slaven Bilic admitted West Ham United had not risen to the occasion in losing a 'very important' game 3-0 to Brighton & Hove Albion.
The Hammers went into Friday night's fixture with the Seagulls at London Stadium knowing a victory would take them into the Premier League's top ten, but slumped to a frustrating and disappointing defeat to Chris Hughton's newly-promoted team.
Glenn Murray's double and a long-range strike from José Izquierdo on the stroke of half-time condemned Bilic's side to a loss that the manager was at a loss to explain.
"It's a bad performance from us," he said. "The goals killed us. The first one was very quick and between the first and second goal we were dominating the game and we were there and put a lot of balls in the box, but they defended the balls really well and then in those moments at the end of the first half, we conceded the second one from a good bit of individual skill from their player.
"We tried to come back, but it's very difficult for me to say anything clever now. All I can say is that it was very disappointing and frustrating and as manager I take full responsibility for that.
"We all wanted to win. It happened to us a few times last season at a time when we thought we were in a good situation, in good form and all that and we had a home game like this, with the greatest respect to them, when we thought we would get three points and climb up the table and play with less negative pressure and we don't do it.
"You start the game with good shape and good confidence, but then they score and it's 1-0 for them and it gives them a boost. In the first half we played good football, then they scored a second one, and it's affected the way we played the game.
"We were playing good football, but we were very sterile. On the contrary, they were there in the situations when they could expose the situations when we left space because we were losing and we wanted to take risks. They were lethal and used it in the best possible way for them.
"Why did it happen? To be fair, I don't know. It looked very good on the training ground and in the last few games we were getting players back in shape, but we didn't look good enough."
All I can say is that it was very disappointing and frustrating and as manager I take full responsibility for that

Slaven Bilic
When asked what effect West Ham's defeat would have on his own role, the manager was typically honest, but insisted he would not give up his own ambitions to forge a successful Hammers side in the future.
"It is definitely not a good situation and the Board will do what they're going to do. It is their decision, but all I am saying is that we have been in this situation before and got out of that.
"As a manager, you are taking the credit but on the other hand you are taking full responsibility for that and I don't want to hide or get away from that.
"I am not worried at all about that, to be fair. I am doing my best, but when you lose 3-0 at home to Brighton in a game that it's not must, must-win as it's not that stage of the sason, but it was a very important game for us and we didn't make it. I am a fighter, but it's not my decision."