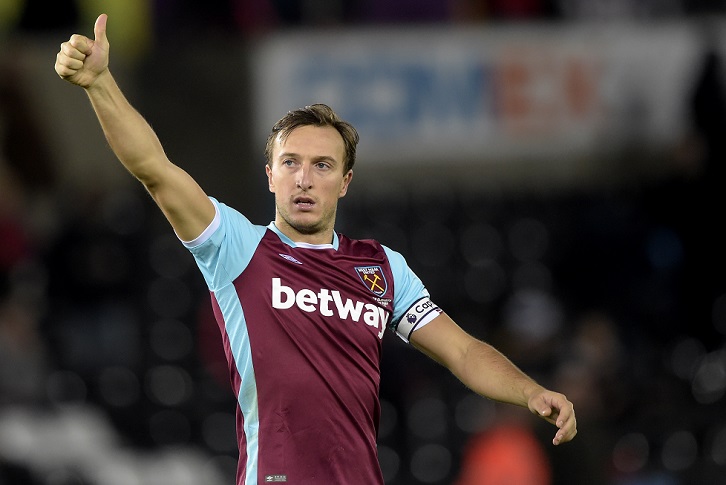 Captain Mark Noble wants to end his playing career with West Ham United
Midfielder has made 394 first-team appearances since debuting at the age of 17 in 2004
The 29-year-old Academy of Football graduate has a contract until summer 2021
Mark Noble wants to end his playing career with West Ham United.
The Academy of Football graduate, longest-serving player and captain is closing in on 400 appearances in Claret and Blue and will become just the 19th player in Hammers history to pass the landmark.
The two-time Hammer of the Year turns 30 in May, nearly 13 years after making his debut as a fresh-faced teenager in October 2004, and is one of a rapidly dying breed of one-club men plying their trade in the Premier League.
Born in Canning Town into a family of West Ham fans, Noble was appointed captain of his boyhood club in August 2016, completing an amazing personal journey that shows no sign of ending in the near future.
I would like to finish my career here, that's what I've always thought

Mark Noble
"To me, looking at myself at the age of nearly 30, I've still got a contract until I'm 33 and thinking about playing for another football club would be funny – I think Steven Gerrard said that as well," said the married father-of-two, who is looking forward to welcoming 8,500 fans to London Stadium for a bumper free half-term Family Fun Day on Wednesday.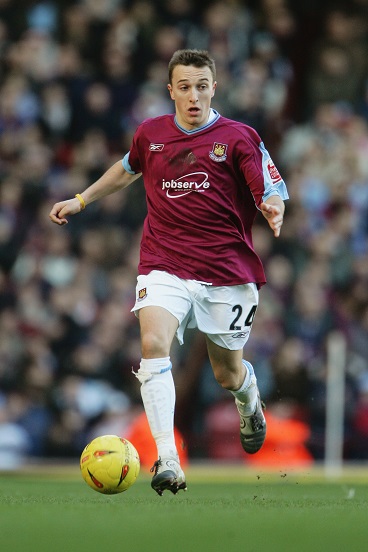 "Walking around the place, I know all the coaches at Under-7, Under-8 and Under-9 level, sometimes I go and watch the youngsters train and I feel like I've been there and done it myself, coming up through the ranks with the Club.
"I've managed to captain this fantastic Club, which is something very few players get to do, captaining the club they support, so it's a major honour for me. I don't think I'll appreciate it fully since I stop playing.
"There aren't many of us now, because football is forever changing, managers change and obviously relegation battles mean players move on, so I think it would be very hard for players now to keep in the team they support and stay there after coming through the Academy. I can't see it happening.
"I would like to finish my career here, that's what I've always thought. I can't see myself playing for another football team, but football is such a changing world so you can't ever tell what's going to happen next season.
"As I said, I've got three years left on my deal here and I'm not sure my body will let me go far past the age of 33, to be honest!"
Noble will get the chance to rest and recover his tired limbs when West Ham fly to Dubai for a warm-weather training camp later this week.
There, the squad will recharge in temperatures of around 80 degrees, refreshing bodies and minds for the final 13 games of the Premier League season.
So, what are the skipper's targets for the remainder of 2016/17?
"Do you know what? After what happened with the big move and winning our first game against Bournemouth at home, it's been tough, I'm not going to lie to you," said Noble, with typical honesty.
"It's been a tough season with ups and downs but we're tenth in the league now and our form over the last couple of months has been fantastic, so we're looking up, to be honest.
"We just want to finish with many points as we can, and obviously it would be nice to reach that 40-point mark as soon as possible, then we can really push on."