Arnie is back.
After a frustrating start to life as a West Ham United player, Marko Arnautovic is most definitely starting to show why the Club spent a record fee to sign him in the summer.
The 28-year-old was sent-off on his second appearance for the Hammers at Southampton, before a lack of form and illness initially curtailed his comeback.
In the last three Premier League games, however, Arnautovic has been back to somewhere approaching his best – powerful, direct and comfortable in possession, and aggressive when out of it.
The No7 started each of David Moyes' first two games in charge against Watford and Everton, but was withdrawn in both, before appearing as a substitute at Manchester City.
There, he set up a late chance for Diafra Sakho which, although the Senegalese missed it, may have been the turning point in his season.
At home to champions Chelsea and Arsenal and away at his former club Stoke City, Arnautovic has been very impressive.
While statistics do not tell the whole story, Arnie has undoubtedly upped his game, and is combining with the likes of Michail Antonio, Manuel Lanzini and Arthur Masuaku to give West Ham a versatile and sustained threat in the final third.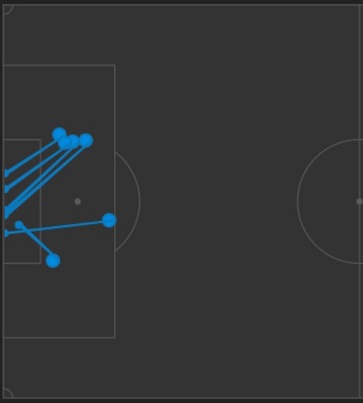 Across the three matches, he unleashed 13 shots and scored twice, while also rattling the woodwork on two more occasions.
In all three games, Arnautovic was West Ham's most advanced player by average position. Despite nominally being a midfielder, he has ostensibly been playing as a forward.
At Stoke, he was clearly keen to make a mark against his former employers, having six goal attempts (see shot map), all of them from inside the penalty area, scoring an outstanding goal in combination with Lanzini and adding two key passes to his teammates.
It was also perhaps telling that Arnautovic made 15 of his 22 passes inside the Stoke half, answering manager David Moyes' call for West Ham to carry more of a threat going forward.
Less eye-catching, maybe, but certainly equally as important in the view of Moyes, Arnautovic has run nearly 30km (18.75 miles) in his last three matches.
Against Arsenal, no West Ham player sprinted more times than Arnautovic's 67. At Stoke, he was more selective about when he went into top gear, but still managed 50 sprints – the same number he made against Chelsea the previous weekend – and gave his former teammates all kinds of problems.
Arnie is back. Now, as his manager has said, repeatedly, the challenge for Arnie is to stay there.