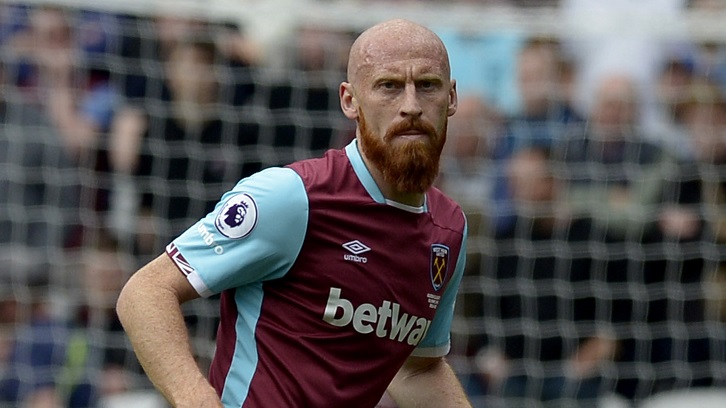 James Collins says a strong finish to the Premier League campaign can help West Ham United to start next season in a positive frame of mind.
The Hammers head to Stoke City on Saturday on a three-match unbeaten run, having followed up a vital home win over Swansea City with a point at Sunderland and impressive goalless draw at home to Everton.
Collins and company have kept two clean sheets out of three and only conceded two freakish goals in drawing 2-2 at the Stadium of Light, and the centre-back believes they have turned a corner heading into the final month of 2016/17.
After travelling to the bet365 Stadium on Saturday, West Ham welcome high-flying Tottenham Hotspur and Liverpool to London Stadium before ending the campaign at Burnley, and he believes those games could have bearing on how Slaven Bilic's side kick-off the new season in August.
James, that's five points from the last three games, culminating in a good performance in Saturday's draw with Everton, so are you now looking up rather than over your shoulder as you approach the final four Premier League fixtures?
"We want to finish as strong as possible. I've been in the game a long time now and I know if you finish the season well, you can move onto the next season and look to continue that form, so that's what we're looking to do.
"It's been a tricky season on and off the pitch, for the manager and for the boys getting used to new surroundings, but it's about finishing strong and looking forward to next season."
After five straight defeats and with key players out injured, you must be pleased with how the squad has come together in the last three games?
"The Swansea game we played at home the other week was played down a little bit, but it was a huge game. We had to get nothing less than three points there and luckily we did.
"We knew Everton would also be a tough game but a point pushes us on up the table and we're looking up and can look forward to our four remaining games."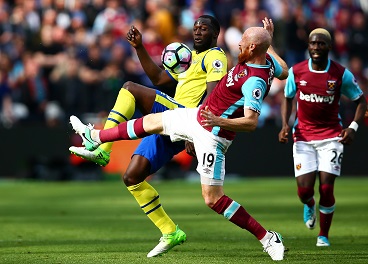 The general consensus is that West Ham shaded Saturday's draw with Everton – would you agree with that assessment?
"Looking back at the game, I think we were quite comfortable defending. I can't think of them having too many clear-cut chances and we probably had one or two at the other end that we should have done better with."
Did you have a specific game plan to stop Romelu Lukaku, who went into the game with a perfect scoring record for Everton against West Ham and as the Premier League's leading scorer?
"We didn't single him out especially. We know he is in good form and he is a tremendous player, but even though we conceded two at Sunderland the previous Saturday, we've been defending quite well the last few games.
"We just went out there and played our game. We can't concentrate everything on one player because they've got a team full of class players, and luckily we've defended well, but unfortunately we didn't get one at the other end."