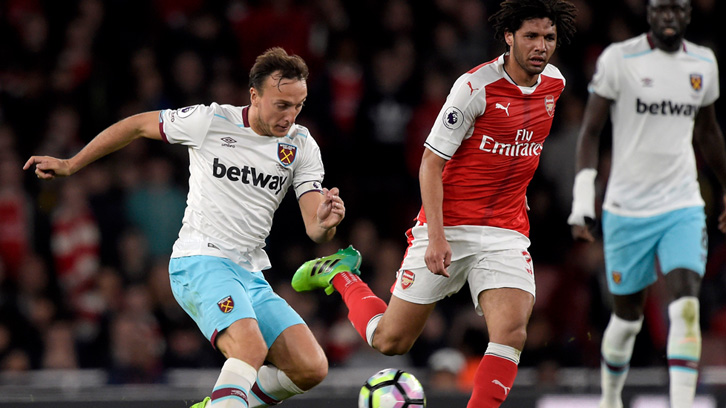 Mark Noble says his team are eager to pay the fans back for their excellent support with a positive result against Swansea City on Saturday
The Hammers suffered a 3-0 defeat when they took on Arsenal in an all-London clash on Wednesday night
But the squad's focus is fully on the task in hand at London Stadium at the weekend, according to the skipper
Club captain Mark Noble says the whole squad are desperate to give something back to the fans when they take on Swansea City at London Stadium on Saturday.
After West Ham United suffered a disappointing 3-0 defeat to Arsenal at the Emirates Stadium on Wednesday, the skipper outlined how crucial the supporters will be when they take on the Swans.
Goals from Mesut Ozil, Theo Walcott and Olivier Giroud gave the hosts all three points in the London derby, but according to Noble, the entire team's focus has already switched to making amends on Saturday.
He said: "We need the fans on Saturday for sure, all of them in full voice and let's hope we can reward them and give them a little bit of something back with three points.
"We're obviously disappointed with the defeat. We know deep down that we have to forget about that as quickly as we can and get a win on Saturday. All our thoughts and efforts now this game has finished are onto Swansea on Saturday.
We need the fans on Saturday, all of them in full voice and let's hope we can reward them and give them a little bit back

Mark Noble
"In my eyes, it's the biggest game we've had for a long time. We need to get the three points, simple as. We have Swansea and Sunderland in the next two and we need points in both of those games to ease the pressure."
West Ham defended well in the first period in north London, shutting out the hosts on a number of occasions and nearly taking the lead themselves through both Manuel Lanzini and Noble himself, who was returning to the starting lineup after a recovering from injury.
But the captain pointed to Ozil's early second half goal as the turning point, after which Arsene Wenger's side found their rhythm and added to their lead.
"The first goal killed us really," he continued. "We defended so well in the first half and then when you get that little bit of misfortune and a couple of players run across Daz [Randolph] and he doesn't see it, that's what happens.
"That goal really killed us and we couldn't hold on after that.
"The group and the team are remaining positive and if you're not, it's not good for the team.
"We need to just go about our business in the next couple of days professionally and pick each other up ready to go again on Saturday."