2016 brought with it a host of unforgettable moments - and our cameras captured them all for our social media channels.
As we look back on the year that is about to close, we pick out six of the best GIFs which appeared on our Twitter account.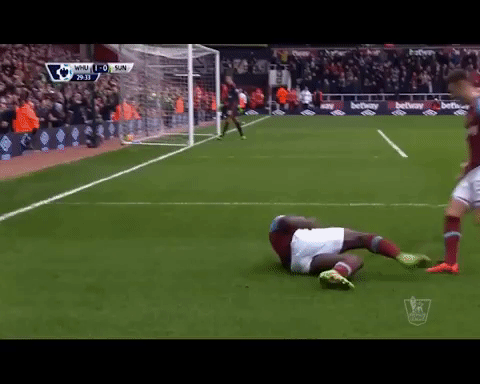 Michail Antonio's 'Homer Simpson' celebration: 2016 was the year that Michail Antonio announced himself on the Premier League scene, with a remarkable 15 goals - many of which were followed by equally memorable celebrations.
The dancing theme began with the 'Homer Simpson' against Sunderland in February and has since been followed by the Carlton Banks, Macarena and Running Man, amongst others. Now, his celebrations are met with nearly as much anticipation as the goals themselves!

Mark Noble carries Ander Herrera off the pitch: The frustration the Hammers felt during the FA Cup quarter-final replay loss to Manchester United was shared by all at the Boleyn Ground, and that moment was summed up perfectly here by Mark Noble.
With the Hammers 2-0 down, Noble felt the Manchester United man was taking too long to leave the field, so took matters into his own hands by carrying him to the touchline!
 
Winston Reid's celebration in the final Boleyn Ground game: A month later the Red Devils were back in E13 and this time the emotion turned to joy as the Hammers were able to sign off in style.
Winston Reid's late header sealed an unforgettable 3-2 win and what it meant to the Kiwi – and everyone present – was clear in the celebration.
 

Dimitri Payet celebrates his first free-kick goal at London Stadium: Talking of celebrations, this one was fitting for the magical Frenchman's first successful free-kick at the Hammers' new home.
Accrington Stanley were the opponents and Payet's last minute winner was met with a trademark knee-slide.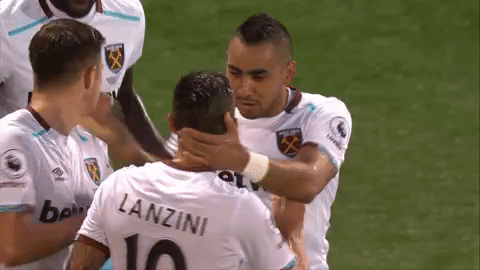 Dimi and Manu share a moment: The Hammers were delighted to welcome Manuel Lanzini back from injury after a knee problem ruled him out of the start of this season – as Dimi showed in this celebration.
Lanzini had just scored the only goal of the game in the 1-0 win at Crystal Palace and Payet was clearly appreciative of his efforts!
 

Dimi marks his goal at Liverpool in style: Payet's accuracy from set-play situations is well-known – but that does not make it any easier to stop him.
Liverpool's Loris Karius found that to his cost in December when the No27 beat him from a free-kick, and his sliding celebration was certainly worthy of the stage.