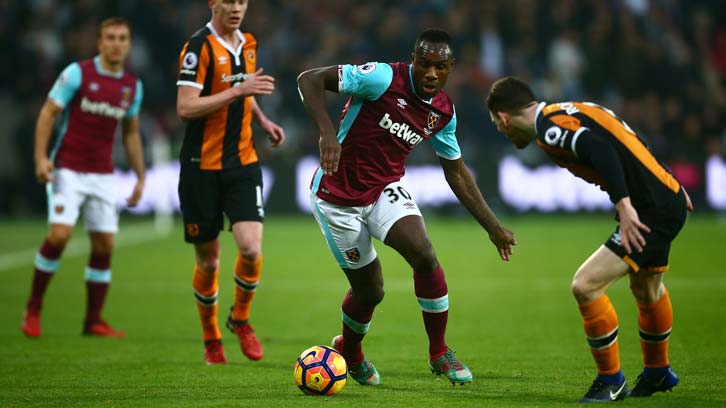 Michail Antonio shows his versatility again in victory over Hull - playing both on the right and up-front
No30 fouled by Tom Huddlestone for Mark Noble's winning penalty
Hammers top-scorer certain his team can build on seven-point week
Michail Antonio was delighted to play his part in Saturday's 1-0 victory over Hull City – with his role as provider coming to the fore on an afternoon when his team rode their luck.
Antonio was pushed up top alongside Andy Carroll at half-time, and it was from that more advanced position that he was able to influence the Hammers' three-point haul, their second in succession.
First, he led the charge as the hosts broke from a Hull corner as the game headed into its final 15 minutes, having his 60-yard run halted illegally by Michael Dawson.
Then, from the second phase of Dimitri Payet's free-kick, Tom Huddlestone fouled the No30 in the box and Mark Noble did the rest from the spot.
He said: "At half time the manager told me to go out there, drive at them and use my pace. He put me up there in a two up-front and he asked me to cause some damage. That's what I did in the second half.
"For the penalty the ball was in the air, I out-strengthed Huddlestone. I took a touch to swing and hit but he's held my leg. Some people will say it's light, but I believe it was a penalty.
The manager asked me to go out there and do some damage in the second half. That's what I did

Michail Antonio
"It's been a very good week with seven points from it, so we've just got to build on that now. Hopefully we've left the bad results behind us.
"The points on the table is what lifts the pressure. We've got seven from our last three games and that's got us up to 13th in the table, and if you keep getting points then there won't be any pressure."
Following a draw at Liverpool and a midweek win against Burnley, Antonio believe Saturday's outcome was evidence that his team's luck has changed.
He added: "They hit the woodwork three times. It didn't go in and that's the kind of luck we haven't been having this season.
"At the beginning of the season, whenever someone attacked we got punished, but on Saturday things went our way. Hopefully we won't need luck in the future and we can win comfortably."