Interviews
Obiang - Moyes and his staff have given us positive energy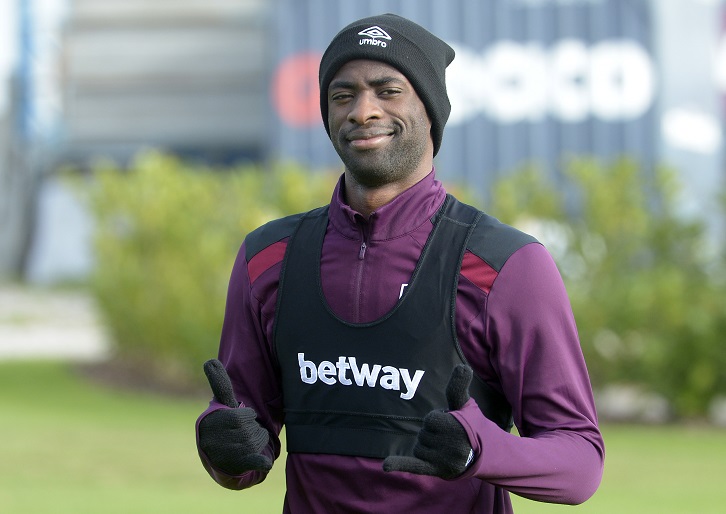 Pedro Obiang says the arrival of a new manager and coaching team has injected the West Ham United squad with new energy.
The midfielder says David Moyes and his staff have upped the intensity of training sessions and worked individually and collectively to improve the Hammers' fortunes.
With the whole squad back at Rush Green for the first time under Moyes' management on Friday, Obiang expects the level to be raised again as West Ham prepare for the Scot's first game in charge.
"The energy the manager and his coaches have brought has been really positive and, in this situation, for the players, for the supporters and for everybody, we are experiencing new things," said the Spaniard. "Of course, we know what happened before, but it is time to change and think about what we are doing right now and that's what we are doing.
"It's really important that we start afresh. Of course, it has happened many times at every club, but now everything has changed and it's not about one game, one player or one thing; we have changed our mentality and we cannot have any more excuses.
"If we work together, every player and every member of staff, then we can do what we want to do."
We have changed our mentality and we cannot have any more excuses

Pedro Obiang
With just two training days ahead of Sunday's Premier League fixture at Watford to work with his full complement of players, Obiang says the direct approach of Moyes and his assistants – Alan Irvine, Stuart Pearce, Billy McKinlay and Chris Woods – is the right approach.
Starting at Vicarage Road, the Hammers tackle 12 games in 44 days, meaning the coaching staff have limited time to share their philosophy with the squad.
"The staff know what they want and what we need. They are talking with everybody and teaching us the new things they want to put in. They are dealing with us directly because they don't have too much time to do this.
"We have a game at Watford on Sunday, then a busy time with many matches and, with the international break, they do not have many sessions with the whole squad to prepare us. For those of us who were here during the break, they have given us the best, and that has been good.
"We are training more than before, not in terms of time, but in terms of the quality of the things they are doing. The manager has changed the intensity of many things, we have done more things tactically, and he's bringing everything new for us, which is good because he is giving us his philosophy.
"It's similar to the training I did in Italy [with Sampdoria] but, at the same time, it is different because we have many coaches around, telling us what they want and that can only help us."
The Boss doing some 1️⃣ on 1️⃣ work with @Obiang14... pic.twitter.com/Hci39u4wev

— West Ham United (@WestHamUtd) November 8, 2017
Obiang says Sunday's game will not only give the players their first opportunity to put Moyes' plans into action, but also the chance to achieve a vital victory.
"Without the fact we have a new manager, this game is important for many reasons; it's important for us, it's important for the changes, it's important because of where we are in the table, it's important because this is the perfect time to get a win to improve our confidence, and it's important for us as players to show who we are.
"We know we have good players, but in the last few months we have not been at our best, so we all know we need to do more and we will work hard and try to do this.
"Watford changed their manager themselves in the summer and they have done new things and have taken confidence from this, but this is the kind of game we can win if we are hungrier than them and show our quality."
Sunday's Premier League fixture at Watford will be screened live in the UK by Sky Sports, with kick-off at 4pm. For worldwide broadcast listings, click here.