West Ham Tv
Nobes and JC - The 400 Club
In an emotional West Ham TV special to celebrate Mark Noble reaching 400 West Ham United appearances, Jack Collison asks his friend and former teammate to pick four standout moments.
Collison and Noble shared the Hammers midfield on dozens of occasions between 2008 and 2014, sharing the despair of relegation in 2011 and elation of promotion at Wembley Stadium a year later.
The two midfielders were reunited at Rush Green this week, where Noble shared his favourite memories in Claret and Blue, with two Play-Off finals, a remarkable victory over Manchester United at Old Trafford and the unforgettable Final Game win over the same opposition at the Boleyn Ground.
First off, Collison asked his old pal to describe the 2005 Championship Play-Off final at Cardiff's Millennium Stadium, which was settled by Bobby Zamora's goal, which sparked wild celebrations featuring the then 17-year-old.
"I remember travelling to the 2005 Play-Off final and it was the biggest game I had been involved in at that time," Noble recalled. "I was warming-up behind the goal with Teddy [Sheringham] when Matty [Etherington] put the cross in and Bobby [Zamora] scored and the feeling was unreal. After Bobby scored that goal we had that celebration and I came on after and I always remember trying to chip the goalie from 25 yards!
"I didn't even think Pards (Alan Pardew) was going to bring me on, but before coming on I remember standing there looking up at the crowd and thinking 'Oh my God, this is unbelievable!' and it was an incredible day."
You don't ever get time to look back at the past because you're always under pressure to win the next game

Mark Noble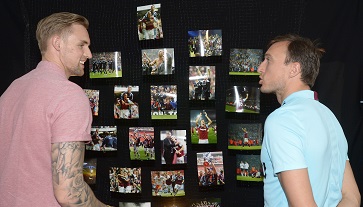 Next up came the 1-0 win at Old Trafford which completed the 'Great Escape' two years later.
"Fast forward a couple of years to 2007 and it looked like you were out of it when you lost 3-0 at Sheffield United with a few games left, everyone had written you off, so how did you feel going into that?" asked Collison.
"I remember being on the coach on the way to Old Trafford and I was sitting opposite Ginge at the time and we were all nervous because we needed to win to stay up and they'd already won the league, so we thought they would just go out and enjoy themselves," Noble explained. "Ginge looked at me and said 'I've got a good feeling about today!' and it gave me a buzz, then Carlos [Tevez] scored!
"I remember looking up at the clock and thinking we've still got another half to cope, then another 15 minutes then another five and thinking 'They've got to score two'."
After describing the 2012 Championship Play-Off final victory over Blackpool in which they both appeared as 'so important', as he was getting married a week later, Collison and Noble closed their walk down memory lane with the Final Game at the Boleyn Ground in May 2016.
"That game was so special with the way it went, for me," said the captain. "To be able to come back and win in that atmosphere, to top off the best season I'd ever had as a West Ham player and a West Ham fan, was incredible.
"We all wanted to leave Upton Park on a high and to leave it the way we did was amazing. I'll never forget it."
Reflecting on becoming just the 19th Hammer to reach 400 first-team appearances, Noble told Collison he was proud of his achievements.
"You don't ever get time to look back at the past because you're always under pressure to win the next game," he said. "So to look back at the memories I've had as a West Ham player, especially having been brought up around the corner and been to games as a fan, then to captain the last-ever game at the Boleyn and the first-ever game at the new Stadium is something that doesn't happen to a lot of people, and I was lucky enough to be one of them."