Preview
Bilic: Momentum, West Brom and that winning feeling
West Ham United boss Slaven Bilic was quizzed by the media ahead of the Hammers' trip to West Bromwich Albion this weekend.
The Croatian's side picked up their first Premier League points of the season on Monday and will be hoping add another three points to their tally when they travel to the Hawthorns on Saturday.
Bilic was asked about keeping up his side's momentum after a win, the atmosphere around the training ground, West Brom's early-season form, and more ahead of the clash…
'We need to use the momentum'
After a tricky start to the season, Bilic was on hand – and delighted – to answer plenty of questions about the Hammers' first victory of the campaign in the league.
The 2-0 victory over Huddersfield – sealed thanks to goals from Pedro Obiang and Andre Ayew – has lifted some pressure off the east Londoners but the manager was keen to point out the victory means nothing if they cannot build on the performance.
He said: "It was so important to win the game but we have to continue like that. We were off training yesterday but we had a meeting before training today. I said, if we think that because we beat Huddersfield we have done it, then we are wrong.
"We need to build on this now. We beat them after training at our stadium and we were on fire in training.
"But we must do it in games, and that's what we did. We have to do it again tomorrow and only then will it be a positive for us, if we get something out of the game.
"We have to use the momentum. We were in a position we didn't like, and now we've won, we have got a boost. I'm expecting us, with the greatest respect to the opponent – and it will be hard – to use our confidence on Saturday."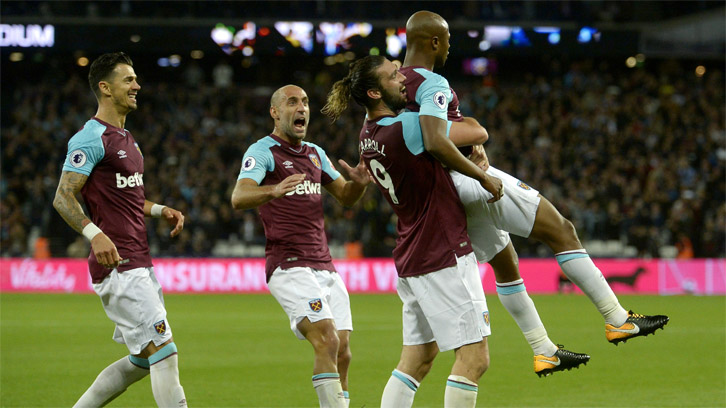 West Brom's good start
After two wins – three in all competitions – to start the season, Tony Pulis' Baggies began the season in fine form. Since, though, they have picked up just a point from their last two games.
Nevertheless, they remain in the top half of the table and Bilic is wary of the threat they pose on Saturday.
"West Brom had a good start but for me, it's no surprise because they were really good last season. They were like the first ones to secure their [Premier League] status apart from the big teams in the top six.
"They started well this year, and OK, they drew and lost one recently, but the games they won they won with typical results and a style.
"It's not a big surprise for me. They have invested some money and they're always very hard to beat. They're a good team.
"Of course, it's early days but teams like West Brom – Stoke, Watford, Huddersfield as well – they have done what we wanted to do and showed it can be done. But with a good run of results you can catch them up quite easily."
'Confidence is crucial'
That winning feeling was back at London Stadium for the first clash there this season, and Bilic believes his side can take a lot of confidence from the three points.
The Hammers dominated periods of the match against David Wagner's Terriers, and the manager hopes to do the same on Saturday.
"Yes, [confidence] is crucial," he said when prompted. "Confidence always comes and goes, but class is permanent. It's important for a manager and we should have it now. If it was the reason for the disappointing start, then it's an even bigger motivation for us on Saturday [now we have it back].
"Let's keep it, use it, and build on it. It's not only games, but you have better trainings, atmosphere around the place and all that.
"It's like a chain and you have many things that are more positive. We must continue, and I can help do that, yes. By being there, by talking to them on the pitch, by having individual talks and a number of things. That's the way to keep that feeling."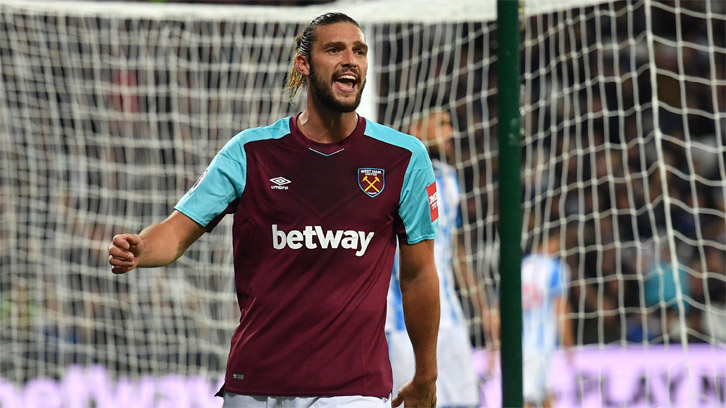 Care with Carroll
As always, the boss was asked plenty of questions about Andy Carroll, who made his return against Huddersfield Town.
The Big Man was influential at London Stadium, winning 13 aerial duels, never letting a Terriers defender rest at the back.
Bilic also revealed that, of course, the medical team are taking extra measures to ensure the striker maintains his fitness.
"Carroll is one of them [who can lift a team]. We've been saying it for two years, 100 times. He's the player that everybody knows that he makes teams proud and he's a player you can't ignore.
"There are some players – and Andy's one – that you have to find special treatment for. But that doesn't mean that he can't train the whole week. Most likely then he will get injured.
"On the other hand you can't treat him as you're treating a 20-year-old, like Declan Rice or Domingos Quina, who could train six hours a day. You need to find a balance. That is exactly what we are doing now. It looks good and we're hoping that is going to last."