Ladies
Ladies confirm signing of goalkeeper Connatser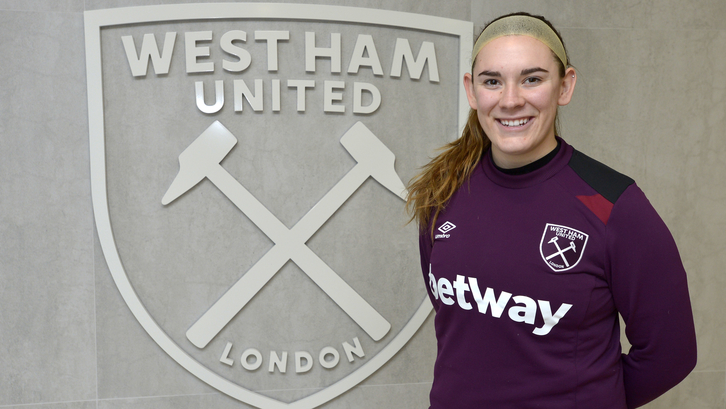 West Ham United Ladies are delighted to announce the signing of goalkeeper Cara Connatser.
The 23-year-old moves to the Hammers as part of the partnership with the University of East London and is the latest player to make the most of this initiative, following the likes of Ellie Zoepfl, Chloe Burr and Daisy Davis.
Connatser is thrilled to have put pen to paper with the Hammers and can't wait to begin her playing career with the Club.
"I'm super pumped to be at West Ham United," Connatser told whufc.com. "I've heard so much about the team here and I couldn't wait to see if the players could live up to the hype. It is so much more than I expected. Being in this team is so much fun.
"I have been itching to get on the field since I started training here. Since that first session, I've been asking to play and now I'm going to get that chance, which is awesome. When Karen last spoke to me she asked me if I was ready, and I know I am prepared to wear the West Ham kit and show what I can do."
I'm super pumped to be at West Ham United...I am prepared to wear the West Ham kit and show what I can do.

Cara Connatser
General manager and interim head coach Karen Ray has hailed the character and ability of the Ladies' newest acquisition, and is expecting big things of the shot-stopper.
Ray said: "Cara is not only a fantastic goalkeeper, but a great character. She brings great experience, having played at the highest level of University soccer in America, and we hope that at West Ham United we can provide Cara with the type of environment that will see her strive to solidify her spot.
"Our philosophy requires the goalkeeper to really connect with her defenders all the way through to her forwards, and with Cara's passion and ability to lead she will no doubt excel at this."
A student of UEL, it was another pupil at the University that Connatser knows well that helped persuade her to make the move to West Ham.
The goalkeeper is good friends with fellow American Zoepfl, and seeing the forward thrive at the Hammers is what convinced Connatser to join the Club.
"Ellie and I met at UEL but, while she came to London specifically to play for West Ham, I originally came here for my tuition," Connatser explained.
"Watching Ellie come here though, and seeing how much fun she was having, it made me a bit jealous. She was always telling me about how good training is and the plan the Club has for the team. From that moment, I wanted to join and play alongside her, and now I have that opportunity!"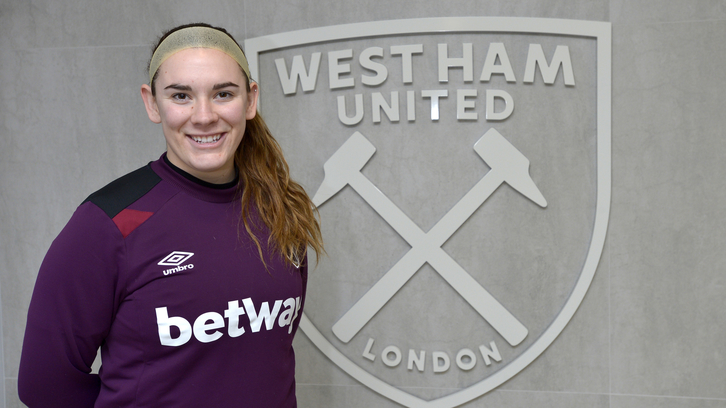 Comfortable on the ball and ready to communicate with her team, Connatser has indicated her style of goalkeeping involves a lot of talking with her defenders, and the American is more than ready to stake her claim to a place in the side,
"One of the reasons I became a goalkeeper is because there's only one of them in the team," she said. "Without a doubt, I am ready to compete for that spot."
She continued: "When people think of goalkeepers, their minds go to the use of hands or punching the ball. For me, saving the ball is only 30 per cent of goalkeeping; I try to save 70 per cent of shots with my communication.
"Honestly, the defenders might get annoyed with me, with how much I shout and talk! I try to find the perfect amount. I don't want to overdo it, so they end up tuning me out, but I do want to be a vocal presence so they know I am there to help them.
"What the Club and the team is building towards is awesome, and I'm completely behind the plan in place. I can't wait to help the team move forward. It's super exciting."