West Ham Tv
Like My Dreams - Owen's Story
It has been a hugely challenging year for Owen Richards and his family.
The 14-year-old has a lifelong developmental condition named autism nonverbal, which means he is unable to communicate via speech, and was also diagnosed with diabetes while on holiday in early 2016.
Living with autism nonverbal can make understanding and relating to other people hard for Owen, who communicates using sign language and by typing messages on his iPad, while everyday family, school and social life are also more difficult.
Despite those challenges, and the need to regulate his blood sugar level on a daily basis, Owen is making progress with the help of therapy provided by his family, school and healthcare professionals.
Aunt Amanda, a postwoman who lives in East Ham, nominated Owen for his Like My Dreams experience after introducing him to West Ham United in 2014.
Already a football fan, Owen had attended matches with his Liverpool-supporting mother Jackie, but Amanda was determined that he would follow the family tradition by following the Hammers.
A dream come true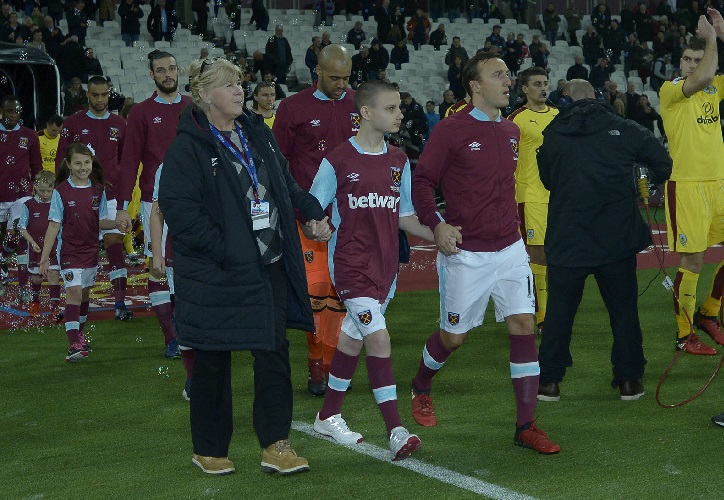 Two years later, he is an avid Hammer, watches home and away matches with his family, and this month was given the opportunity to lead the team out before the Premier League game against Burnley at London Stadium.
"It's a dream come true for me, being his auntie, with the year that Owen has had, I can't believe this has actually happened to him," she said.
"West Ham United is something which makes things easier for Owen and easier for us as a family. He thoroughly enjoys coming to the games and is well into it.
"We first took him to Celtic Park, then to Anfield and then, two years ago, when West Ham announced it would be the last season at Upton Park, I asked Jackie if I could convert him to West Ham and it was a very, very emotional time for the whole family going back there.
"I have been supporting West Ham since 1980 and used to go all the time with my Mum, and ever since we started taking Owen, he watches the games either live or on TV, watches Match of the Day with his step-dad, or goes on his iPad the next day to re-watch them. He absolutely loves it!"
Owen receives regular treatment for his diabetes and, with the help of his little sister Paula, has learned to take his own blood sugar levels and eat and drink the right things to keep that level regulated.
"I can't forget how close we came to actually losing him," Amanda explained. "The Newham medical team who help him to deal with his diabetes have been absolutely brilliant, because if it wasn't for them he wouldn't be as good at dealing with his diabetes as he is."
Proud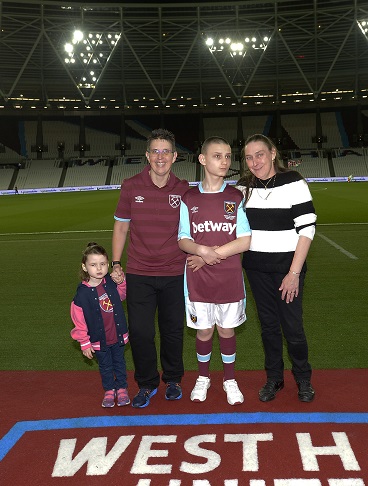 For mother Jackie, caring for her children and helping Owen to live the most-fulfilling life possible are her twin aims every single day.
"It has been a challenge but I couldn't be prouder than I am of Owen," Jackie confirmed. "For an autistic nonverbal child, he is brilliant, because to be able to do what he can do is unbelievable.
"Owen has high-functioning autism, he's nonverbal and he finds it very frustrating. He has learning difficulties, but he has attended brilliant schools. It is hard dealing with his tantrums, which are the result of frustration because he can't speak, but on the whole Owen is a lot better than he could be and he copes with it really well.
"I can't thank the medical staff and his key worker at school for helping him to deal with his diabetes. He has four injections a day and he knows what to do if his blood sugar level is too low or too high.
"He has done so well and it's thanks to everyone who helps him, from Paula, who is my eyes when I'm not in the room, and the whole family. It's an all-round effort."
For Jackie, seeing her son enjoy watching West Ham with her husband and sister-in-law was a dream come true.
"Owen being into football has proved that he can read because he goes through the teams every weekend and picks the ones he thinks will win," she confirmed. "It gives us an interest as a family because his step-dad is football-mad. Owen loves his football.
"Seeing Owen leading the team out was a proud moment for me. I am always proud of him, but seeing him be mascot for West Ham made me the proudest Mum in the world."