With the 2022 FIFA World Cup finals just days away, we continue our look back at the 21 West Ham United players – not including loanees – who have featured at the Beautiful Game's biggest party by focusing on the year three Hammers lifted the trophy, 1966…
Sir Geoff Hurst's exploits against West Germany on 30 July 1966 will be etched in world footballing history forever. But it was his performance against the same West Germans, 157 days earlier, that set the FIFA World Cup final hat-trick hero on the road to soccer stardom.
For an encouraging England debut in the 1-0 victory over Helmut Schön's side on 23 February 1966 propelled the prolific Hammers striker into the World Cup reckoning.
Towards the end of a season that saw him net 40 goals from 59 outings in West Ham's Claret and Blue, Hurst had arrived on the international scene relatively late, aged 24. And as he joined up with Alf Ramsey's 27-man squad at Lilleshall, he was still not sure whether he would make the final cut.
"It was a tense time and Bobby Moore couldn't even give me any indication," recalls Sir Geoff, who finally got the Ramsey nod alongside both his Irons captain and a third Hammer, midfielder Martin Peters.
Although he did not make the starting line-up in Group One games against Uruguay (0-0), Mexico (2-0) and France (2-0), the eager centre-forward was finally given his chance in the quarter-finals after Jimmy Greaves was ruled out with a shin injury.
Hurst took that chance and some, scoring the only goal of the game with a header from Peters' expertly-flighted cross to secure a semi-final encounter with Portugal.
"When Alf announced the team for the Argentina game I just kept thinking: 'My time's arrived.' I'd kept fit, I was in the right frame of mind and I was ready. I got spat at, punched in the throat and elbowed, so it was rewarding to score the winner."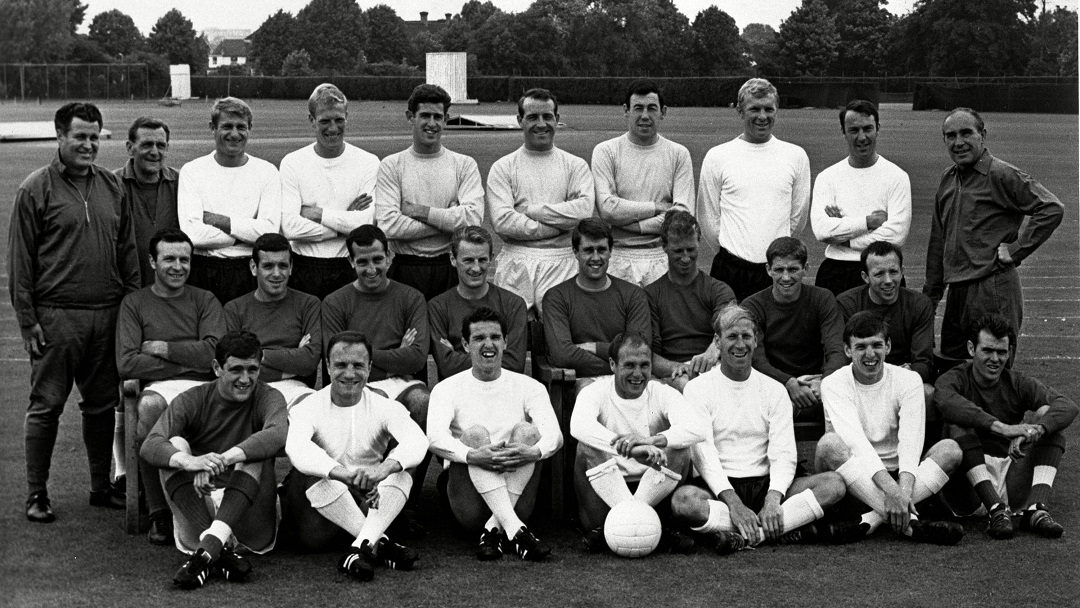 Bobby Charlton's double over Eusébio's Portugal secured a 2-0 victory and set up that unforgettable final against West Germany at Wembley Stadium. The rest, as they say, is history, as Hurst's treble and Peters' goal secured a dramatic 4-2 victory and an historic World Cup triumph for Alf Ramsey's Lions.
The striker recalled: "Even though we went behind to Helmut Haller's opener, it was still early days and when Bobby Moore took a free­kick a few minutes later, he knew I was always looking for the early one. By going that split-second earlier, I easily had the edge over my marker and headed past Hans Tilkowski. I was so exhilarated that I just kept jumping up and down. It was just sheer joy. And when Martin  put us ahead on 78 minutes, we thought we were going to win the match."
Wolfgang Weber, however, silenced the home nation as he bundled home a last-gasp equaliser and forced an extra half-hour.
"I was physically and mentally shattered," confirms Hurst, who then mustered up the energy to score one of the most talked-about goals in the history of the game, ten minutes into extra time, when his rising shot hit the underside of the crossbar, bounced down behind Tilkowski and out.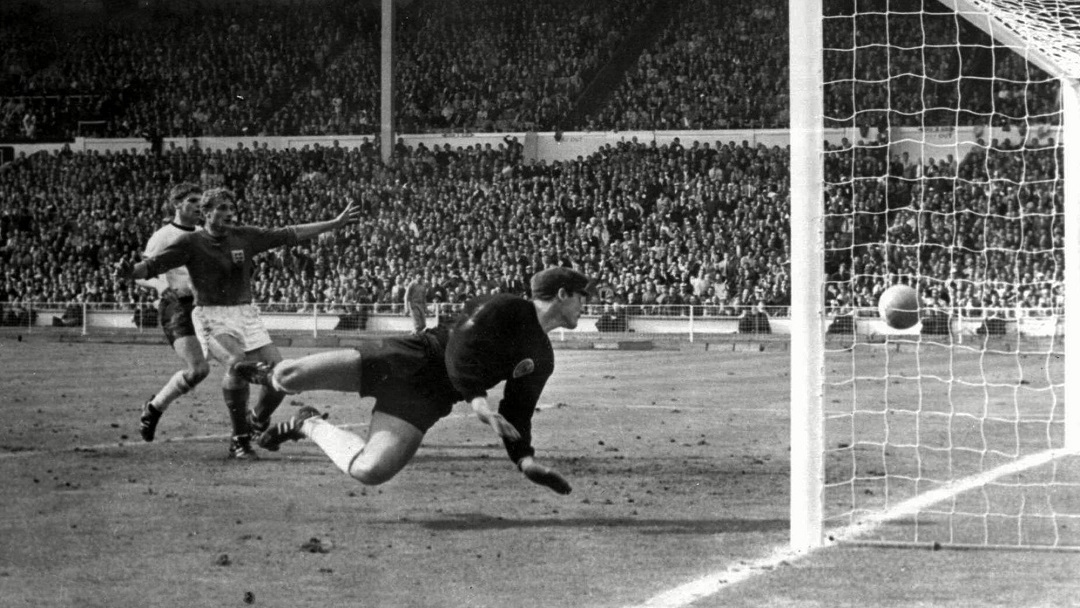 After consulting with his Soviet linesman Tofiq Bahramov, Swiss referee Gottfried Dienst awarded the goal, but the debate over whether the ball had crossed the line has continued for the last 56 years.
Hurst recalled: "Alan Ball didn't even need to look up as he sent in his cross. I had made my run marginally too early, and the ball was going behind me, so I had to control it, take a second touch and then. . . BANG! I had the worst view in the stadium because I had fallen over, so I was sitting on my backside when the ball came down off the West Germans' crossbar. I was thinking: 'Is it or isn't it?'
It was agony for Sir Geoff, his team-mates and the whole of England holding its breath...
"Although it was only seconds, it seemed much longer until he eventually gave a huge nod. I've always said it… Roger Hunt – a predator – had the best view and instinctively he'd have tried to put the ball in to claim what could have been the winner.
"Instead he shouted: 'It's there!' and wheeled away. That's good enough for me. I still believe today that it was a goal even though the film is inconclusive. I'll never change my mind about that."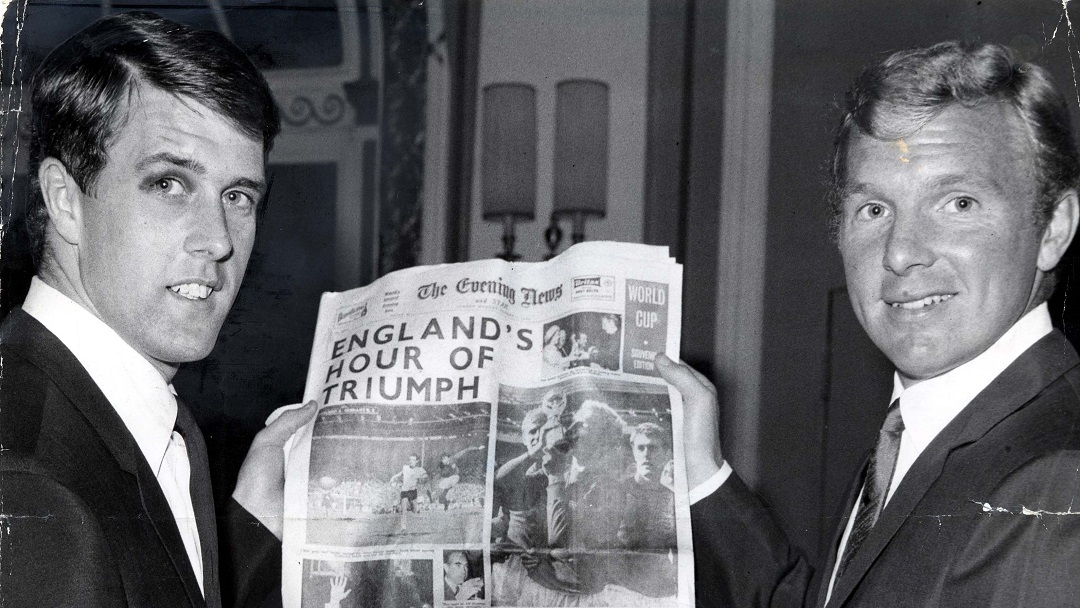 Over half-a-century on, the debate still rages on, but there was absolutely no doubting the last-gasp thunderbolt that etched Hurst's name into football's history books.
Again, it was another goal straight out of the West Ham coaching manual.
"Mooro showed so much composure, chesting the ball down in his own area with just seconds to go," he acknowledges. "That says so much about his greatness. Jack Charlton was screaming for him to get it out of the ground, but Bob hit a great pass upfield. Everything just opened up and I decided to hit the ball with everything left in me. The ball popped up off the turf and I hit it on the sheer bone of my instep. It flew in!
"The whistle to end the match then blew and even an hour after the game, I still wasn't sure whether it had counted. It wasn't until I went back out and looked up and saw the 4-2 on the scoreboard, that I realised I'd got a hat-trick.
"If someone had written the story of a World Cup final between England and West Germany, with us coming from behind, losing it in the last minute of normal time and then winning it in extra time, people would have said that fairytales like that didn't happen in football. I wouldn't swap that winner's medal for ten League championships.
"After a reception at the Royal Garden Hotel in Kensington, five of us went to Danny La Rue's club with our wives. They played 'When The Saints Go Marching In' and gave us a cake. Imagine that happening today."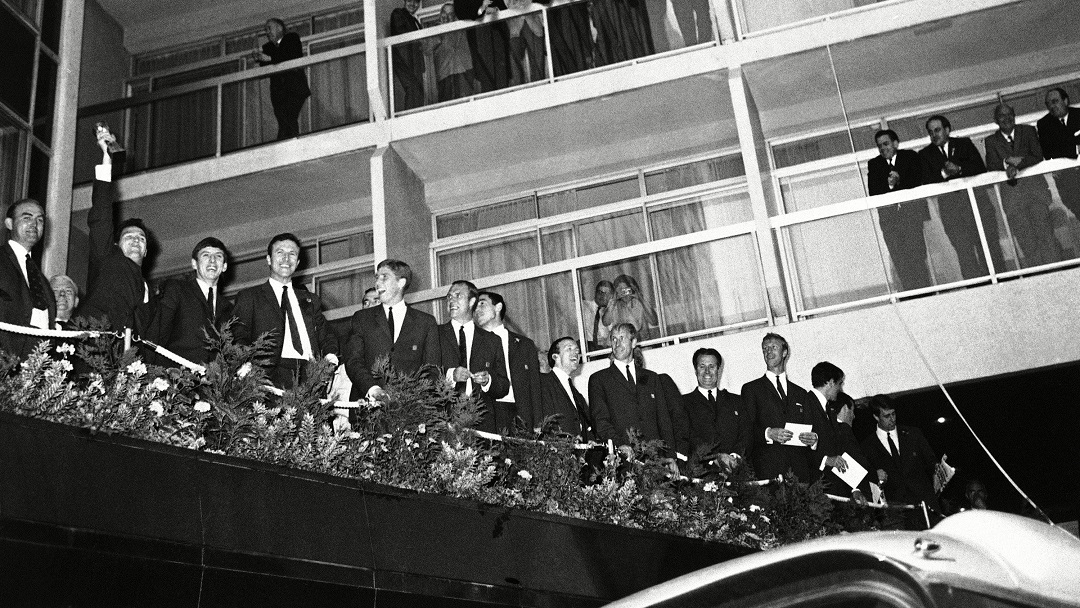 Hurst's new-found fame had its benefits going forward, too…
"Before the World Cup I would phone the local restaurant and say I was a friend of Bobby Moore. Now, suddenly, I could book a table in my own name!" he smiled.
"My wages had been £45 per week and West Ham then offered to double that but I found out that Bobby was on a contract worth £140. I said: 'I'm in the same ballpark now, so I want that.' The Club agreed. I moved into a £12,750 house in Chigwell in the same road as Len Cearns, West Ham's Vice­Chairman at the time. We really moved up in the world."
By now Hurst was now one the hottest properties around and that saw Manchester United attempt to blow the British transfer record out of the water.
"Sure I was flattered, but Old Trafford wasn't a lure for me," insists Sir Geoff, after Matt Busby's audacious £200,000 bid was met with a fierce 'Hands Off' warning from Ron Greenwood. The terse telegram from Upton Park simply replied: 'No'.
Hurst would remain a Hammer until 1972 and, in the meantime, would join his fellow World Cup winners Moore and Peters to defend England's World Cup title at Mexico 1970…