If you're going to make West Ham United and Premier League history, there is surely no better time to do it than your first-ever senior game.
And if, while doing so, you can break a Premier League record that still stands to this day, so much the better!
Former goalkeeper Neil Finn's is a name for the history books, despite him making just one first-team appearance way back on New Year's Day 1996. 
A lifelong West Ham fan, Rainham-born Finn had always dreamt of playing in the Premier League for his boyhood Club, but might not have expected that dream to be realised in such bizarre circumstances. 
Luděk Mikloško's suspension and a freak injury in training to Les Sealey the day before saw then-manager Harry Redknapp make a series of frantic phone calls to the Premier League to seek permission to sign a replacement on loan.
Those requests were denied by the Premier League, and Finn – just 17 years and three days old – was thrust into the spotlight, having played just three reserve matches by that point.
Finn's dramatic debut at Maine Road made him the youngest player in Premier League history at the time, and he remains the youngest goalkeeper ever to appear in the competition.
"Obviously I was still a young lad, and I had to wear Ludo's shirt for the match," Finn laughed. "It was absolutely massive!
"They had to tape out his name and his number – I think it was Ludo's wife who did that! She then had to sew on my number and then do the 'Finn' with tape. 
"I remember, during the game, bits of tape were flying off my shirt!"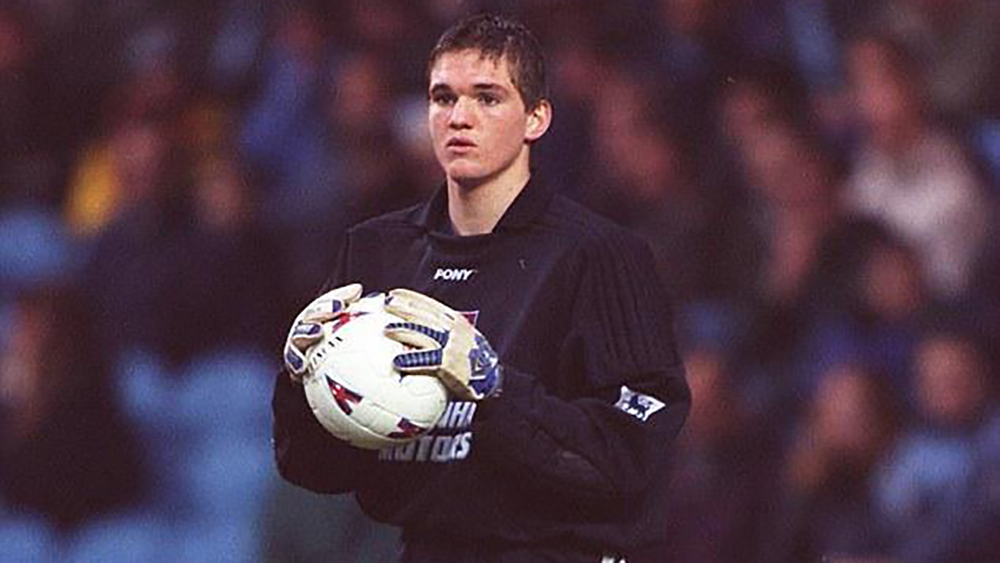 The whole series of events seemingly had a touch of fate about it – but then so did Finn's youth career at the Academy of Football.
"It's a funny one, really," Finn smiled. "I was scouted by Ronnie Gale, but he wasn't at the game to look at me – he was there to watch a player in the opposition! 
"It was a cup final at Collier Row Stadium, and I believe we were U13s or U14s. I remember that it was chucking down with rain, and we lost quite heavily, but I had played well in goal. 
"Ronnie went up to my parents afterwards and said that he'd like to see me train with West Ham. I didn't hear anything for a little while, and then one day I was out with my mates and my Mum had to come and get me as West Ham had called her asking for me to come in!
"I joined when I was still a schoolboy and we played every Sunday. Then, eventually, I was offered a two-year apprenticeship."
During his time at Chadwell Heath, Finn played alongside a number of future England internationals and top-flight professionals.
Principal among them were Rio Ferdinand and Frank Lampard, with the duo and Finn starring in the side which reached the 1996 FA Youth Cup final – a 4-1 defeat over two legs to a Liverpool team featuring Jamie Carragher and Michael Owen.
Nevertheless, Finn's work with top-class players at the Academy was supplemented by the support of first-team goalkeeper – and Claret and Blue Army favourite – Miklosko.
"It was superb to train with players like Frank and Rio, but we were all just good pals," Finn recalled. "Nowadays, you look back at their names and think it's amazing, but at the time we were just a group of mates on the football pitch, giving it our all. 
"We were all good players. Everybody in that team had ability, but Rio and Frank had that little bit extra. 
"It was when we turned professional, we could see how good they were and how much work they put in. Obviously, they both went on to have unbelievable careers.
"We used to train on Tuesdays and Thursdays at the Academy. On Thursdays, we had goalkeeper training, and Luděk would come over and take the sessions. 
"It was unbelievable for me, especially as a West Ham fan. He was the first-team goalkeeper at the time, he was a hero of mine, and he was taking my training session every Thursday for a few years. It was superb."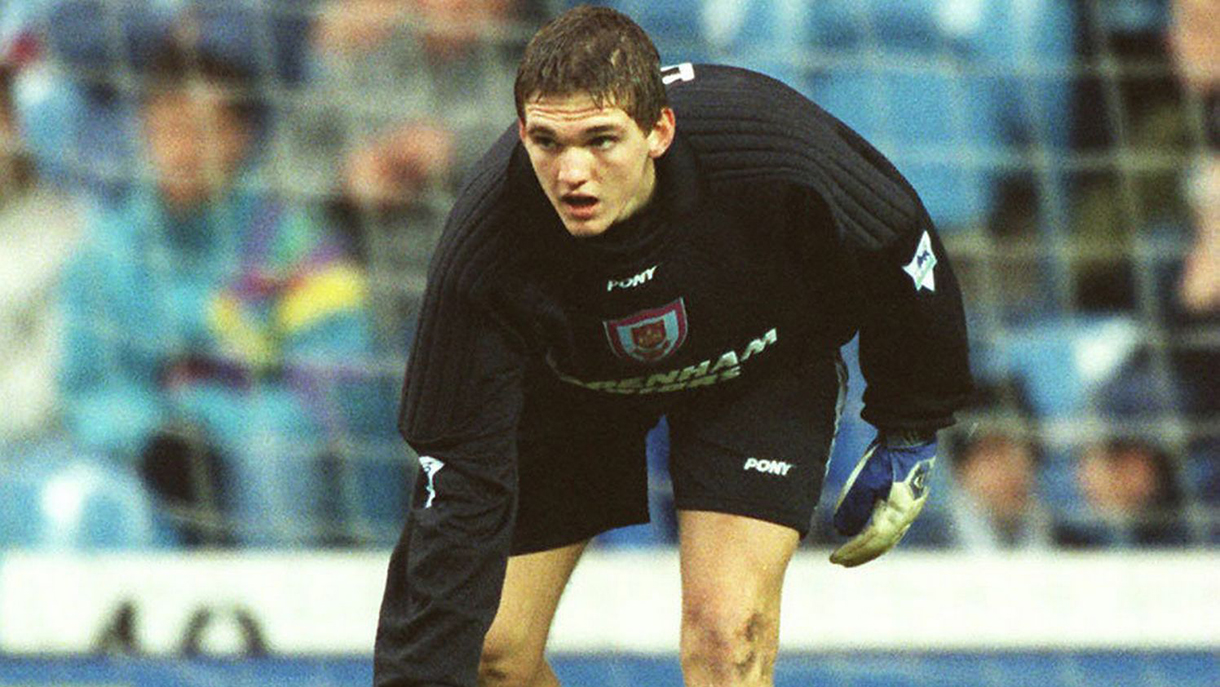 Yet before even the likes of Ferdinand and Lampard had made their senior bows in Claret and Blue, Finn's big day had already arrived against Manchester City. 
"I'd signed full-time in the summer of 1995 after leaving school," he explained. "I played mostly in the South East Counties Youth League, and I'd also played a few reserve games. 
"I had no idea that I would be playing for the first team until the day we travelled, which was New Year's Eve in 1995. Ludo had been sent-off against Everton, so he was suspended, and we had just sold our second-choice goalkeeper [Ian Feuer] too, so we were relatively short. 
"Les Sealey, who was my goalkeeping coach, was due to play, but unbeknownst to me he'd pulled his calf in training the day before."
Those circumstances – plus Redknapp's in vain attempts to sign a replacement at short notice, the manager eventually managing to reach the Premier League secretary on the golf course, only to be denied – amounted to the call every fan has dreamt of at some point.
It was a call offering Finn the opportunity to become an unlikely hero for his boyhood Club... not that he knew it!
Finn smiled: "Frank Lampard Senior called my Mum and Dad up and told them that I was going to be travelling up with the team. He told them that I was going to play, but asked them not to tell me! 
"So, there I was on the first-team coach, thinking I was going for a nice jolly-up… in my mind, I knew I wasn't going to be involved, because back then we had fewer substitutes, and you never really named a goalkeeper on the bench.
"Obviously the other lads knew that I was playing, and there were some hints and banter was flying around, but I just thought it was because it was my first time on the coach! 
"As soon as we arrived at the hotel, Harry Redknapp came up to me and told me that I'd be playing the next day at Maine Road."
Finn recalls, in the rush of emotion which followed, his teammates stood up and helped him feel every bit a West Ham player.
"All the senior lads rallied around me and helped me," he smiled. "If I'm honest, it's all a bit of a blur, looking back on it, but I remember everyone was great with me. 
"Ludo and his wife travelled up, and Les was very helpful. We shared a room the night before the game, and he gave me lots of advice and tried to ensure that I was ready to go.
"I think they toned the team talk down a little bit for my benefit – it was all about 'going out and enjoying it' and to 'keep doing what you've been doing'. 
"I had only been full-time for six months, so I knew I wasn't starting based on how good I was. It was because there was no other choice, and I knew that at the time. 
"It was surreal, though, because at the same time, I was starting in the Premier League against Manchester City at a packed Maine Road. 
"Their fans were directing chants at me – 'Who are you?', for example – but on the other hand, the West Ham fans were incredible. They sung my name the whole game – and even 'England's No1' after my first save!
"The game was a bit of a weird one. They didn't put me under as much pressure as I thought they would. They had Niall Quinn up front, and I thought they were going to pump the ball into the box all match, but they didn't. 
"I have to credit our defence as they protected me well. Other than that, I haven't got many more memories of the game – it was all a bit of a blur!"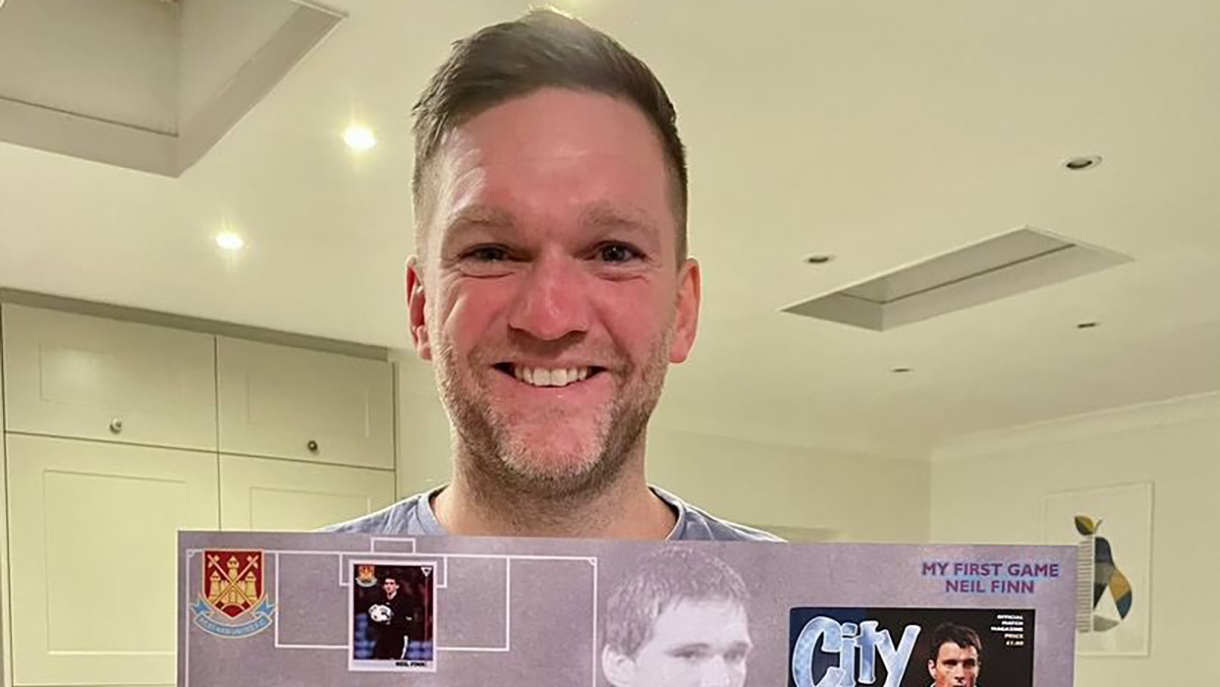 In the end, Finn's big day would end in a 2-1 defeat at Maine Road. 
Quinn opened the scoring for Manchester City with a chipped effort from a one-on-one after 22 minutes but despite many expecting them to pile on the pressure thereafter, West Ham had a pair of goals controversially disallowed through Marc Rieper and Steve Lomas.
In the second half, Julian Dicks had a header cleared off the line before Iain Dowie blasted home a close-range equaliser – only for Quinn to have the final say following a fortunate deflection which led to the forward tucking home a rebound off the post, Finn left stranded.
It was far from a rookie's display from the 17-year-old – but nevertheless a remarkable Premier League tale which persists to this day.
"After West Ham, I didn't really have a career in football," Finn recalls the events of summer 1998. 
"My last game for the Club was a reserve game at Highbury against Arsenal. After the game, we got on the coach back to Boleyn Ground and I was done. 
"I knew already – I had already had the discussions – but it was a bizarre feeling when I got off the coach, realising that was me done.
"I went round the lower-league clubs. I played for Barnet and Aldershot, but never signed anything. 
"In the end I was getting frustrated, and thought that I needed to get a job and earn some money. I worked at a timber merchant for a bit, and then I went travelling for a year.
"I came back refreshed, got my old job back, worked my way up… and now I've got my own timber business, Living Stone Ltd!
"Although it's early doors, it's going very well. This industry is what I know, it's what I have done for over a decade, and it pays the bills. 
"I didn't give up on football, though. I played non-league for eleven years, which allowed me to play every weekend, and I still had my job which I enjoyed.
"Life is good."