West Ham United has joined forces with Freedom Boxes to launch a fundraising campaign aimed at supporting the ongoing relief efforts in Ukraine.
Supported by Hammers' Ukrainian international Andriy Yarmolenko, West Ham United – in conjunction with the West Ham United Foundation – are showing their support for a dedicated campaign raising crucial funds for a special project, which brings humanitarian aid to those in desperate need.
The pledge of support, from everyone across the entire Club – from the Board, to the staff, to the players, to the fans – and the Foundation, comes at a time when the people of Ukraine and its borders need it most.
The brainchild of Stuart Watkins and his father Richard Watkins, a West Ham Season Ticket holder, Freedom Boxes – a not-for-profit operation, who have raised £85,000 to date – are working around the clock to help provide relief aid, by preparing, packing and delivering crucial supplies.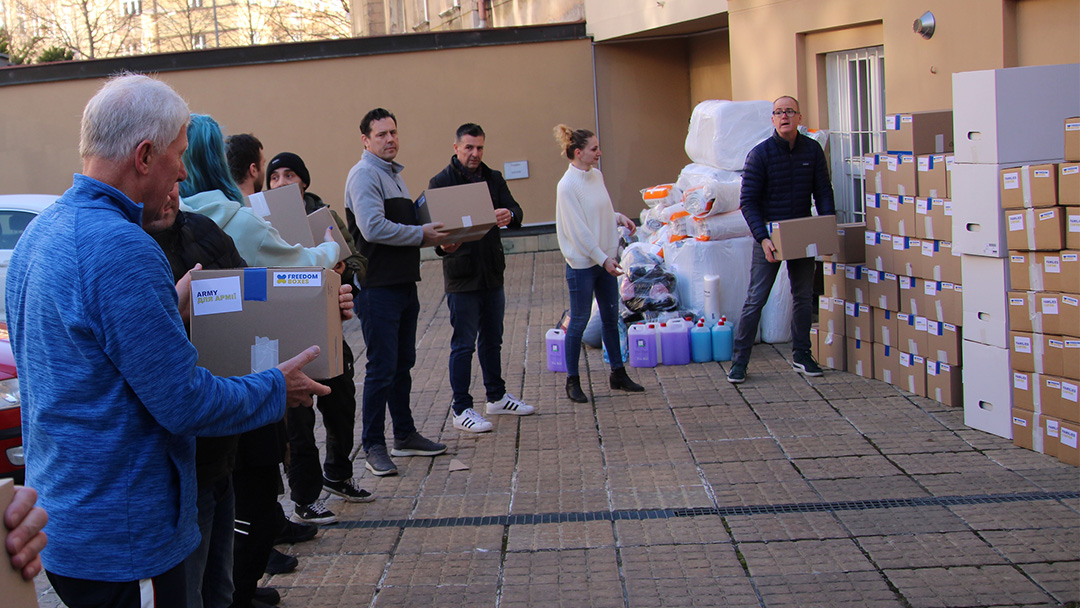 Based in Czech Republic – the homeland of Hammers trio Vladimir Coufal, Tomas Soucek and Alex Kral – Freedom Boxes are a natural fit for West Ham and its supporters, given the Club's strong links to the country. With Freedom Boxes only being set up a few weeks ago, in response to the invasion, Stuart and Richard feel that with more awareness, even more supplies could be provided to those in need.
As a result, West Ham United has collaborated with Freedom Boxes to:
Help raise the profile of Freedom Boxes and their admirable work to support the people of Ukraine.
Use the power of West Ham United – our global appeal, the significant reach across the Club's digital channels and access to the West Ham family, including our players – to help increase awareness.
Shine a light on the positive efforts of initiatives like Freedom Boxes, leveraging the expertise of our charitable Foundation to ensure all funds raised go direct to the project.
Set up and create awareness around a JustGiving page justgiving.com/campaign/FreedomBoxes which will enable the West Ham family to support and promote the cause.
The Club and the Foundation – who support a range of social-good initiatives both domestically and internationally – have been diligent in the search to back a campaign directly benefitting those in need in Ukraine and its borders.
Since the outbreak of the war earlier this year, West Ham United and its supporters have shown their support for the people of Ukraine in numerous ways.
A dedicated Premier League matchweek in early March saw West Ham, alongside all the other top-flight clubs, show solidarity for Ukraine. All 20 club captains wore special armbands in Ukrainian colours, with a moment of reflection taking place before kick-off at each game.
Big screens also displayed 'Football Stands Together' against a backdrop of the blue and yellow colours of the Ukrainian flag, with the same words shown on LED perimeter boards during matches to help raise awareness.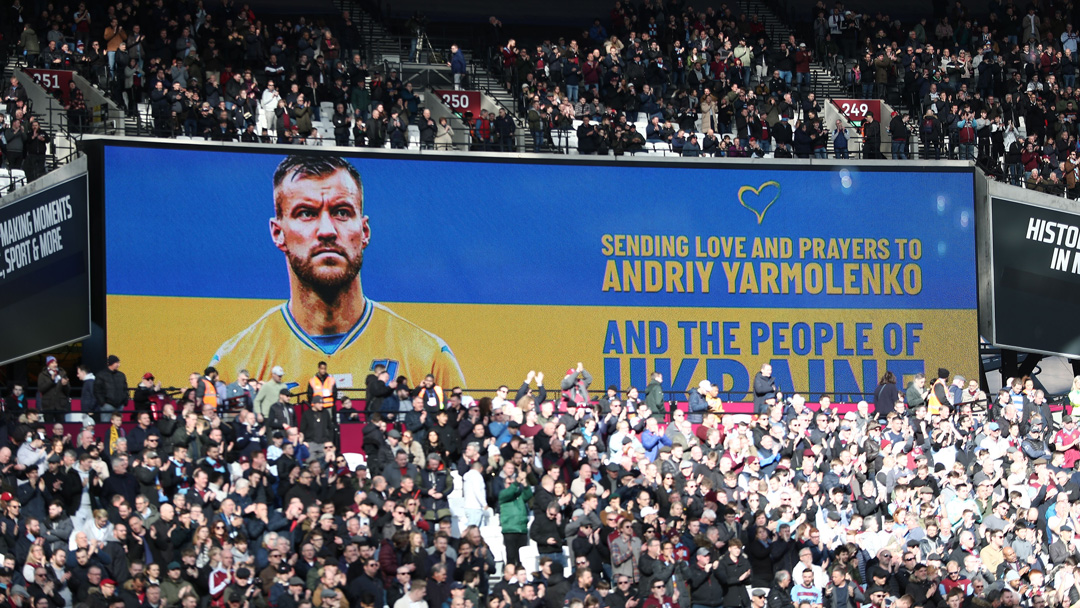 The Club has also paid tribute in UEFA Europa League ties at London Stadium, with elements of the pre-match show showing support for all those affected by the crisis.
Now, with the full support of the West Ham family, we've joined forces with Freedom Boxes to launch a fundraising campaign that will have an immediate impact on the ground in war-torn areas.
West Ham United's Joint-Chairmen said: "This is a fantastic opportunity for West Ham United to show support for the relief efforts in Ukraine.
"Stuart and his team at Freedom Boxes are doing some incredible work, which is directly benefitting those in need in Ukraine and its borders.
"By offering the expertise of our Foundation, West Ham United are supporting the cause by giving access to our significant worldwide following, as well as the support of our staff and players, and using the power of the West Ham United family to really make a difference, helping Freedom Boxes to deliver help and provide hope where it is needed the most.
"We are sure West Ham fans, who have showed such amazing support to our various matchday tributes over the last few weeks, will once again unite to donate to such a worthy organisation."
West Ham's pledge to support Freedom Boxes falls in line with the Foundations' ongoing commitment to support domestic and international charities, good causes and social support programmes. The Foundation is committed to making a difference, harnessing the power of football to maximise life-chances and inspire better futures for all.
The underlying objective is to keep the focus on the tragedy and inhumane situation that the Ukrainian people are going through – by focusing our efforts on what we can support and make a real difference with. Collectively, as a West Ham family, we will continue to shine a light on the positive efforts of initiatives like Freedom Boxes.
Andriy Yarmolenko said: "I have been so grateful for the incredible support West Ham United and our supporters have shown me, my family and my country during these last couple of months.
"Freedom Boxes are doing some amazing and hugely important work and I am so pleased that the Club is supporting this campaign."
Freedom Boxes are doing some amazing and hugely important work and I am so pleased that the Club is supporting this campaign
Freedom Boxes
From their base in Prague, the Freedom Boxes team prepare, pack and deliver crucial supplies to those in need in the war zone and in bunkers, including nutritional and medical items, and day-to-day necessities for people of all ages.
Freedom Boxes are currently processing four varieties of boxes:
Hero Box – supporting the men and women in Ukraine who have taken up arms.
Family Box – helping families displaced by the fighting who are in desperate need of basic supplies to survive.
Kids Box – making Ukrainian children smile with some presents, just for them.
Children's Hospital Box – giving Ukrainian children somewhere to sleep while they recover.
In addition, Freedom Boxes are working with children around the world to create goodwill drawings, pictures, and messages that are added to each box, offering words of support for those who receive it.
The completed boxes are sealed and then loaded onto loaned transport vans and delivered to a place on the Ukraine border at a time that is convenient for their Ukraine-based volunteers. From there, the boxes are dropped at the relevant locations, with each box individually registered so that the journey and destination can be recorded.
How can you help?
It's simple – to make a donation now, visit our Foundation JustGiving page by visiting justgiving.com/campaign/FreedomBoxes.
Every single penny raised from this campaign will go directly to Freedom Boxes.
A donation of £10 provides a child with a Kids Box, full of toys, crafting kits, sweets and positive messages from other children around the world.
A donation of £50 provides the medicines and bedding for a child in hospital. 
A donation of £100 provides critical supplies including food, medicines and toiletries for a family of four for two weeks.
Stuart Watkins, founder of Freedom Boxes, said: "During war, it is always the vulnerable who suffer the most. We are dropping off truckloads of Freedom Boxes for distribution to those who need them and bringing Ukrainian refugees to safety.
"As a private company located in Prague and with colleagues in Ukraine, we had the ability to mobilise our assets, people, and connections very quickly to get up and running and begin helping. Larger organisations are less agile and take longer to mobilise, whereas Freedom Boxes provides a way for people to have a much more immediate and direct impact.
"We are so humbled to have the support of West Ham United, which will provide valuable support and help enable us to continue getting essential items into Ukraine."