Sevilla manager Julen Lopetegui is anticipating an enthralling culmination to their round of 16 tie when the La Liga title chasers visit West Ham United in the UEFA Europa League.
Las Sevillistas currently lead the Irons 1-0 at the halfway point, after a cleverly-worked set-piece saw Munir score midway through the second half of the first leg at Ramón Sánchez Pizjuán Stadium.
But such an advantage is slender amidst the complexities of a double-legged affair in the Europa League, the Sevilla manager conceded.
Speaking at his pre-match press conference, held at London Stadium on Wednesday evening, Lopetegui declared: "We're on the eve of an important, difficult, exciting, complex and brilliant match. 
"West Ham were the best team we could have been drawn against and they've been playing at a very high level for two years. They'll make life hard for us - we both want that ticket for the quarter-finals. 
"We want to play our game and win against a team full of top players."
As the Irons were in Andalusia, Lopetegui is anticipating that his side will be backed to the hilt by the thousand or so Sevilla supporters in east London for the occasion.
He smiled: "We hope those who have come to watch us and those who have stayed at home will be happy - but for that to be the case, we'll have to do a lot of things well. 
"It will be different to the game in Seville. We'll have to answer all the problems they give us and play out a great match, which is what West Ham and this competition will demand of us."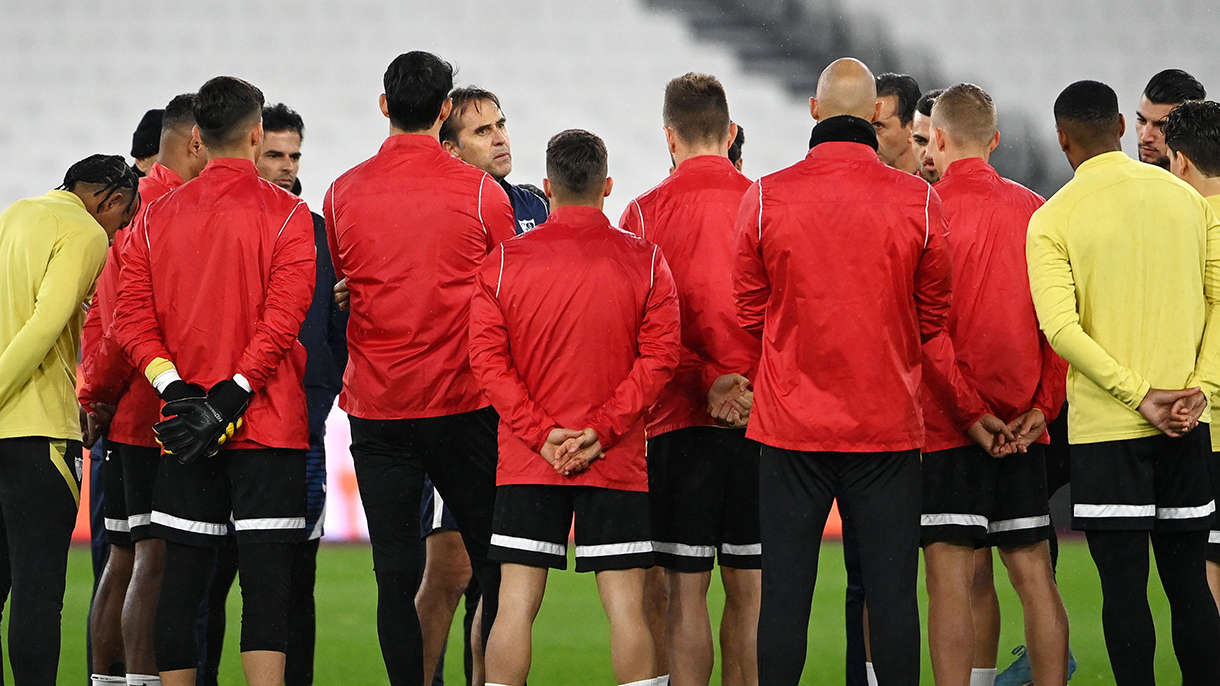 In keeping with his opposite number in the dugouts, West Ham manager David Moyes, Lopetegui has briefed his players to not focus too much on the events of the first leg – and instead acknowledge that the outcome of the tie is very much still to be decided.
Discussing the threat posed by the Hammers, the former Porto, Spain and Real Madrid manager, who won the Europa League with Sevilla in 2019/20, noted: "I'm expecting to face a team that will make things very hard for us. They'll play to their strengths. 
"They have decisive players in every area of the pitch. They are complete and are versed in various styles of play. 
"What matters most is what we can do and that we do it well. We don't think about the result – only about playing well. Everything else is a consequence of that. We will give the game our all, attacking and defending well."
For Sevilla, Denmark midfielder Thomas Delaney is available again after serving a one-match suspension, while Croatia midfielder Ivan Rakitić will also be available after missing the first leg with a stomach problem.
Former Premier League players Suso and Erik Lamela are both ineligible, while centre-back Diego Carlos and winger Papu Gomez both missed the La Liga draw at Rayo Vallecano on Sunday.
Lopetegui also clarified the fitness statuses of defensive midfielder Fernando and full-back Gonzalo Montiel, both of whom also missed the weekend league game: "Fernando is in the squad and is ready to help us. 
"We'll make the call on how that will be tomorrow. He's been having problems for weeks but the doctors have given him the all clear. 
"Montiel is also ready to play like Fernando, although there is a difference between having a good few training sessions under your belt and none at all. We always have alternatives for specific moments and positions."