Formed by Hammers supporters Jack Elderton and Callum Goodall to offer their fellow fans in-depth but accessible analysis of their team and its players, Analytics United will provide content for the Club's official website, app, Official Programme and social media channels over the course of the 2023/24 season.
For their first column, Analytics United use performance analysis and data to examine the all-round contribution Edson Álvarez will make to West Ham United...
West Ham United have confirmed the signing of the 25-year-old midfielder Edson Álvarez from Ajax Amsterdam.
The Mexico international arrives with a wealth of experience, with 69 international caps, two CONCACAF Gold Cups, three league titles, and more than 1,500 Champions League minutes under his belt. Such pedigree will be a welcome addition to a side that have European ambitions of their own this season.
In addition to his experience, fans should be equally excited about his versatility and the possibilities this presents with respect to formations. Álvarez started his Ajax career playing as a centre-back, replacing Matthijs de Ligt, but went on to excel playing as both a No6 and a No8 under Erik ten Hag.
It is the Mexican's on-pitch performances for Ajax in recent years that have caught the attention of fans and scouts alike though, with his defensive prowess at the heart of the Dutch team's midfield being a particularly eye-catching facet of his game.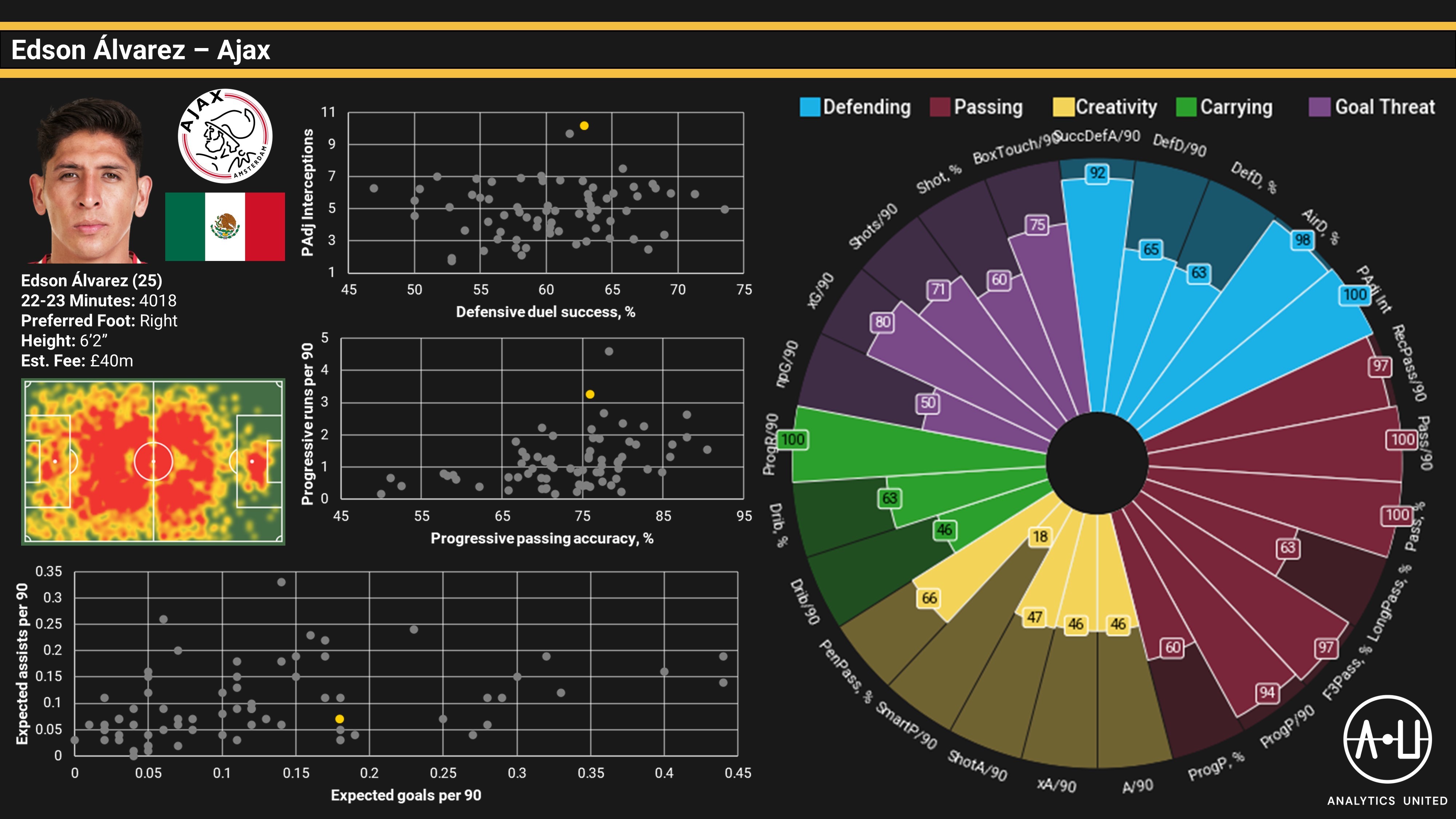 A healthy balance of tenacity, positional awareness, and defensive execution has seen him dominate the Eredivisie, with no midfielder averaging more possession-adjusted interceptions than Álvarez's 10.2 last season. This is a testament not only to his ability to read passing lanes but also to his willingness to cover every blade of grass. It would not be an over-exaggeration to label his intercepting abilities as record-breaking either, with Opta confirming that his 21 ball recoveries against FC Volendam back in January set a new mark for an Eredivisie game.
Beyond his valuable knack of pinching the ball from the opposition to regain possession, all the evidence continues to point to an elite ball-winning midfielder. In 2022/23, Álvarez returned above-average performances in a number of significant defensive metrics when compared to his positional peers, including winning 62.9 per cent of his defensive duels, putting him in the 64th percentile.
It is also worth noting that Álvarez, despite playing in a side that averaged a league-leading 66.1 per cent possession last season, ranked fourth in the league for the number of dribblers he dispossessed (44) and 15th for combined tackles and interceptions (107).
Perhaps most notable though, is the fact that only one midfielder won a higher share of their aerial duels than the 6'2 player last season (60.9 per cent). Interestingly, no Eredivisie player has scored more headed goals from set-pieces over the last two seasons than Álvarez, who has nodded the ball home six times – another aerial threat for David Moyes to utilise.
You would be forgiven for assuming that a player so defensively dominant would be less impactful in possession, but in Álvarez's case, the opposite is true, and the midfielder has consistently played an integral role in Ajax's build-up. More than anyone else, he was the player that started Ajax's possessions, regularly dropping deep from midfield to split the defenders and get on the ball, averaging more touches per 90 (100) than any other player in the league last season.
On the ball, his security in possession and ability to progress play through the thirds is a real asset, recording the highest average passing accuracy (91.2 per cent) of all Eredivisie midfielders, whilst also being the most accurate forward passer (82.7 per cent).
When passing into the final third, often looking to find one of Mohammed Kudus or Dušan Tadić, Álvarez ranked third, trumped only by FC Twente's Mathias Kjølø (86.6 per cent) and a player West Ham fans will be familiar with, AZ Alkmaar's Tijani Reijnders (85.6 per cent), who has since moved to AC Milan.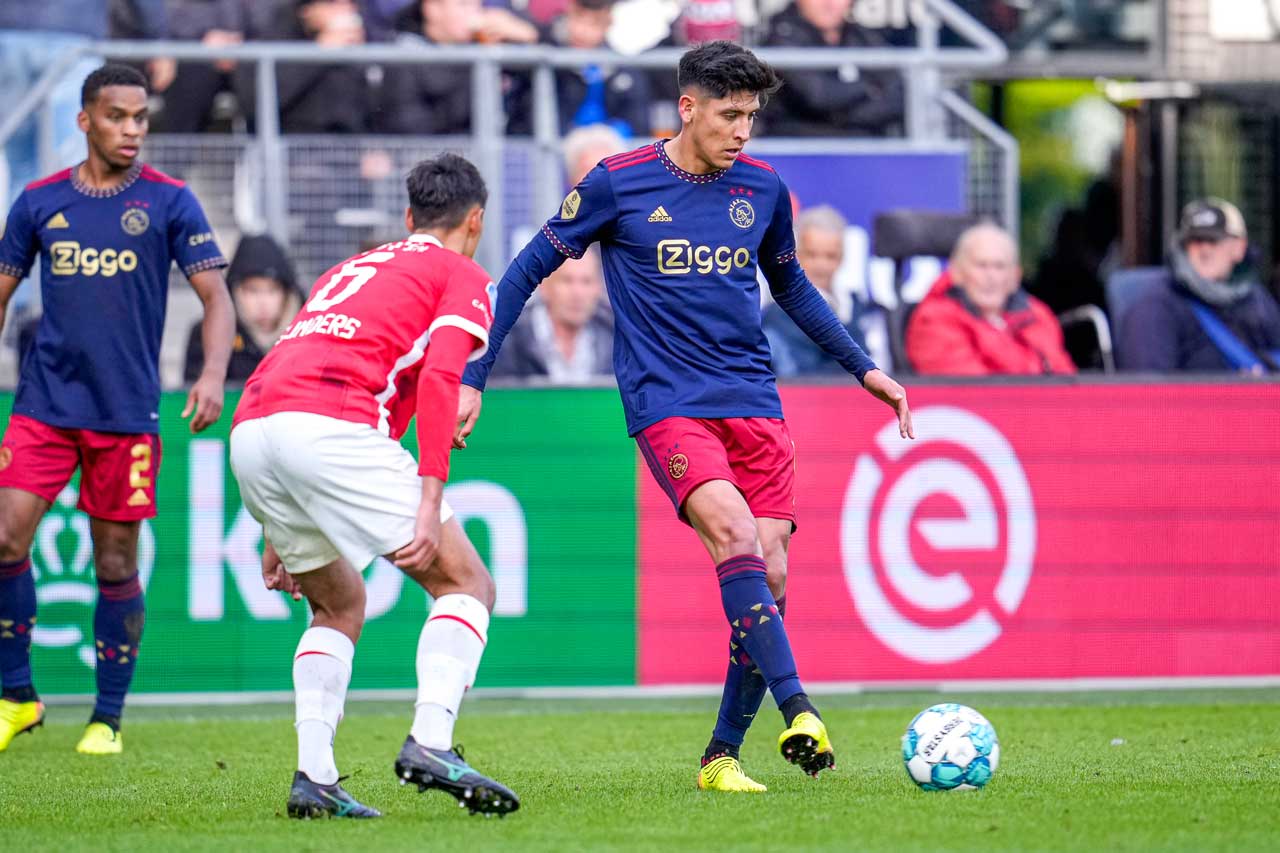 Of course, there will be times when a passing lane will not be open or where a pass might not be the best option available. In such instances, Álvarez has shown that he possesses the requisite ball-carrying ability to progress play with the ball at his feet, averaging 3.3 progressive runs per 90 last season – more than any other midfielder playing in the Dutch top-flight last season.
Ultimately, we are delighted to welcome Álvarez to the West Ham family, and we are confident that his ability both in and out of possession, as well as his dogged work rate and experience playing in both international and European competitions, will make him a valuable addition to this West Ham side and a firm fan favourite in no time.
*The views and opinions expressed in this article are those of Analytics United and do not necessarily reflect the views opinions of West Ham United.