Tonight's UEFA Europa League semi-final against Eintracht Frankfurt cannot fail to evoke memories of our famous win over the same opponents in 1976, says the veteran newspaper reporter Ken Dyer, who was at the Boleyn Ground on that famous evening 46 years ago...
To all those West Ham fans who understandably assumed that their team would be facing Barcelona in the Europa League semi-finals and so booked flights before the Lyon tie, I can offer only sympathy rather than refunds.
Sport is like that though and its wonderful unpredictability is one reason why we love it.
Tonight instead, David Moyes' team will be facing Barcelona's conquerors, Eintracht Frankfurt, in a tie of intriguing symmetry.
It was 46 years ago that a Hammers team, then effectively jointly managed by Ron Greenwood and John Lyall, won through to the semi-finals of the European Cup Winners' Cup where they played... Eintracht Frankfurt.
Those, including myself, who were lucky enough to squeeze into Upton Park on that rain swept night in mid-April 1976, still talk about that match.
Some say they were queuing from early afternoon to get into the ground but my recollection is that almost 40,000 fans were inside Upton Park when the turnstiles finally went quiet around 90 minutes before kick-off.
There was no relaxing outside on the concourse back then, no pint and a pie at leisure before finding your seat five minutes before kick-off.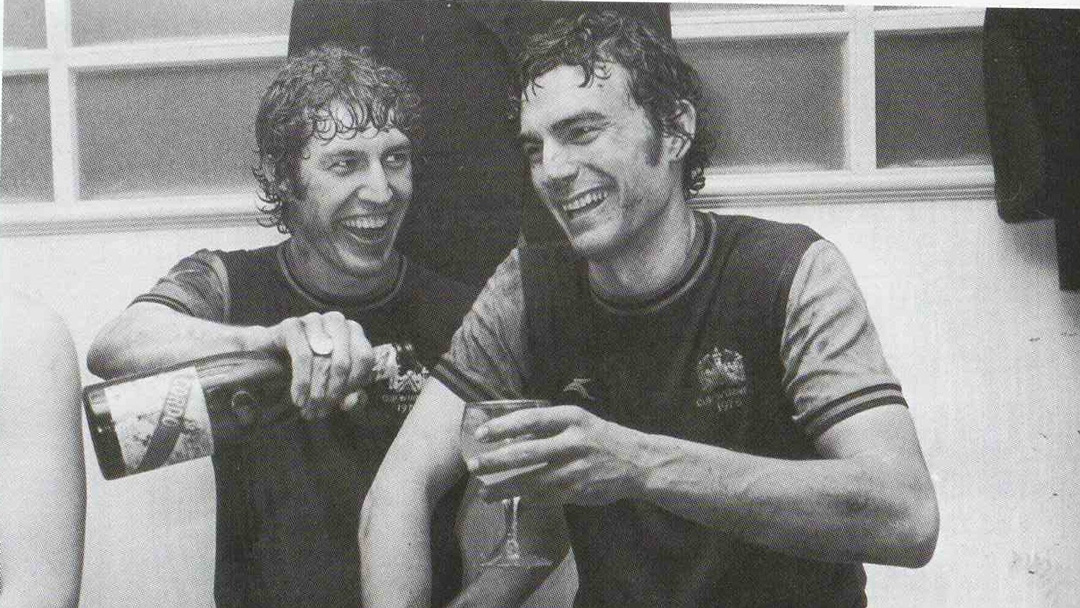 I was working on local papers back then so there I was, supporting rather than reporting, standing in the East Stand/Chicken Run, with a bag of peanuts – and fervent hope.
With nothing to do for a couple of hours other than read the match programme and watch the rain come down, the anticipation built steadily until, just before the kick-off, it was at fever pitch.
I'm not sure what the Eintracht Frankfurt players expected but I wager it wasn't the tight, atmospheric, often intimidating stadium which was Upton Park for midweek games under lights.
The apprehension on some of the opposition players' faces was clear to see as they emerged from the gloom of the tunnel into the bear pit of the Boleyn.
What followed will stay with me for the rest of my life. The febrile atmosphere of that night was never matched again, except at the final game at the old place against Manchester United.
Since then, though, new memories are being made and the atmosphere inside London Stadium for the round of 16 second leg against Sevilla will, once again, never be forgotten by those fortunate enough to be there.
A few days ago I was privileged to interview two players who both scored in that April '76 tie against Eintracht Frankfurt, Sir Trevor Brooking and Keith Robson.
They were both in full agreement that that atmosphere that night was something extra special. Keith, in fact, confirmed that: "It was the best game of my career."
In the first leg in Germany, Graham Paddon had opened the scoring from 30 yards but the home side had fought back to emerge 2-1 victors.
So, the stage was set...
The first half of the second leg was goalless, thanks to several fine saves from Hammers goalkeeper Mervyn Day.
Four minutes into the second half, though, Frank Lampard swung over a cross from the left and Sir Trevor guided a sweet header into the top corner.
As he pointed out in the interview: "I save my headers for the big games," a reference to THAT headed goal to clinch the 1980 FA Cup final against Arsenal.
Keith Robson added a second in the 67th minute when, on the mud heap of a pitch, he initially over ran Sir Trevor's pass but still found the time and space to get back in shape before curling an unstoppable left foot shot into the roof of the Eintracht net.
"I still get asked about that goal now," he said. "I've even got it on my phone!"
Upton Park went wild and wilder still in the 78th minute when Sir Trevor glided across mud and sent a Frankfurt defender the wrong way before placing the ball wide of the 'keeper.
That broadcasting doyen Brian Moore described the goal thus. "Brooking, beautiful timing, still Brooking, Yes, number three. Magnificent, what a smile – and what a goal!"
Brooking, beautiful timing, still Brooking, Yes, number three. Magnificent, what a smile – and what a goal!
There was a brief few minutes of concern when Frankfurt pulled a goal back but the Hammers were through to the Final, losing 4-2 to Anderlecht in their home stadium in Brussels.
Sir Trevor, Keith, myself and many thousands of Hammers' fans are hoping for a repeat of that result of 46 years ago, at London Stadium tonight.
And if anyone doubts about what it means to reach a final of a European competition, I would urge them to take a look at the interview with the pair on the club's channels and the emotion Keith Robson shows when talking about that unforgettable night back in the spring of '76.