Freelance sports writer Simon Hart, who lives and works in Spain and covered the first leg for UEFA.com, on how the UEFA Europa League – and the shrewd recruitment that has helped Sevilla win the competition a record six times – have framed the Spanish club's modern history...
On the morning that Sevilla kicked off this latest adventure in the UEFA Europa League, the Spanish sports daily AS picked a fitting headline for its match preview. "The spark that lights Sevilla," it declared, and with good reason: after all, it is no exaggeration to say this is the competition in which Sevilla have redefined their identity as a club.
They are a club of significant standing in Spain – sixth in the all-time league ranking with a stadium that has hosted a FIFA World Cup semi-final and a European Cup final – but through their record six triumphs in the UEFA Cup and Europa League, they have taken their international profile to a different dimension. As Monchi, the Sevilla sporting director, told me in an interview for The Times newspaper last month: "It's a competition which has given us so much, which has made us the club we are today."
Monchi's own role warrants a mention too. Ramon Rodríguez Verdejo, to use his full name, was Sevilla's longstanding back-up goalkeeper through the 1990s, a decade when Diego Maradona and Davor Šuker passed through the club but when, as Monchi would affirm, European qualification was considered the very height of the club's ambitions. When he took over as sporting director in 2000, Sevilla had just been relegated. What happened next is one of European football's great success stories of this century as Monchi, with his keen eye for a player and aptitude for clever trading, turned Sevilla, a team without a major honour since 1948, into serial Europa League winners and Champions League regulars to boot.
Today he has a staff of 35 focused on scouting and recruitment, with an additional 20-strong international section soon to open. When he started in the role, it was just him and a chief scout.
Arguably the best example of the cute dealing which has made Sevilla the club they are today is Dani Alves, the Brazil full-back. Sevilla signed him from Brazilian side Bahia after spotting him playing at a South American U20 tournament held in Punta del Este, Uruguay. They were the only club with a scout there. Alves, signed for less than £1m, would later join Barcelona for an initial fee of £23.5m. He was in the team who ended a 58-year trophy drought by winning the club's first UEFA Cup in May 2006 with a 4-0 victory over Middlesbrough in Eindhoven, before then reclaiming the trophy 12 months later in an all-Spanish final against Espanyol in Glasgow.
The same goes for Frédéric Kanouté, the ex-West Ham United forward recruited from Tottenham Hotspur for a reported £4.4m fee, who went on to become the top-scoring foreign player in Sevilla history. Kanouté it was who set the seal on the Middlesbrough win with the fourth goal. He then scored against Espanyol in the 2-2 final draw in 2007 before converting a spot-kick in the ensuing 3-1 shootout success on a night goalkeeper Andrés Palop saved three penalties. Sadly, that was a triumph with a tragic coda: another of Sevilla's successful penalty takers that night, Antonio Puerta, lost his life after suffering a cardiac arrest in the first home game of the following campaign. His shirt number, 16, is today worn by his old friend Jesús Navas, a fellow graduate of a youth system that also produced Sergio Ramos and the late José Antonio Reyes in that same period.
Another product of that early-noughties era was Sevilla's impressively catchy centenary anthem, composed in 2004 by Javier Labandón a.k.a. flamenco singer-songwriter 'El Arrebato', to mark the club's 100th birthday in 2005. The native sevillano could not have dared imagine his song would provide the soundtrack to a string of trophy celebrations yet it did just that as the Rojiblancos kept up the winning habit.
There were victories in the Copa del Rey in 2007 and 2010. And after those first two UEFA Cup successes under Juande Ramos, a future Tottenham manager, Sevilla went one better with three in a row under Unai Emery, later manager of Arsenal, between 2014 and 2016. The side that beat Benfica on penalties after a goalless Turin final in 2014 offered further examples of their skilful prospecting with Daniel Carriço and Stéphane Mbia, players who had left little imprint at Reading and QPR respectively, playing key roles. In the last act of his first spell at the club, Croatia midfielder Ivan Rakitić lifted the trophy before his move to Barcelona yielded a £13m profit.
Emery's second triumph came with a 3-2 final defeat of Dnipro Dnipropetrovsk in Warsaw – Reyes the man lifting the trophy this time – before Sevilla completed the hat-trick in 2016 against Jürgen Klopp's Liverpool, overturning a half-time deficit in Basel to win 3-1 through goals from Kevin Gameiro and Coke (two).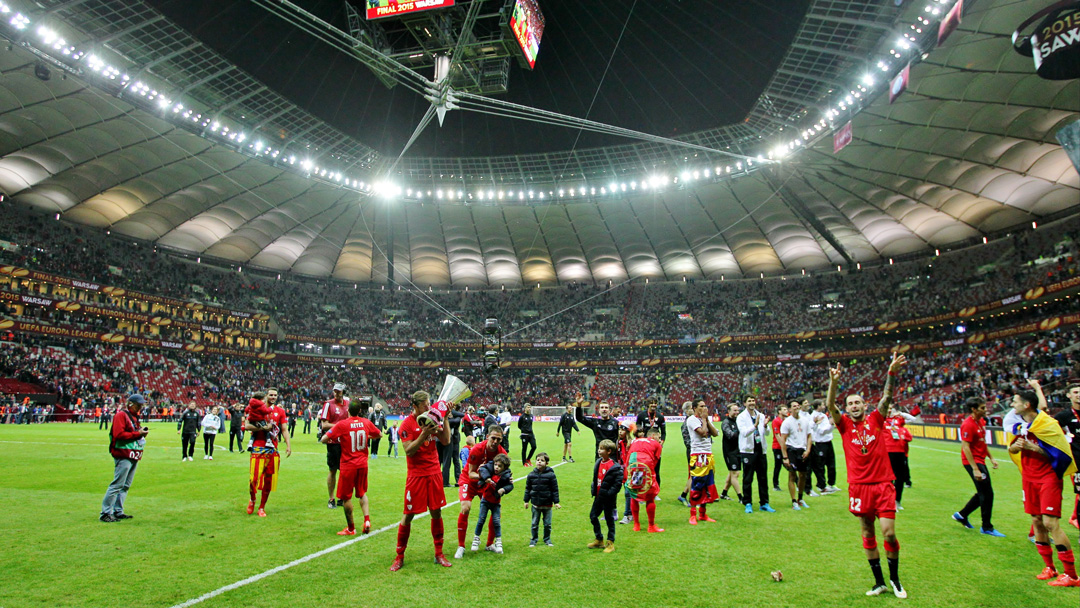 Emery moved on and so did Monchi – in his case to Roma. Yet, in the spring of 2019 he returned to the club he calls home and the machine stared purring once more. In a report published in February, the CIES Football Observatory estimated that Sevilla had achieved a £10m positive balance on transfers in the past decade – with £573m paid out and £583m received. And they have kept on growing, as evidenced by their sixth victory in this competition in 2020.
In a final stage held in Germany owing to the Coronavirus pandemic, a Sevilla side now guided by Julen Lopetegui defeated Wolverhampton Wanderers in the quarter-finals, then came from behind to beat Manchester United in the semi-finals, winning 2-1 through goals by Suso and Luuk de Jong. It almost goes without saying that here were two more players producing a level of performance not achieved in respective spells with Liverpool and Newcastle United respectively. Dutchman de Jong would score twice more in the final in Cologne against Inter Milan – both headed goals – as Sevilla shrugged off the setback of a fifth-minute Inter goal before prevailing through Romelu Lukaku's 74th-minute own goal.
Some football clubs struggle to live up to their proud mottos but when it comes to Sevilla's pledge of 'Nunca se rinde' – 'Never give up' –  the badge really does fit.
*Don't miss Simon Hart's in-depth analysis of Sevilla under head coach Julen Lopetegui on whufc.com on Thursday ahead of our UEFA Europa League second leg at London Stadium.