Declan Rice says he and his West Ham United teammates will 'give it absolutely everything' to reach the Club's first-ever UEFA Europa League final.
The Irons kick-off the second leg of their semi-final trailing Eintracht Frankfurt 2-1, but knowing they created more than enough clear opportunities to have won the first meeting, and with belief they can turn things around in Germany.
Having already overturned a first-leg deficit to defeat tournament favourites Sevilla and turned on the style to win 3-0 at Olympique Lyonnais in the previous two rounds, Rice insists confidence is high that the Hammers can complete a stunning European hat-trick at Deutsche Bank Park.
We'll be ready. We want to go to Seville. We know we're 90 minutes from a European final so we'll give it absolutely everything
"Our mood is fantastic and it has been all season," confirmed Rice, the scorer of three Europa League goals this season. "Our mood hasn't dropped, we've been really positive and really confident. We're obviously one goal down in the tie but, for us, we're positive.
"We lost the first game to Sevilla and the first game against Lyon was only a draw, so I feel like you'll see the best of us in the second game, one hundred per cent.
"I don't know [why we have played well in the second legs], but I always feel like in the first games you're always looking at the opposition and sizing them up.
"We had plenty of opportunities to score in the first game, their 'keeper made some fantastic saves and we hit the woodwork loads of times, so we're going to come here, really attack and try and get the job done."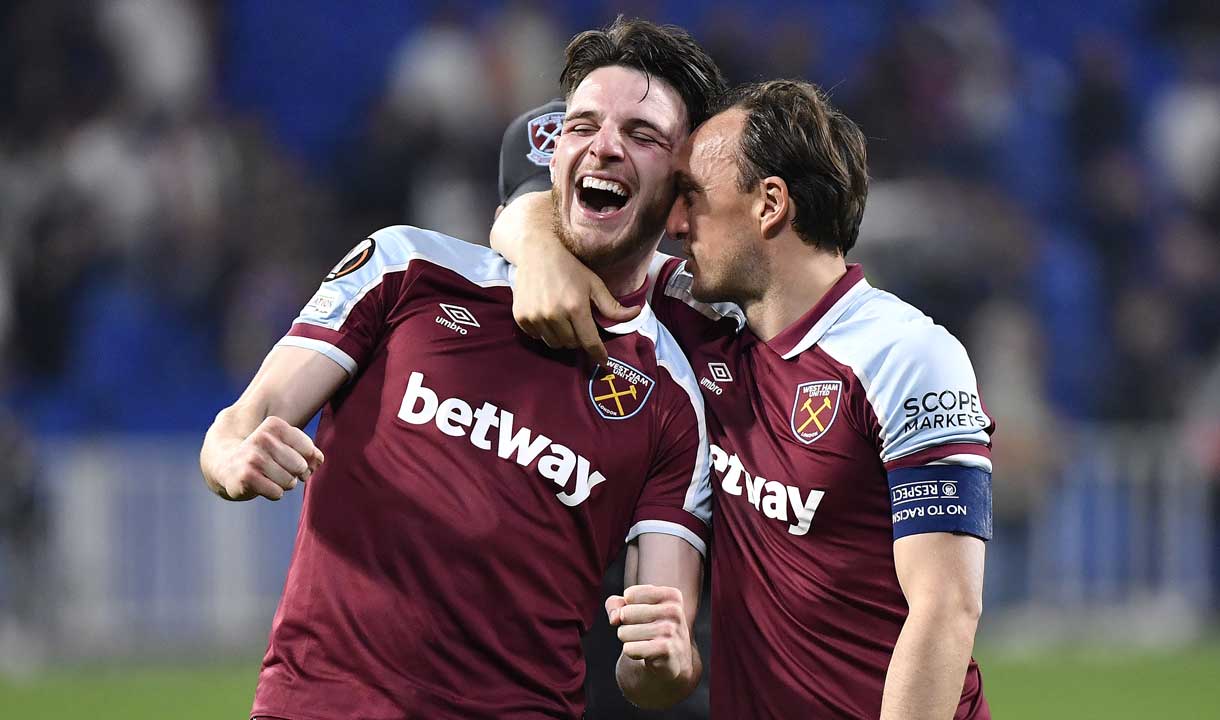 The first leg was a thrilling game of football that ebbed and flowed between two of the Europa League's standout teams, but it was West Ham who out-shot their opponents 15-8 and who hit the woodwork on three occasions, giving Rice cause for real optimism that the Irons can score the goals they require to win through to the final.
At the same time, the England international is acutely aware of Frankfurt's own qualities, which saw them turn those eight goal attempts into two goals, and of the fact Oliver Glasner's side are unbeaten in all eleven Europa League ties they have contested this season.
"I have to be confident but I'm not overlooking Frankfurt at all because we know they're a great side," Rice continued. "We knew that when we played them in the first game as we'd watched all their games in Europe and they're undefeated in Europe and a strong team, but of course I have to back my team and I feel we'll be ready tomorrow night to win the game.
"We'll be ready. We want to go to Seville. We know we're 90 minutes from a European final so we'll give it absolutely everything."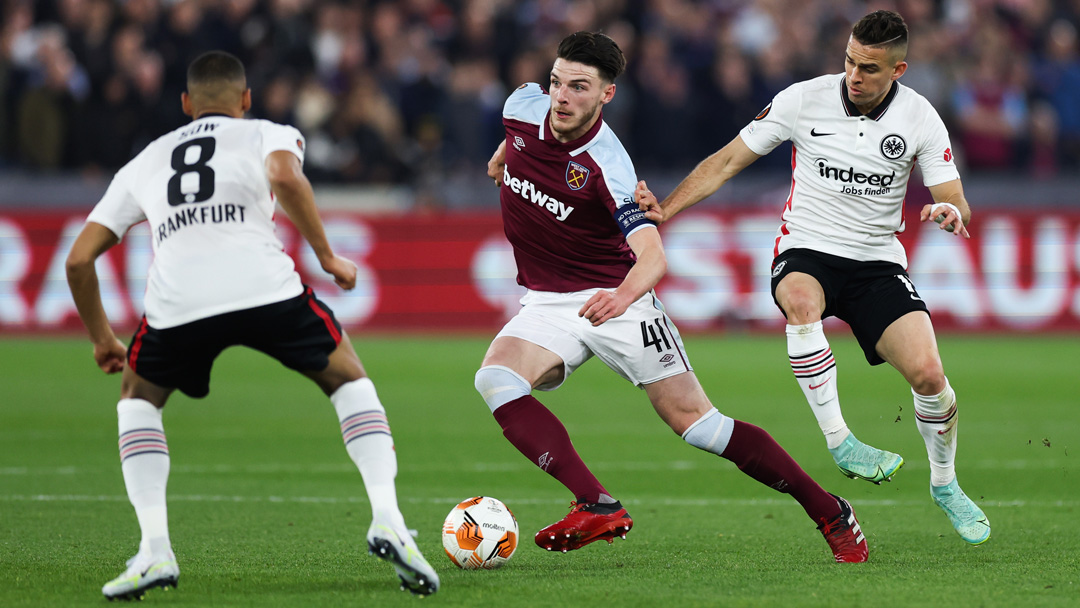 Ideally, West Ham will start the second leg as quickly as Frankfurt started the first, when Ansgar Knauff headed the German side in front inside 60 seconds. If they can do so, the Hammers can quieten a home crowd that is expected to create an incredible pre-match atmosphere.
An early goal would also provide further encouragement to the 2,400-strong Claret and Blue Army, who will undoubtedly try to make themselves heard, however Thursday's game pans out.
"We've heard what the Frankfurt fans are all about and we know what they're like and what they do for their team, but our fans are really good as well," Rice observed. "It's hard to out-sing 48,000 people, but I'm sure they're going to be as loud as possible and hopefully, come the end of the game, whenever the final whistle comes, we're going to be celebrating with them."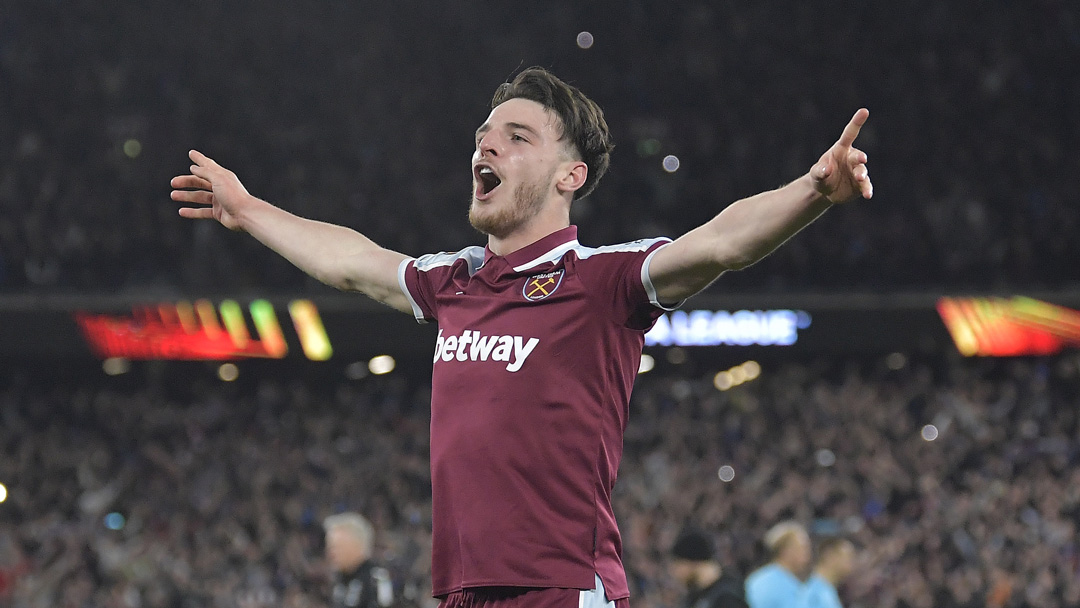 And another post-match celebration would also mean West Ham have reached their first major European final since 1976, when John Lyall's side defeated the same opposition to reach the European Cup Winners' Cup, and are within 90 minutes of lifting their first major trophy since winning the FA Cup in 1980.
For Rice, the prospect of bringing silverware back to east London is one he would relish, so long as he and his teammates can get the job done in Frankfurt first.
"It's a massive dream and it's even more special because nobody expected us to be here," the No41 concluded. "If you get to the final and, if you win a final with a Club like West Ham, you're remembered forever and you become a legend at the Club and you'll always have that stature within the Club.
"The job on Thursday night is to win the game and then we can worry about whatever happens after that. We need to get the score level tomorrow night and then hopefully go on and win the game."