NORWICH CITY
Premier League, Carrow Road, Sunday 8 May 2022, 2pm BST
West Ham United's penultimate Premier League away fixture of the season takes David Moyes and his players to Norfolk.
Norwich City's stay in the top-flight may be coming to an end after a single season, but Carrow Road remains a challenging place to go for any visiting team.
With a committed and vociferous fanbase belting out their famous 'On the Ball, City!' chant throughout, the Hammers can be sure of a testing Sunday afternoon in a county famous for being home to Horatio, Lord Nelson, the naval hero who won the Battle of Trafalgar against French and Spanish forces in 1805.
Canaries manager Dean Smith will be hoping his side can shrug off the disappointment of being relegated back to the EFL Championship when West Ham visit this weekend.
How to get there…
Carrow Road is best reached either by car or by train.
For those who opt for the former, the easiest route from east London is to head around the A406 and join the northbound M11.
Continue north past Harlow and then join the A11. When you arrive in Norwich on the A11, take the fifth exit at Thickthorn roundabout onto the A47, following signs for Great Yarmouth. Having joined the A47, follow the directions to the stadium.
Parking is available at County Hall, Martineau Lane Norwich, NR1 2DW which is a ten-minute walk from Carrow Road. No pre-booking is available and parking costs £6 per vehicle.
For train travelers, Greater Anglia services leave London Liverpool Street at 09.00, 10.30, 11.00 and 11.30, arriving in good time for kick-off.
Return services depart Norwich – a ten-minute walk from the stadium – at 16.00, 16.23 and 17.00.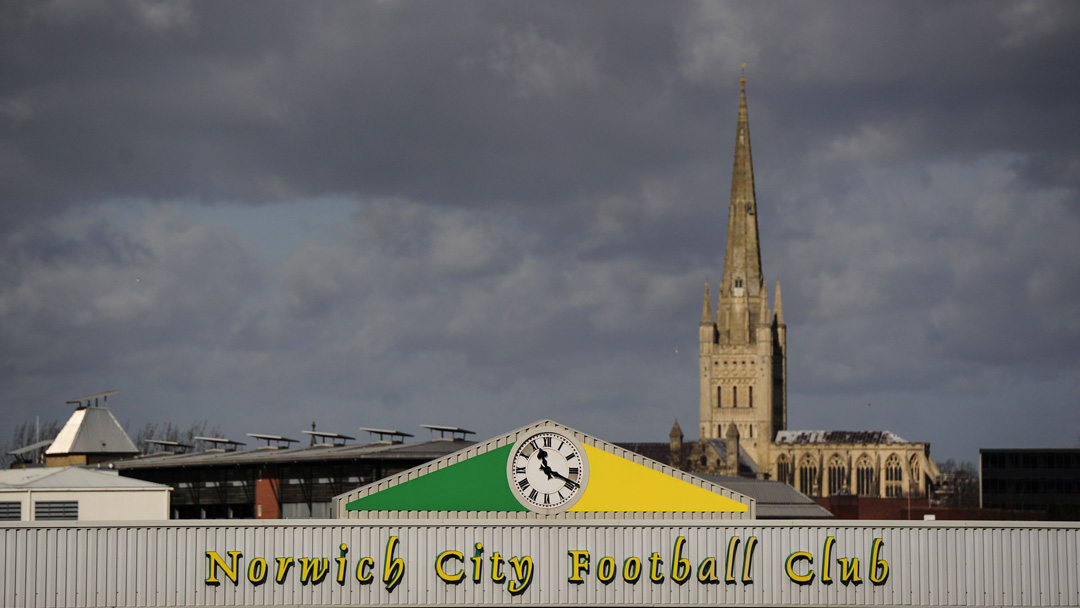 Where to stay…
Should you wish to make a weekend of it, Norwich is a city of around 150,000 inhabitants that has plenty of accommodation options to suit all budgets.
Whether you're after medieval charm, Georgian elegance, Victorian gothic or a mix of all three, there are hotels and guesthouses available that span the centuries in East Anglia's historic and characterful capital.
If you fancy something different, why not try staying on the north Norfolk coast in the resort of Cromer, or on the west coast in Great Yarmouth? Both are within easy striking distance of Norwich, as are the picturesque Norfolk Broads.
What to do…
As mentioned, the seaside resorts within an hour's travel distance of Norwich are worth a visit.
The Norfolk Broads are on of the UK's 15 National Parks, with beautiful landscape, diverse wildlife and important cultural heritage.
In the city of Norwich itself, the Cathedral is a landmark well worth a visit. Begun in 1096, Norwich Cathedral was completed in 1145, with the Norman tower still seen today topped with a wooden spire covered with lead.
What's happened there before…
West Ham United all but secured our Premier League status with a resounding 4-0 victory on our most-recent visit to Carrow Road in July 2020.
Michail Antonio produced a record-breaking individual performance by scoring all four goals as the Hammers swept aside Daniel Farke's Canaries on a sunny afternoon in Norfolk, albeit one without supporters present due to the ongoing COVID pandemic.
Prior to that, our biggest win at Carrow Road in any competition came in March 1939, when Sam Small helped himself to a hat-trick in a 6-2 Division Two victory.