Olli Harder was disappointed that West Ham United Women couldn't get more out of the game from their 4-1 defeat to Chelsea on Thursday evening. 
The Hammers were up against a Chelsea side that were ruthless from the off, scoring three goals in the first half thanks to a double from Pernille Harder either side of a Niamh Charles strike. 
Olli Harder's side showed renewed impetus after the break, with Dagný Brynjarsdóttir firing a volley beyond Zećira Mušović in the Chelsea goal to give her side a lifeline. 
But it would be one that was short-lived, as Sam Kerr benefited from a lucky ricochet to score the Blues' fourth and final goal of the evening.

The New Zealander reflected on the defeat at the full-time whistle.  
We're disappointed that we couldn't make more of the game once we had the momentum in the second half.
In the first half, I thought we were but good, but not good enough in certain moments. Chelsea were ruthless – they exploit those moments and that is why they are where they are and are a quality team. 
I was pleased with our display in the second half – but overall, we're disappointed to come away with a defeat. 
We needed to up our energy levels at half-time. 
I think we saw a much livelier performance from us after the break, we got closer to Chelsea and made it difficult for them at times. Arguably, I thought we were the better team in the second half – we certainly looked a lot more dangerous and created some good chances.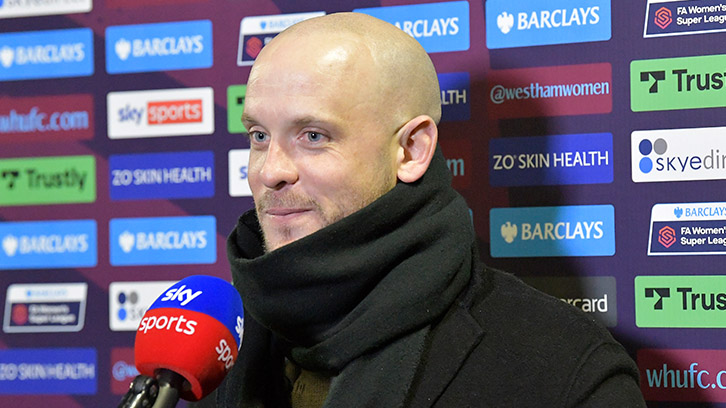 Chelsea created a number of opportunities.
We also presented them with two or three of those. I think their second goal is one we can't really do anything about, it's a great hit.
But the first and third goals could have been prevented if we'd not put ourselves in those situations. 
Obviously, we don't want to be putting ourselves in situations where we present chances to a team of Chelsea's quality, and we need to improve on that when we face the top teams. 
I think we've learned a lot about Chelsea. 
If we need to play them again, then we will be better. We're getting closer as a team; we just need to find 90 minutes of consistency in these types of matches against the top teams.
The difference comes down to the quality that they have in both boxes and their efficiency in transition. They're a deadly team when they move the ball from one end to the other, probably the best in the league. 
Birmingham is a completely different game.
It's a clean slate for us, we had a good result against them when we went there in the Conti Cup earlier in the season, so we will be hoping for the same again. 
It's a short turn-around, and we have a busy period over the next 10 days with three important matches, so it's about recovering well and working on the small details in the time that we have.