Former soap factory worker and fans' favourite Steve Jones, who turns 53 today, made the dream journey from non-league to Premier League...
A soap opera storyline
Back in October 1992, I'd been made redundant from my job at Yardley's soap factory in Basildon where I'd been earning around £400 per week with overtime, while also playing for Billericay Town.
It was a worrying time but my part-time football had been going well and I knew that a few clubs had their eyes on me. I was pinning my hopes on getting a playing contract somewhere and had already put my name out there when I'd scored four goals in a 5-3 win over a West Ham XI containing the likes of Julian Dicks and Stuart Slater in a pre-season friendly.
As a lifelong Hammers fan that was mad enough but then I started hearing that the Irons had also begun watching me. Sheffield United and Southend United were interested, too, but then one Tuesday night, we played Wembley FC and I think that the pressure had started to get to me because I had a poor game in a 2-0 defeat.
Walking off feeling disappointed with my performance, I saw Frank Lampard senior out of the corner of my eye and he just winked at me. A few days later, Billy Bonds matched my wages and I signed for West Ham in a £22,500 deal.
Within a couple of weeks – instead of standing on my normal spot in the North Bank for the Anglo-Italian Cup match against Reggiana – I was pinching myself as I sat on the bench in the Upton Park dug-out as an unused substitute. I couldn't wait to make my debut…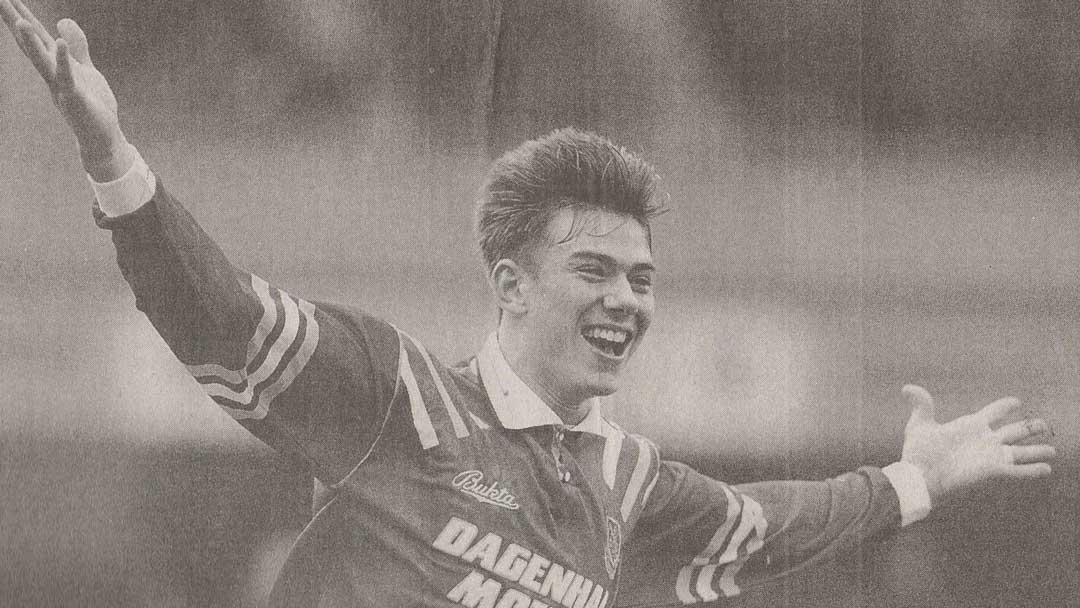 Debut deluge
Over at Billericay, I'd thought I was a decent player but as soon as I started training at Chadwell Heath, I realised that I was miles off the pace.
All the others had been coached from a young age, whereas I'd just been having kickabouts really. I thought to myself: 'This is going to be a hard first year – I've got to get a lot, lot better if I'm going to make it'.
In early December, it was crazy to be sitting on a plane with my heroes flying out to Cosenza for another Anglo-Italian Cup tie.
This time, with Trevor Morley suspended, Billy Bonds named me in his starting XI to partner Clive Allen upfront. But there had been torrential rainfall all day and, when English referee Roger Dilkes went out for his second pitch inspection, I really was fearing the worst.
Thankfully, he somehow allowed the match to go ahead even though the playing surface was completely under water and we had to take our boots off and wade through the flooded tunnel just to get from our dressing room to the pitch.
Just before half-time, I found myself paddling upfield before crossing to Clive, who knew from all his experience that he needed to keep the ball off the floor and he hit a stunning, 25-yard volley into the top corner. It was an absolute worldy and it gave us a 1-0 victory on a night I'll never, ever forget.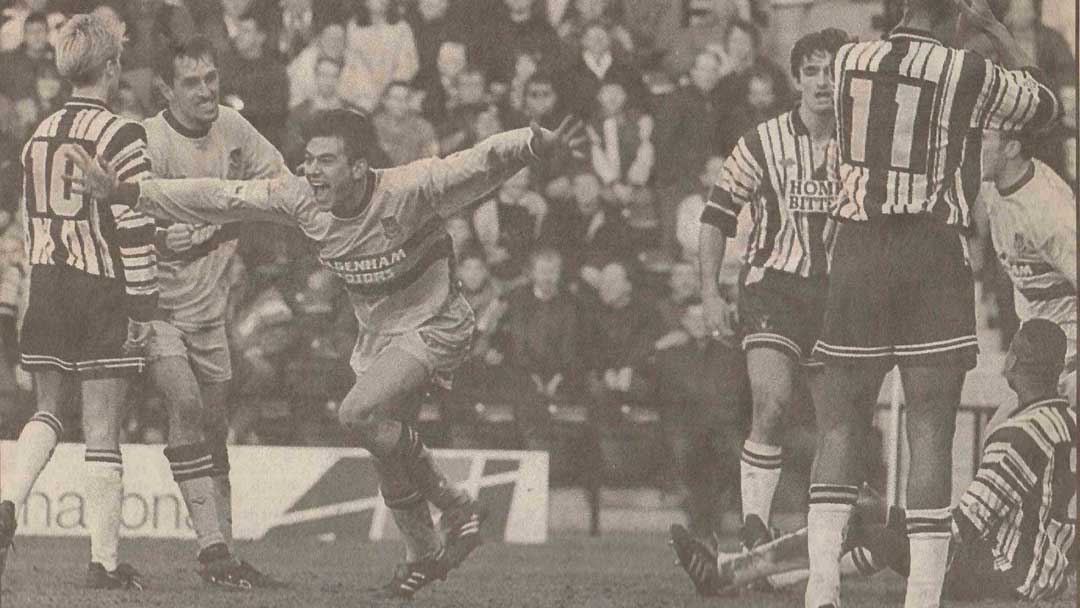 A week to remember
I'd ended up making eight appearances during our 1992/93 promotion season, scoring twice within four days against both Barnsley and Peterborough United at Upton Park.
It was surreal being out on the Boleyn Ground pitch celebrating a goal and looking up at my Auntie Jean cheering in the Chicken Run!
The crowd was unbelievable. I'd stood on wooden boxes with them in the North and South Banks as a kid and now those same fans were constantly urging Billy and Harry: 'Play Jonesy!'.
I was still finding out how hard it was to be a professional footballer, but the supporters always saw me trying my hardest for them. If you ain't got heart and desire, it ain't worth playing.
On Monday 24 January 1994, we played Norwich City in front of the Sky TV cameras and it was the first time that the lower tier of the Bobby Moore Stand had been open to fans.
Chris Sutton scored early on before Martin Allen equalised. Then, moments into the second-half, Ian Bishop headed the ball forward and I rode Ian Culverhouse's tackle before drilling a low 18-yarder past Bryan Gunn to claim my first Premier League goal.
Sutton and Ruel Fox then looked to have given Norwich victory before Trevor Morley came on as substitute and immediately made it 3-3, heading home my cross.
The Sky pundits said great things about me but, more importantly, I'd been the first Hammer to score in front of that new Bobby Moore Stand.
I then netted in the FA Cup at Notts County on the Saturday. I'll take that for a week's work!
Forever Moore
On 7 March 1994, the Club staged the Bobby Moore Memorial Match to mark the opening of the new south stand named in the great man's honour.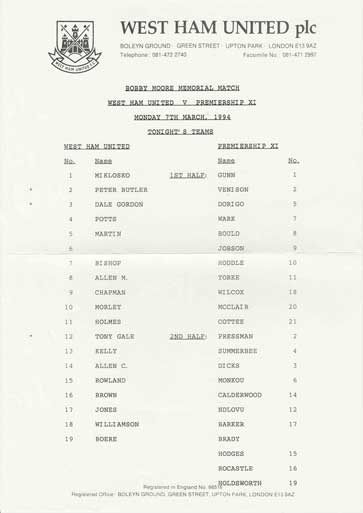 It was a well-planned evening and it made for an amazing night as a Premier League XI comprising one player from each of the other 21 clubs faced West Ham United. A bust of Bobby had been unveiled before kick-off and 2,000 claret and blue balloons were released into the East End skies, too.
Just two years earlier, I'd been working in that Basildon factory and now I was taking part in a very special night with legends like Glenn Hoddle and Liam Brady, while top strikers such as Brian McClair, Dwight Yorke and Tony Cottee were playing, too.
I came on midway through the second-half and it was an emotional, euphoric evening all round as 20,311 supporters plus lots of Bobby's former team-mates had come from far and wide to pay their respects to his memory.
The match raised about £200,000 and, although the score doesn't really matter, we won 2-1 after Clive Allen and Jeroen Boere had wiped out TC's early goal.
Afterwards, Bobby's widow – Stephanie – presented us all with a commemorative medal. I gave mine to Ray Winstone a few years later and he tells me that it still takes pride of place in his front room. It's now probably worth a few quid and perhaps I should ask him to give it back!
Earning my Spurs
The year 1994 was proving to be a great one and our victory at Tottenham Hotspur on Easter Monday lives long in the memory for the Hammers fans who made the trip to White Hart Lane.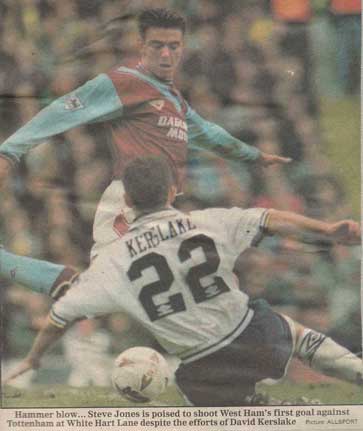 On 22 minutes, I came on as substitute for Peter Butler and, within a quarter-hour, I put us ahead, after Ian Bishop broke upfield and I sent a low shot past Ian Walker, in off the post.
Trevor Morley's penalty doubled the lead after the break before Teddy Sheringham pulled one back for Spurs from the spot, too. But we were killing them on the break and Bish and Mike Marsh were running the show in midfield.
Trevor then got his second goal before Marshy finished it off. We'd gone to Tottenham Hotspur and beaten them 4-1 in their own back yard but, to be honest, it could've been 10-1 with the chances that we made.
Their supporters walked out, while our fans formed a huge conga. David Cross netted all four goals at the Lane in a 4-0 win back in 1981 and you can't ever beat that but, for me it didn't get any better than scoring there for the Hammers.
It proved to be my fifth and final goal for the Club and, by October 1994, I found myself joining AFC Bournemouth where I had two fantastic seasons playing with a great group of lads under a great manager, Mel Machin. The club was struggling financially but they would really improve me as a footballer.
Premium Bonds
I never thought that I'd ever get the opportunity to ever play for West Ham again but in summer 1996, Harry Redknapp bought me back from Bournemouth.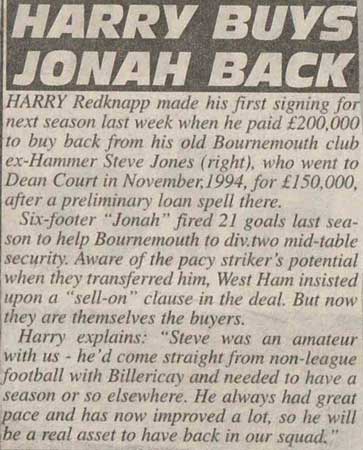 I returned a much better player to the one who had left two seasons earlier but things just didn't happen for me second time around.
As a striker you're judged by goals but I had some bad luck, just couldn't score and needed a knee operation, too.
I only played eleven matches before moving to Charlton Athletic and also had another brief loan spell back at Bournemouth.
These days, I'm working in Tesco – I haven't got five Lamborghinis in the garage but I've got some unforgettable memories, when I look back on my nine-year career.
It was all down to West Ham United and Billy Bonds for taking a chance on me when I'd been made redundant.
In my mind, Bonzo was West Ham's greatest-ever player and a fantastic servant during his 27 years at the Club. There's nothing more to say about him because it's all been said. It was an absolute honour to have been invited to form the guard of honour at London Stadium last March, when they re-named the stand in his honour.
There were players from every era of his time with the Hammers and to see some 60,000 people rise as one to salute him in the centre of the London Stadium pitch was really emotional for everyone, who was privileged enough to be there. Billy Bonds? What an incredible man.