Born in Stepney on this day in 1966, boyhood Hammer John Moncur came through the ranks at Tottenham Hotspur and was 25 when he established himself at the highest level with Swindon Town. At 27, in 1994, the combative, creative midfielder with a unique sense of humour returned home to join West Ham United and went on to become a true Claret and Blue cult hero...
HIGH STEAKS MOVE
June 1994. With Swindon Town having been relegated, I'd already spoken to Chelsea and was now talking to Billy Bonds, too. Aged 27, my next move was a massive decision because my family needed long-term security.
I'd heard lots about Bill and he really impressed me. A man's man, he wasn't interested in the financial side of the £850,000 transfer, he just wanted to sign me. Over lunch, my agent – Eric Hall – insisted that West Ham matched Chelsea's offer. 'What a lovely bit of meat!,' nodded Bill, rising from the table to phone the board. 'It's called a steak sandwich,' joked Eric.
'Two slices of bread with beef in the middle.' As Bill and Harry Redknapp left the room, Eric pointed to the waiter: 'Two more of these. And lively!' Those steak sarnies did the trick because Bill got the deal agreed and persuaded me to choose West Ham United over Chelsea.
Disappointingly, he resigned shortly afterwards, leaving me wondering: 'What's going on here?' By early-October, I found myself playing at Stamford Bridge, taking abuse from Chelsea's fans for rejecting them. Replying in the best possible way, my corner led to Martin Allen's opener and, after they equalised, I netted our 67th-minute winner.
Then, just three days later at Upton Park, I scored in extra-time to knock Walsall out of the Coca-Cola Cup. As a kid, I'd sometimes stood on the West Side but being out there on that Boleyn Ground pitch under those famous floodlights gave me a real buzz. I wanted more…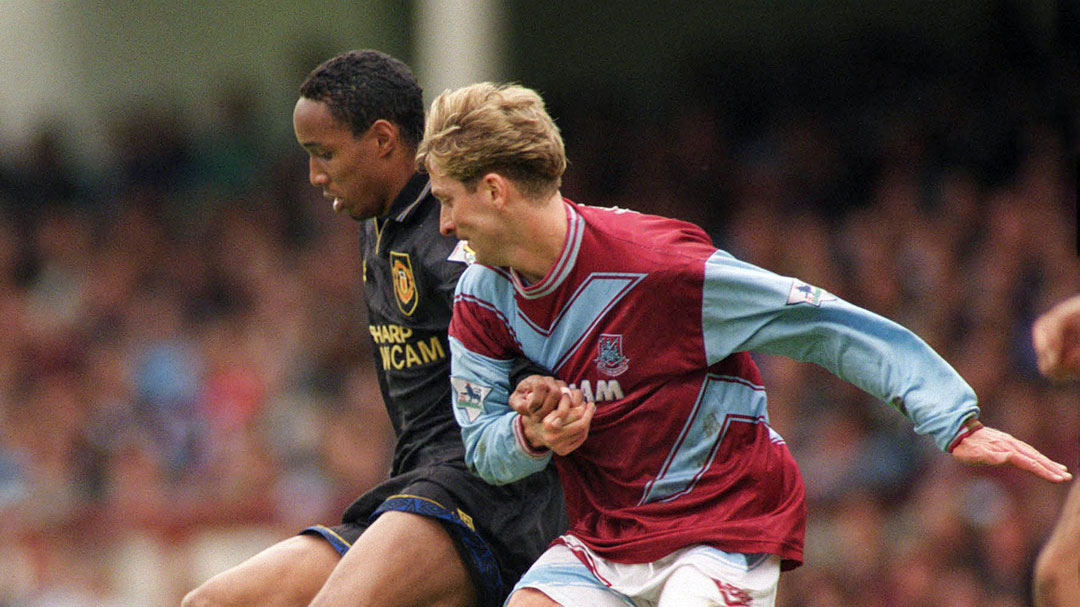 REDKNAPP'S ROCKET
It'd been hard going during 1994/95 and heading to Aston Villa in mid-March, we were in the relegation zone with just nine games remaining. Leaving the team hotel, Harry pulled me aside saying: 'Moncs, you're my Player of the Year and the best footballer in the Premier League never to have won an England cap but you haven't been doing it lately. I need you to step up to the plate because we need a big result and you can have a big effect today.'
I needed that rocket and, within 12 minutes, had hit a left-footed, 25-yarder past Mark Bosnich. And still responding to Harry's wake-up call, I then crossed for Don Hutchison to  seal a 2-0 win - a victory that gave us belief we could stay up.
Indeed, we went on to beat table-topping Blackburn Rovers before victory over Liverpool guaranteed safety in our penultimate game. Manchester United arrived at the Boleyn Ground for the last match of the season knowing only a win could give them any hope of pipping Rovers.
Having avoided relegation on the Wednesday evening, Harry had told us to go and enjoy ourselves for a couple of days. After doing exactly that, we had absolutely no right to get any result against United that Sunday afternoon.
They battered us and should've won comfortably but in an unbelievable atmosphere – with the country watching it unfold on Sky Sports – Ludo Miklosko made a string of sensational saves, while we defended for our lives to hold United to the 1-1 draw that meant Blackburn were champions.
After losing 0-2 at Old Trafford, I'd swapped shirts with Eric Cantona, who'd famously stamped on me when I was at Swindon!
OUTFOXING THE FOXES…TWICE!
The 1996/97 campaign kicked-off with Paulo Futre kicking-off at Arsenal because I had the No10 shirt. I agreed to take to his No.16 jersey in exchange for a week at his Portuguese villa and I'll be ringing him to see whether I can pop over next summer!
We struggled to get going but in February 1997 Harry bought John Hartson and Paul Kitson, whose goals would turn things around. Lining up in the tunnel for his first home game, Hartson looked across towards Spurs and announced: 'It's going to be a bad night for Sol Campbell, I've always had him in my pocket!' And John was right.
Both new boys scored in our 4-3 win, giving us confidence for our difficult run-in. I'd already netted the winner against Leicester City at Upton Park back in October but, with just three matches remaining, we arrived at Filbert Street still in the relegation zone.
Fortunately, my 75th-minute header gave us a second 1-0 win and, out of the nine goals that I scored in 203 appearances for West Ham, that was my scrappiest but most important one for the club. It eased the pressure and we were safe when we turned up to face champions-elect Manchester United on the final Sunday.
After losing 0-2 at Old Trafford, I'd swapped shirts with Eric Cantona, who'd famously stamped on me when I was at Swindon. But like that opening day at Highbury, it turned into another drama, when Eric then announced his retirement and The Sun ended up 'retrieving' that farewell shirt as a charity competition prize.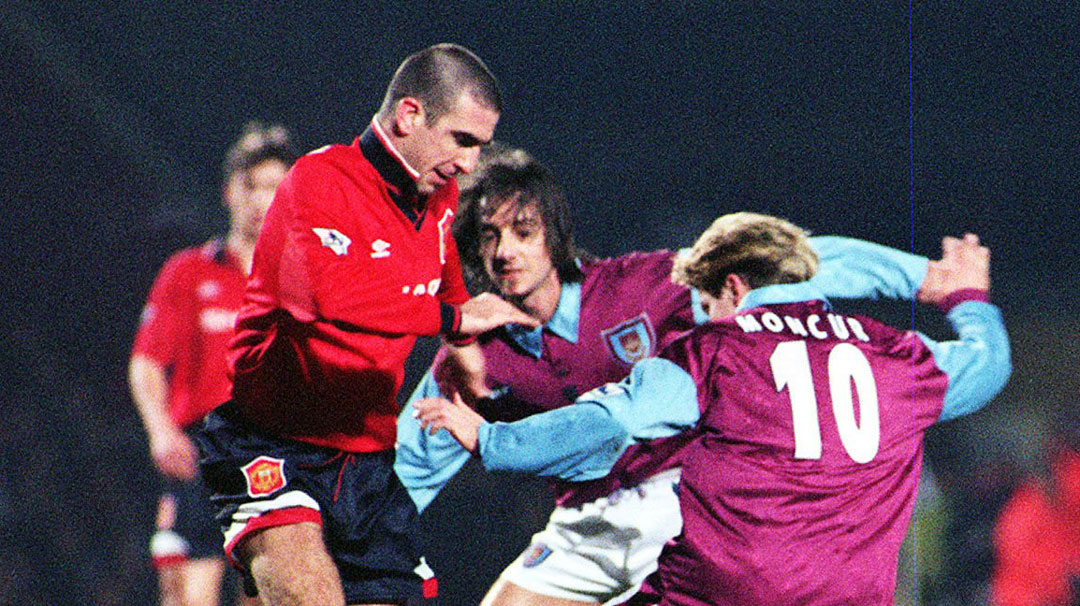 DESTRUCTION DERBY
After being released by Tottenham Hotspur in my mid-20s, our match at White Hart Lane was always my biggest game of the season. From training there as an eleven-year-old schoolboy, to making 24 first-team appearances, I'd spent a big chunk of my life at that stadium. It'd had been my workplace for many years and it was always massive to go back there because I knew what that match meant to all Hammers fans, too.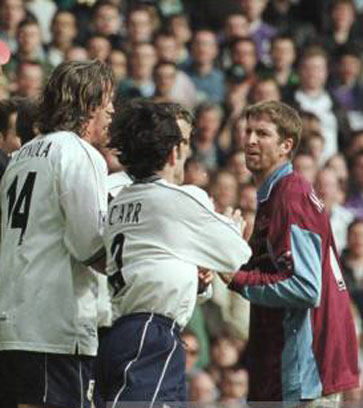 We'd already beaten Spurs at Upton Park and, when we went to the Lane with four games of the 1998/99 season remaining, were in sixth, five points and three places above them. In a fiery derby, Ian Wright quickly put us ahead and then Marc Keller doubled the lead midway through the second half, before David Ginola pulled one back on 75 minutes. I was then booked for a foul before future Hammer Mauricio Taricco did me with a terrible tackle.
There were run-ins going on all over the pitch, Ginola and Jose Dominguez were getting involved everywhere, while Wrighty was running around winding everyone up. As an ex-Arsenal player, it was right up his street. Fired up, going into stoppage time, I knew the game was won and took out Dominguez. All hell broke loose!
I was booked 66 times and received three red cards during my Hammers career and, looking back, that particular sending-off was probably stupid but, equally, I'll never forget the West Ham fans chanting my name as I gave them a clenched-fist salute on my way down the tunnel.
TROPHY TIME
After that battle at the Lane, we eventually ended the 1998/99 campaign in fifth-place – our highest-ever Premier League finish – and that meant that we'd qualified for the Intertoto Cup.
People may say that it's a trophy not worth worrying about but, as far as I was concerned, it made a pleasant change to finish so high up the table, considering most of my career had either been spent out on loan, in the second-tier or fighting relegation.
Sure, we had to start the new season on 17 July but just ask the West Ham fans whether or not they enjoyed that summer of '99? We all had some brilliant times beating FC Jokerit (Finland) and Heerenveen (Holland) before facing FC Metz (France) in the final.
Louis Saha's winner at Upton Park meant that the odds were stacked against us in the second-leg at Stade Saint Symphorien but goals from Trevor Sinclair and Frank Lampard put us ahead and, although the French equalised on the night, Paulo Wanchope gave us an aggregate 3-2 victory. For me, it was brilliant to finally win a trophy!
It also meant qualification for the UEFA Cup and we went on to beat NK Osijek (Croatia) before losing to Steaua Bucharest (Romania) in the second round. We ended up finishing the 1999/2000 season on 14 May – a 53-game, 302-day campaign – but it was a great achievement to have finally played in Europe.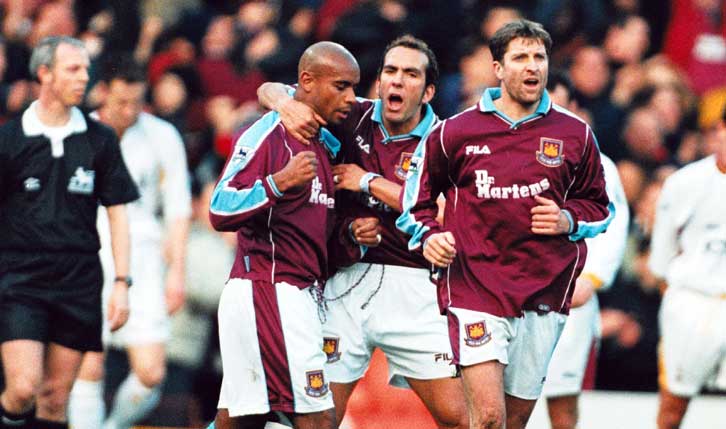 BANTAMS BARNSTORMER
I could write book about the events of 12 February 2000.
Where do I start? Shaka Hislop  broke his leg after just two minutes, leaving Stephen Bywater to make his debut against a Bradford City team fighting for Premier League survival. Our 18-year-old 'keeper found it hard to settle as Dean Windass put the visitors ahead.
Trevor Sinclair equalised and I thought I'd given us a half-time lead, when I sent a left-footer flying in-off the post. Off-balance, technically, it was one of the best I'd scored and I enjoyed celebrating my first goal for two years. With play restarted, I ran back into our area, wrestling with my shirt because the sleeve was inside-out.
Seeing that I was still untangling my arms, Dean Saunders cleverly nicked a soft penalty off me, leaving Peter Beagrie to equalise and Harry to do his nut at the break. Jamie Lawrence then scored twice to put City 4-2 up and, having already had two penalty shouts turned away, Paolo Di Canio went ballistic when his third appeal was rejected, too. Wagging his finger and making a sit-down protest, he then stormed towards the dug-out, demanding to be substituted but Harry sent him back on.
Paul Kitson eventually won a penalty but as Frank Lampard picked up the ball, Paolo started wrestling him for it. There was only going to be one winner there. Thankfully, the hot-headed Italian kept his cool to score and, after Joe Cole equalised, Frank did get his goal to give us a 5-4 win and bring the curtain down on the maddest game…ever!