One half of the strike partnership which fired West Ham United to a record third-place First Division finish in 1985/86, previously unheralded Scottish centre-forward Frank McAvennie scored 60 goals across two memorable spells in Claret and Blue. On the day he celebrates his 63rd birthday, the fast-talking striker recalls his favourite moments in a Hammers shirt...
OFF THE MARK
My first game for West Ham United was at Birmingham City on Saturday 17 August 1985.
Paul Goddard got injured in that game and I got moved up front for the home game against Queens Park Rangers on the Tuesday night.
I made a name for myself by knocking their big centre-half Alan McDonald into the Chicken Run because he was bullying Tony Cottee. I can remember they were all pulling his long hair in there because it was so close to the pitch! I shouldn't laugh, but he saw the funny side of it as well.
I scored twice that night and I can remember my first goal, as their 'keeper came out and I flicked it over him. It was quite funny hearing the fans trying to sing my name after I'd scored because they couldn't pronounce it!
That was my first home game and it was under the lights at Upton Park and there's not an atmosphere like it. I loved every game there but, when they were under the lights, it was very, very special.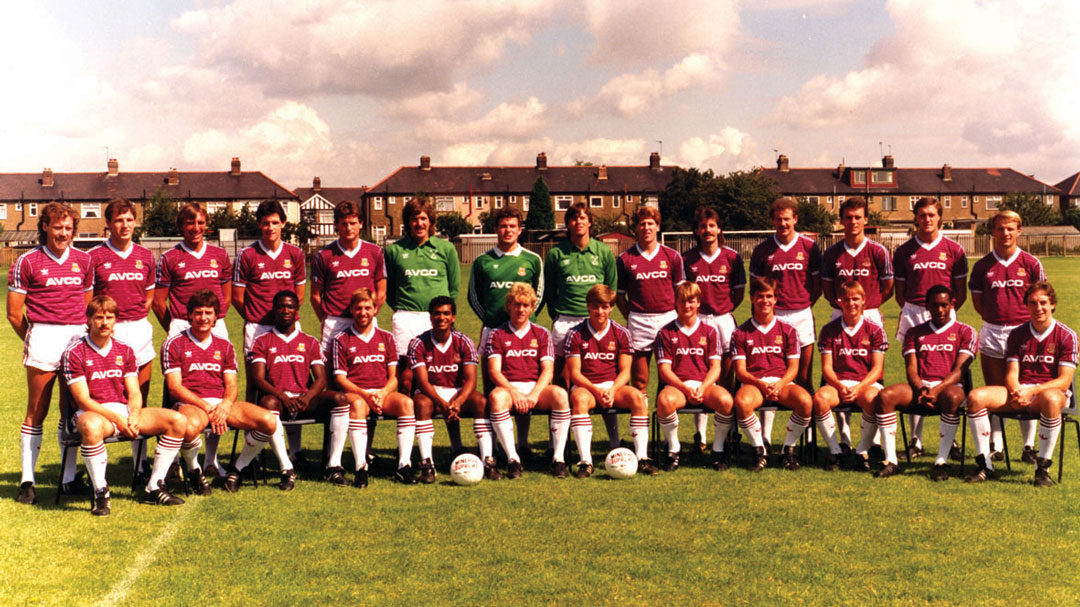 BEATING THE BLUES
Unlike now, it was all about strike partnerships back in the mid-1980s. You had myself and Tony, David Speedie and Kerry Dixon at Chelsea, Gary Lineker and Graeme Sharp at Everton and Ian Rush and Kenny Dalglish at Liverpool.
We went to Chelsea in April 1986 and I don't think I've ever enjoyed myself so much on a football pitch as I did that season. Every game, I knew either myself or Tony - or even both of us - was going to score.
We went there and everyone was talking about them being the Kings of London and all that nonsense, but we absolutely battered them.
My biggest memory of that game was realising how good Alan Devonshire was. The pitch was basically mud and when we came off at half-time he only had a couple of splashes on him, whereas I was covered in the stuff. The balance of the man was unbelievable, as he couldn't even wear metal studs because he had something wrong with his feet.
He scored an unbelievable goal, then he was running by people when they were trying to scythe him down. It was fantastic to watch.
Every one of our four goals that night was brilliant. I'll never forget them to this day. I got my volley near the end when Tony sliced his shot, even though he swears he was passing to me!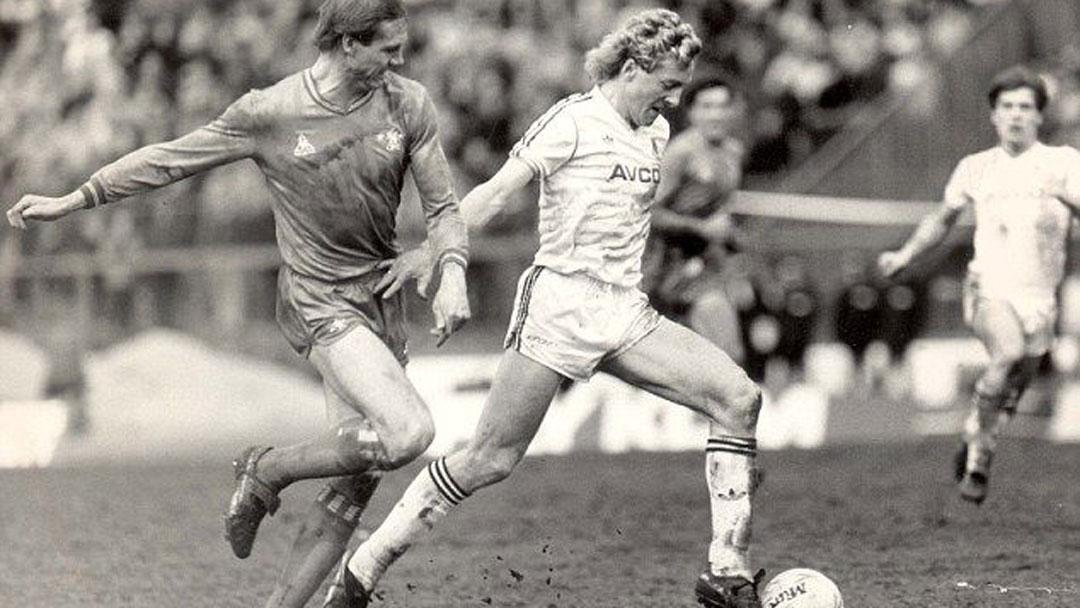 TOP OF THE LEAGUE
The season after we finished third, it didn't go so well. We didn't win enough games after Christmas and ended up finishing well down the table.
Initially, we had started well and got ourselves top of the league when we won 3-2 at Manchester United in our second match in August 1986.
For my first goal, I remember I thought I was offside, but I wasn't so I went on and prodded the ball under the 'keeper to put us ahead.
Alan Devonshire put us two-nil up with a superb bit of control on his chest and a lobbed finish, then they pulled it back to two-each.
Then Wardy got the ball out wide on the right and beat his man with one touch, like he always did, then he pinged a ball into the middle and I got between two defenders and headed it over the goalkeeper.
We didn't fire on all cylinders that season, as it was such a come down having not won the league the previous season, but we could still produce it on our day.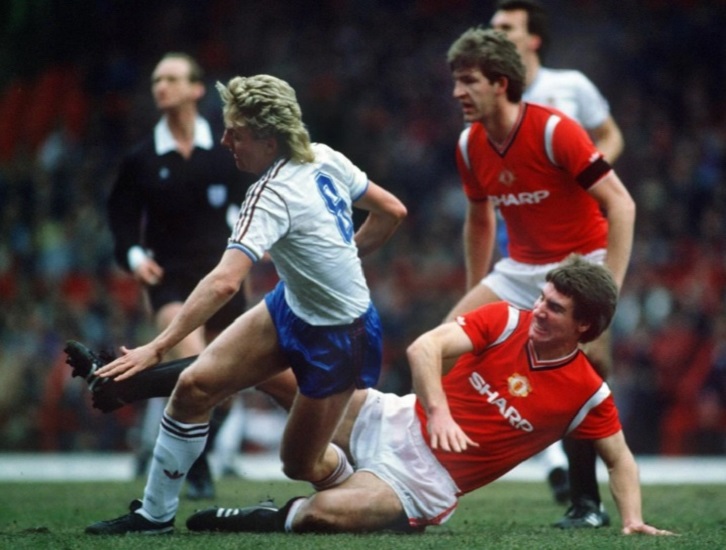 TAMING THE LIONS
I came back from Celtic in March 1989 and I got injured in the first game of the following season, when I suffered a broken leg in a Division Two fixture at Stoke City in August 1989.
To be honest, I wasn't right when I came back from my injury at the end of March 1990. I was taking money under false pretences, to be honest with you, but sometimes I was still able to show my best.
We had been relegated in 1989, too, and missed out on going back up at the first time of asking. However, we were in better shape in 1990/91 and we were top of the Division Two table when we faced Millwall in February 1991. I remember the game was played on a Sunday and it was live on TV.
I put us in front with a header from Ian Bishop's cross, then they equalised with a shot into the bottom corner which gave Ludo no chance.
We got the winner in the second half, though. I started the move and then got into the box. Their goalkeeper saved the shot from Martin Allen, but the ball got loose and I managed to spin and stick it in.
I loved scoring against Millwall - that was good fun!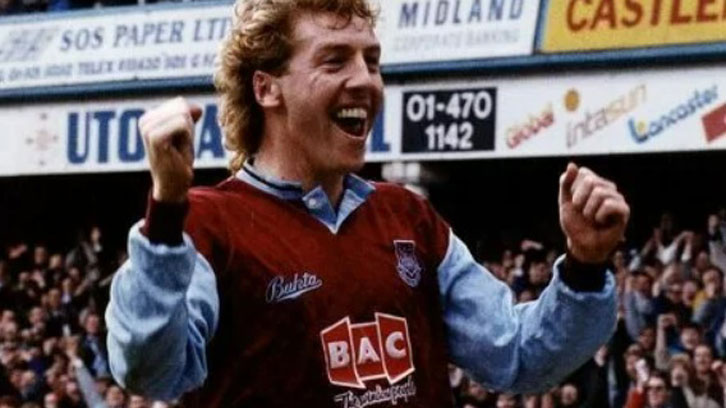 SIGNING OFF IN STYLE
My 190th and final game for the Club was against Nottingham Forest in May 1992, when I came off the bench and scored a hat-trick in a 3-0 win.
We'd already been relegated from the First Division and I'd only started 16 league games. I was a substitute for this game, too, but I've got to thank Mitchell Thomas for faking a hamstring injury and getting me on at half-time!
There were only two subs, myself and Kenny Brown, and Mitchell let me on to say my farewells.
It was funny, because I was standing in the tunnel with England defender Des Walker and Nigel Clough at half-time and I was really psyched up for the second half. Des was going to the Italian club Bari that summer and I said to him 'Two million quid for you?!' and gave him proper dog's abuse!
Nigel had played a couple of good games at centre-half and people were saying he was the 'New Bobby Moore' so I let the two of them have it before we went on to the pitch.
I said I was going to tear them apart and left them in no doubt what I was going to do them, which wasn't very polite, but then I went out and did it!