Etched into Hammers folklore after scoring just seven minutes into his debut as a 17-year-old against Crystal Palace in October 1971, Ade Coker, who turns 68 on 19 May, went on to make eleven appearances down West Ham way before enjoying a fine footballing career in the United States...
LAGOS TO LONDON
Born in Lagos, Nigeria, I came to England to stay with my Dad in 1965, when I was eleven.
We lived in Battersea, about 15 minutes from Stamford Bridge, but I'd heard that Chelsea's training methods wouldn't suit my style so I ended up having schoolboy spells with neighbouring Fulham, plus Queens Park Rangers and Tottenham Hotspur, where Bill Nicholson was manager.
In those days, you could go and train with all the teams but, as soon as I walked into West Ham United, I knew that I was entering a totally different world.
Everything was so much better than I'd experienced anywhere else and the quality and technical abilities of the coaching staff – 'Sir' Ron Greenwood, 'Sir' John Lyall and Bill Lansdowne – was different class.
'I'm up for this,' I said to myself, 'This football club's for me!'. I looked around the Chadwell Heath training ground and had to pinch myself – there were some amazing names at that place and it was an incredible feeling to be in the presence of so many footballing heroes.
How could I not give it a go surrounded by those players?
These days, youngsters find themselves being brought up in Academies, spending a few seasons playing against similar age groups. Sure, in the 1960s and 1970s you'd still start out in those South East Counties Leagues but then you'd move up into the reserves and face bigger, older players in the Football Combination.
Playing against the likes of Spurs and Chelsea, you certainly had to to prove yourself in those reserve matches and it was amazing to suddenly find myself totally accelerated into the first-team…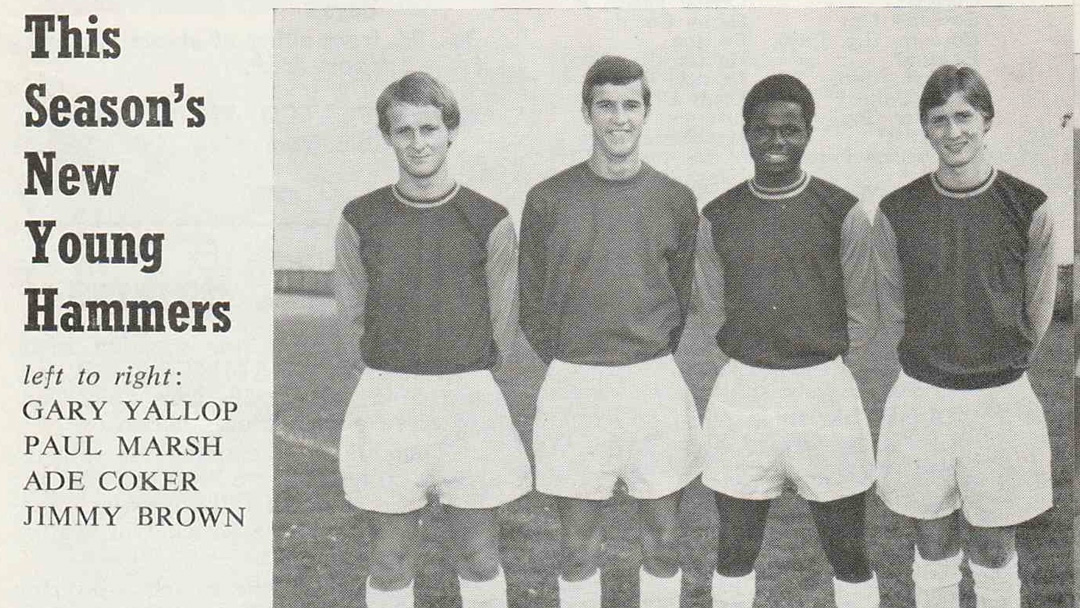 PALACE HONOURS
Nearly half-a-century on, Saturday 30 October 1971 remains a day that is impossible to imagine no matter how good your imagination is!
I was just happy to be in the squad for West Ham's match at Crystal Palace. Geoff Hurst was carrying a knock but I was just a 17-year-old kid – an understudy – and never knew the extent of his hamstring injury.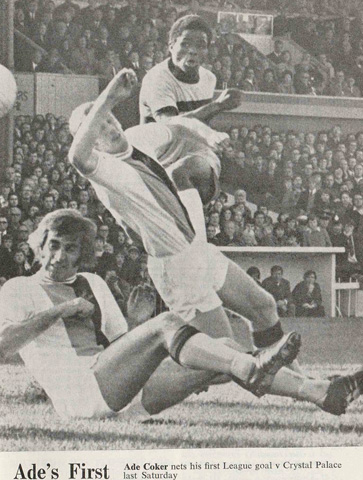 Around 2.30pm, though, Ron Greenwood told me that I was making my Hammers debut in half-an-hour!
Ron never gave the kids too much warning because he didn't want them to have sleepless nights thinking about the following day's match. The manager's motto was: 'Throw them into the water and they'll swim.'
The cameras from ITV's The Big Match were at Selhurst Park, too, so it was easily going to be the biggest match of my life. And after just seven minutes, when Billy Bonds challenged for Harry Redknapp's corner into the goalmouth, the ball was half-cleared to me and I instinctively hit a ten-yard volley into the Palace net.
Oh Lord, unless you've lived that moment then you can't even begin to feel what it's like to be a teenager scoring on your debut!
The great 'Bonzo' was involved in everything that day – he doubled our lead with a header and set up Clyde Best to make it 3-0. As I said in Tim Crane's book 'They Played with Billy Bonds', the art of winning is not for clowns and Bonzo made us all realise that we were at West Ham for a reason – to win as many matches as we could. Without doubt, that was the greatest occasion of my life in football.

THE BRILLIANT BOLEYN
With Geoff Hurst returning to fitness, I'd only managed to play two more matches during 1971/72 but, on Easter Saturday, I got another first-team chance.
This time we were at home against Tottenham Hotspur. Once again, 'Sir' Bobby Moore was captain, while we also had the likes of Bryan 'Pop' Robson, Billy Bonds, Trevor Brooking, John McDowell and Tommy Taylor plus Clyde Best and Clive Charles, meaning we became the first English top-flight team to field three black players in the same side.
Trevor gave us a half-time lead following a typically brilliant solo run. I'd always dreamed about scoring a goal at the famous Boleyn Ground and, moving into injury time, I finally got my chance, when my good friend Kevin Lock played a one-two with Trevor before sending a low cross into the Spurs box, where I put the ball past the great Pat Jennings to make it 2-0 with virtually the last kick of an exciting London derby.
Then, at the start of 1972/73 – a season when we would finish sixth – I got a second Upton Park goal. This time, we were playing Leicester City in another thrilling game.
Twice we'd fallen behind and but, trailing 1-2 after half-an-hour, I headed past the great Peter Shilton to pull us level at 2-2. Then, in the second half, 'Pop', Dudley Tyler and Clyde made it 5-2.
Every time I got a goal for West Ham I always asked myself: 'Who scored that? Me? Or the crowd?' The Hammers fans did so much to give us their support and, as West Ham players, we did it for every single one of them. No matter how tired you felt, the supporters lifted you and found an extra 30 yards for their team.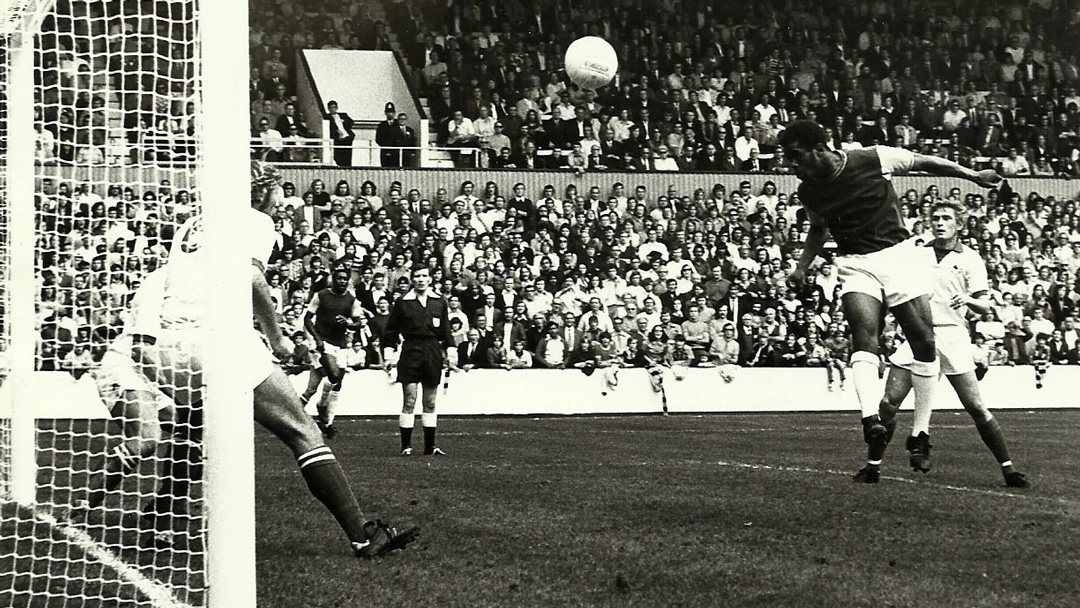 FOREVER MOORE
When I'd finished celebrating scoring that opening goal on my debut at Selhurst Park in 1971/72, 'Sir' Bobby Moore had jogged up towards me on the half-way line, shook my hand and smiled: 'Well done, Ade, you deserve that.' Imagine hearing that coming from your idol!
'Thank you for putting your faith in me, today,' I'd replied. 'Sir' Bobby was the leader of our team and I always use him as the greatest example of any footballer you could ever have wished to meet. If players didn't want to listen to Ron Greenwood, then Bobby was our captain, who made sure that everyone fell into line.
Alongside Geoff Hurst and Martin Peters, 'Sir' Bobby was rightly revered as one of England's 1966 World Cup-winning heroes and they created a long-lasting legacy that's still remembered after all these years.
We were both on the scoresheet in that 5-2 win over Leicester City in 1972/73 and, ironically, my last-ever game for the Hammers was against Hereford United (1-1) in the FA Cup third round on 5 January 1974 was Bobby's final game for West Ham United, too.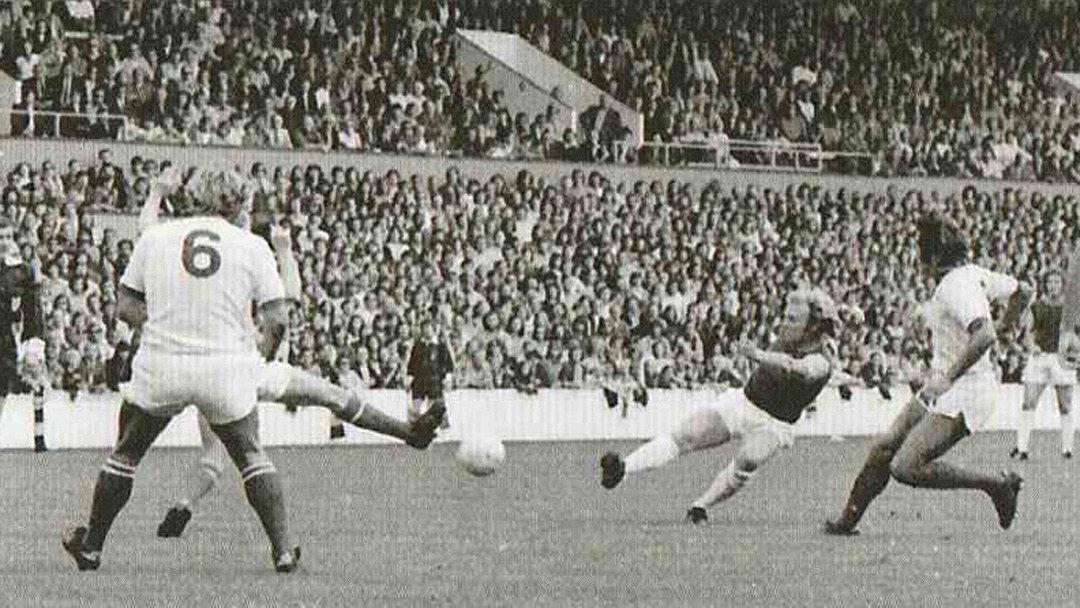 Looking back, I was so fortunate just to be training with those World Cup winners every single day of my young life, admiring the fact that they were playing at the peak of their game and to their full potential.
Remember, six years earlier, I'd been in Nigeria but now suddenly I'd found myself in England playing football in the top-flight for West Ham United with the likes of Bobby Moore and Geoff Hurst as my team-mates. It was amazing and I still ask myself: 'How many people ever manage to achieve that?'.
BACK IN THE USA
By 1973/74, Ron Greenwood had started buying players such as Ted MacDougall and Bobby Gould and with 'Pop' Robson well-established, I thought: 'If West Ham are paying money for strikers then, as a youngster, I've got no chance here.'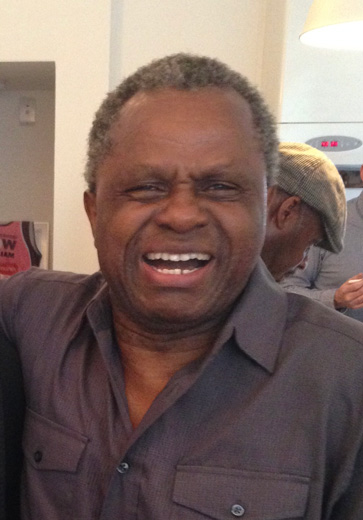 I came close to joining a Spanish club and perhaps I could've been another Laurie Cunningham, who went from the East End to Real Madrid? But they never told you much in terms of which clubs were interested and there were no agents in those days either.
It was a totally different world and when I got the opportunity to come out here to America, I had to ask my brother what he thought I should do?
We decided there was no decision to be made and upon moving to the USA, I enjoyed a whole new experience playing for the likes of Boston Minutemen, Minnesota Kicks, San Diego Sockers, New York Arrows, Baltimore Blast and St Louis Steamers both in North American Soccer League and the Major Indoor Soccer League over some 15 years.
Celebrating my 68th birthday, I'm based in Washington but my heart's still firmly in England. I loved playing at the Boleyn Ground and it was a tremendous privilege to return and meet so many old friends in that unforgettable, last-ever match against Manchester United (3-2) in 2016.
I forever look back on my amazing time at West Ham United. Oh God, it's unbelievable that I ever got the chance to play for that Football Club – alongside my son and daughter, I still sing 'I'm Forever Blowing Bubbles.' It's infused in me.