David Moyes has experienced plenty of frustration in his 40-plus year career as a player and manager, but few moments would have left the Scot feeling less frustrated than the decision to rule out Maxwel Cornet's last-minute equaliser in Saturday's 2-1 Premier League defeat at Chelsea.
The Hammers had defended superbly and snatched the lead through Michail Antonio's close-range strike midway through the second half, then relinquished it to goals from Chelsea substitutes Ben Chilwell and Kai Havertz.
In between, West Ham substitute Cornet had hit a post with a header, then the Ivorian smashed a shot high into the net after Édouard Mendy had spilled the ball into his path, only for the goal to be ruled out by referee Andy Madley on review, the official deeming Jarrod Bowen to have fouled the Blues goalkeeper by catching him his leg as he tried to hurdle the Senegalese stopper.
Moyes remonstrated with Madley at full-time, and was still struggling to come to terms with the decision – made after VAR Jarred Gillett had called the referee to the pitchside screen – when he spoke to West Ham TV nearly an hour after the final whistle.
It was a scandalous decision today and I have spoken about it probably three or four times already before I have come to you and I just feel as if there's not much more to say but that it's a scandalous decision.
It was never, never, never anything. The goalkeeper spills it and it comes too far off him for him to recover it and I think he fakes an injury, a shoulder injury.
Jarrod straddles him, like jumps over him, and his trailing foot is there, but the goalkeeper could never get the ball as he's pushed it too far away.
The referee made the correct decision so I don't know who did VAR today, but to send the referee to to have a look at that I think was a terrible call which put the referee under pressure.
And then I thought, well there's no way the referee when he has seen this he will definitely say 'this is fine', but he didn't and he chalked the goal off.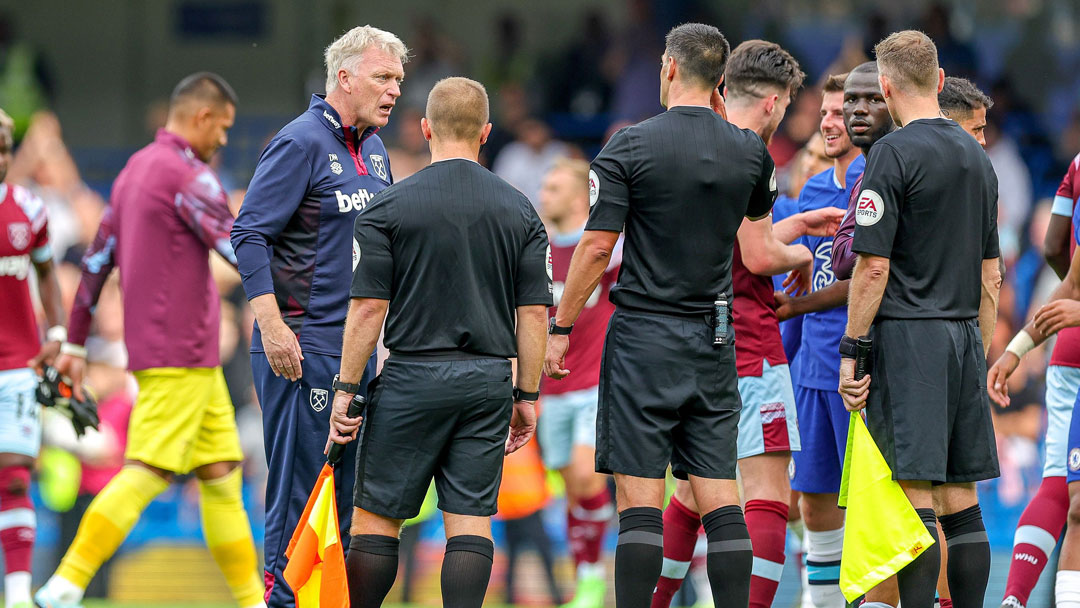 I think the referee's remit this year was not to give soft fouls.
To be fair the goalkeeper for Chelsea tried to do the same for the first goal, tried to say he was fouled for the first goal as well.
I just can't see for the life of me how he could chalk the second goal off because I see very little. There's a bit of a coming together, but there's very little.
The goalkeeper actually made a goalkeeping mistake to spill it. It should have probably have come into his hands and he should have held it and he didn't hold it and because of that it gave us the opportunity to capitalise on it.
We're maybe not at our fluent best yet, but we're showing sort of what we had last year which was resilience and a bit of toughness and maybe coming away to some of the teams we're going to have to be tough to beat.
It's hard to take. We lost here last year in the 93rd minute it's very hard to take. We lost the second goal in the 90th minute today then we also got a goal chalked off just after it, so it's tough to take.
The boys are on it and realising there's signs that a lot of things have been better.
But sometimes in football, you need things to go for you and maybe we've had some things go for us in some of the decisions but I think at the moment it is going against and certainly the one today was really poor.