Few teams stop Pep Guardiola's Manchester City from winning games of football in the Premier League.
Scarcer yet are the sides to have held a two-goal lead against the current league leaders – just five now, in fact, in the Spaniard's six-year reign – after West Ham United's players  executed manager David Moyes' counter-attacking gameplan to a tee in the first half.
On an already-special day for the Club, Jarrod Bowen's first-half brace – the No20 scoring his eleventh and 12th goals of the Premier League campaign, the first Hammer to reach that total since Marlon Harewood 16 years ago – looked like it would provide the most spectacular of finishes to an impressive season of unforgettable London Stadium engagements.
Mark Noble's final home match of an 18-year career in Claret and Blue looked on course for a fairytale finish, but in the end, league leaders City's admittedly undeniable quality and dominance in possession told, as they clawed the game back to a 2-2 draw through a deflected Jack Grealish strike and Vladimír Coufal own-goal.
Nevertheless, the performance from the Hammers – much like the showings of the captain over the last two decades – was admirable and, like so many at London Stadium this season, to be applauded, as Moyes highlighted to West Ham TV.

I thought 'my goodness, City have had so much of the ball'.
We couldn't get the ball off them and I was saying: 'How are we going to wrestle this game back?'.
Even at 2-0 up – even if we'd have been 4-0 up – I think I'd still have been thinking that Man City could come back, because they're that good a team.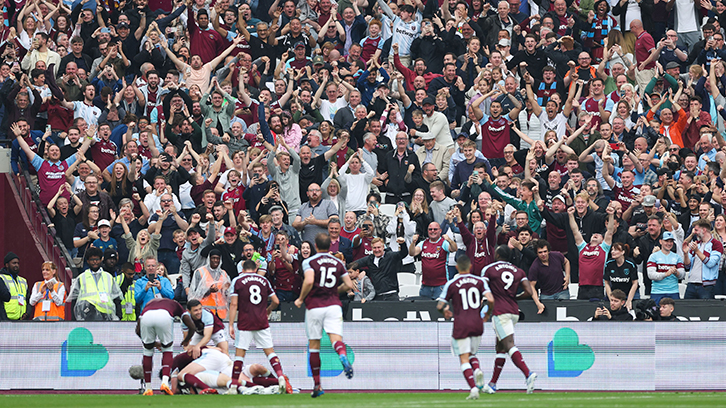 To go 2-0 up against Man City, not many teams do that.
We knew that if we could get the ball in behind them and let Mick [Antonio] and Jarrod have a run, we might be okay.
It was just that we couldn't get enough of the ball to secure that and even in the areas we needed to make the passes, we couldn't get the ball into the areas we needed to make the passes in the first place.
 
I've got to say Man City were so, so good today, but to take a 2-0 lead was big for us at the time.
They've scored five against some teams, they've scored four against some teams, so you know it was never going to be easy.
I didn't want to turn up here and let them come in and score four or five. They could have, but I've also got to say we could have as well. 
We had a few chances and maybe had the chance to get a third goal, which we'd have needed, but overall, it was a monumental performance from the players to get us a point – and an important point.
 
I think Jarrod's beginning to show a level of maturity which has gone up again.
The way he finished the goals… he had another chance which got blocked which could have been a third goal. 
He's beginning to get himself in a position where he's beginning to score much more goals and he's looking like a goalscorer for the team now, and someone we can go to, so I think his performances have improved again in the last month or so, and I'm really pleased for him.
Hopefully what he's doing will lead to an England call-up.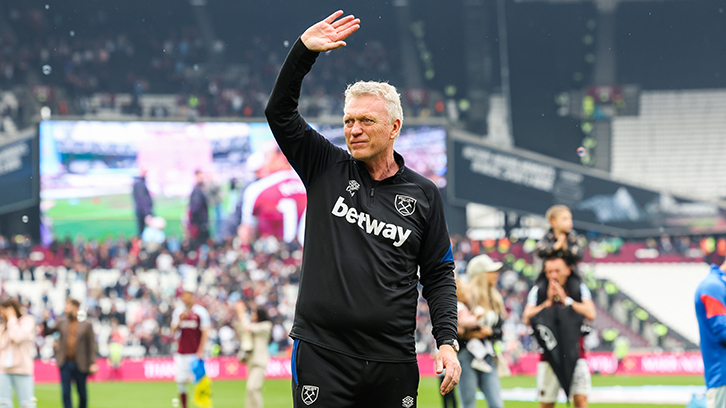 I was gutted when the referee went over and awarded Manchester City a penalty after a VAR review, because as we know, it's never getting turned down, really.
But I think the big thing for me was that Łukasz Fabiański made a brilliant save on a day that was important for the Club and for the team, for lots of reasons: a point to be in Europe, for Mark Noble, you name it.
It was a great and Łukasz has played really, really well this season, so I'd have to say "well done" to him for a brilliant save and a really important save.
 
It's hard for me to think about qualifying for Europe two years in a row, because I'm still disappointed about not being able to hang in and try and get fourth if we could. 
In the main, if we could finish sixth, that would be an incredible achievement. Seventh already is, but being sixth would be so good if we can do that, and try and make it happen. Hopefully next week we will. 
We're going to try and go for it. 
When we finished sixth last season we celebrated greatly because of it, but the thought of us finishing in Europe again, we'd have taken that all day long. 
It's been a good year and the players have done a great job. We've had much more games and gone further in the cup competitions than we have for a while. 
We have to try and build on it now. We have to try and get it better and we have to feel like we can do it again more often.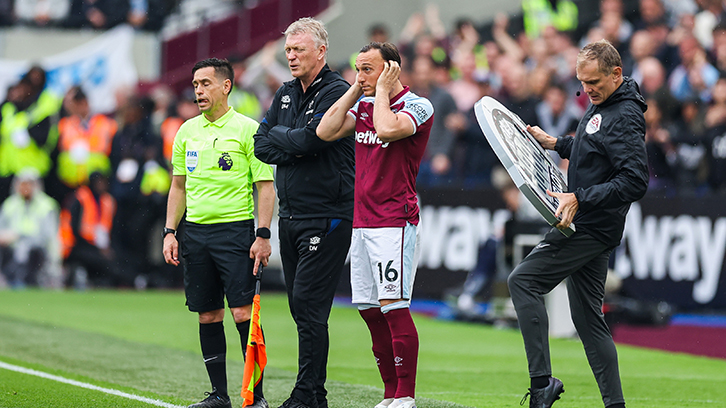 Mark Noble is such a huge character. 
He's a huge personality and man around the Club. He takes responsibility. 
I brought him on today, but it was nothing to do with sentiment. It was because he played so well against Arsenal and against Chelsea. He did so well against Norwich City last week. 
The biggest compliment I can give him is, to the last day, he has never switched off. He could have said 'I'm coming to the end now' but he kept it going right to the last minute.