Almost 30 years after signing for his local boyhood Club for the first time, Mark Robson has returned to West Ham United as the Academy of Football's Senior PDP Coach/U23s Lead Coach.
The Upton Park-born former midfielder - who in 1992/93 played 44 of a possible 46 league games in Claret and Blue, scoring eight goals as his team won promotion - will now work closely alongside David Moyes' first-team set-up and assistant U23s coach and former team-mate Steve Potts in guiding West Ham's young professionals towards attaining their own aspirations in the game.
The former Hammers midfielder joins from Championship side Peterborough United, where he had served as assistant manager since August 2020, and has previously worked in development football with the Football Association and as U23s head coach at Norwich City and Charlton Athletic.
Speaking to West Ham TV ahead of his first game in charge of West Ham's U23s - a second-against-third encounter against Manchester City in Premier League 2 on Saturday - Robson reflected on his return home and how he hopes to help the Club's stars of tomorrow to progress...
 
Mark, welcome back to West Ham United! How does it feel to be back here in East London again?
It's great! I was really pleased that I got the opportunity to come back and work with the younger players at West Ham, who are hopefully going to progress into the first team one day. 
I'm really proud and privileged to be here, and I'm looking forward to the job in hand.
 
It's a Club you obviously know a lot about. What does it mean for you personally, as a West Ham local and former player, to be working at the Academy of Football?
I'm really pleased - I'm back home. I've been doing a lot of travelling recently, so it's nice. I'm 15 minutes around the corner as well, which is a double bonus! 
Just to be back at a Club that I supported as a kid – I stood on the North Bank and played for them – and to be a part of what's going on here at the moment as well… I'm honoured to be here.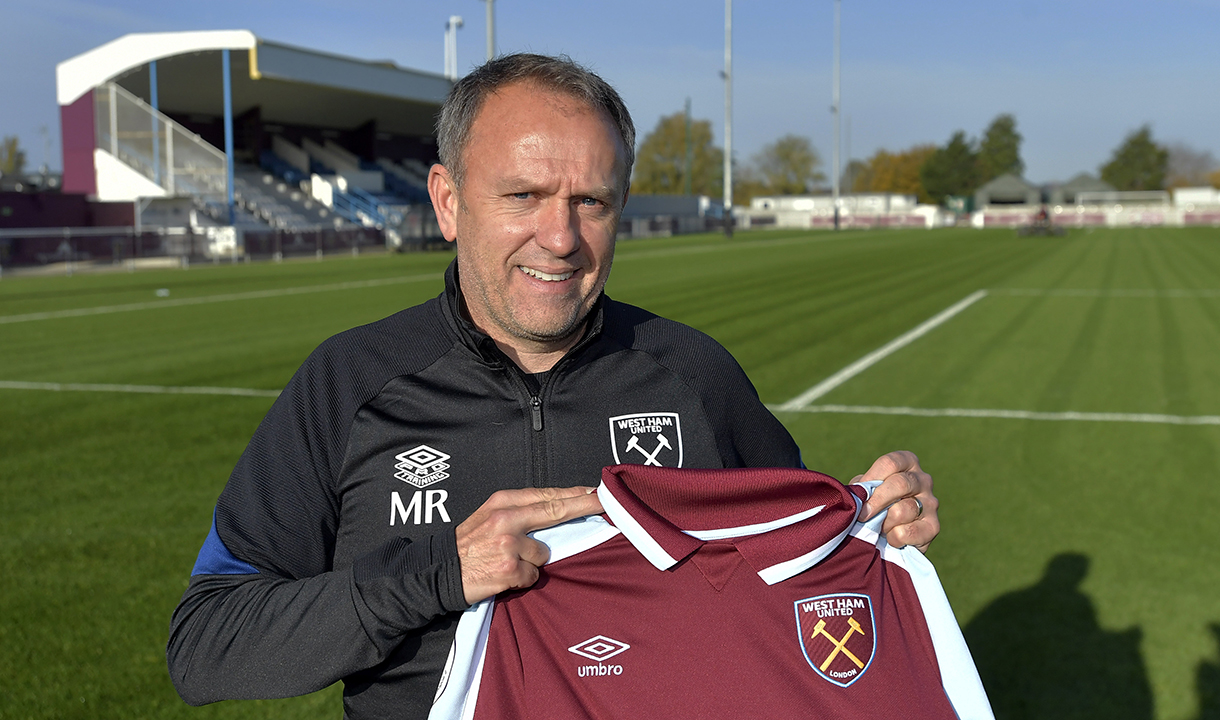 What will you hope to bring to the role of Academy of Football's Senior PDP Coach and U23s Lead Coach?
I think my experience. I've been fortunate to have already worked with youth teams and worked with reserve teams – U21s and U23s – and I've worked with first teams. 
I've obviously worked with a lot of younger players who have developed at clubs and gone onto bigger and better things, and of course I had some time with England and the FA. I was there for nearly five years, working with the U19s/U20s group for that duration, and saw a lot of success at that time. 
Understanding the qualities that the players need to play at the top level, hopefully I can bring that experience of working with that type of player to say "that's what you need to play in the Premier League." Fingers crossed that will be the case.
 
What, in your opinion, does success look like to somebody in your role?
Getting a player into the first team, who stays in the first team and becomes a Mark Noble or a Declan Rice… that's success.
Of course, I think it's important that the boys understand about winning as well – they're doing that at the moment. They're doing exceptionally well in Premier League 2 and hopefully we can continue that. 
I think that success breeds success. When you're winning and people are looking at you, saying: "What are they doing there? They must be doing well." I think that gives players a bigger opportunity to go through the pathway at a Football Club. 
 
You've obviously only had a couple of days' training with the group so far, but what have your early impressions been of the set-up at the Academy, and of this group of players?
Firstly, it's a great bunch of staff I've come into. I knew a few of them already: [Steve] Pottsy, [Academy Manager] Ricky Martin, [U18s lead coach] Kevin Keen… I saw Paul Heffer yesterday at the Academy, and there's Mark [Phillips], Gerard [Prenderville]… I know most of them! It's been good because it's been easy to settle fairly quickly.
Of course, the players have been really good. In my first two days' training, they've shown me some of their qualities. We've had one or two back from international duty and so there's even more quality coming in. 
My first impressions are that it's quite exciting, really. We've got some real talent to work with, and hopefully we can help them progress and enhance their skill levels, their technical levels and their tactical levels, so that we can push them through to the first team. 
I was very fortunate to meet the first-team staff on Monday as well, which was fantastic. They're really open, which is great. They knew so much about the players, which is great for me – they've really got an insight into them – so there are loads of positives and I'm looking forward to seeing where we go with these players. 
How will you set about taking on the challenge of developing those players?
I try and find some strengths that I can make even stronger, and maybe we've got a few weaknesses, so I'm asking what we can do to make them better. That's the ultimate goal: to try and make everybody as good as they possibly can be. 
Hopefully, that's playing for West Ham, but if not, it's so that they can have careers in the game – if not here, somewhere in the leagues below maybe. That's always going to be the challenge and it's one I'm really looking forward to.
 
We've seen a real desire to stretch and challenge players here, be that playing them up age groups or sending them out on loan – how does that align with your own development philosophy?
Watching one or two players, Ben Johnson's been doing great at the moment with the first team. He's done exceptionally well, in my opinion – he's done brilliantly. For the other lads in the Academy, they must see that as a real positive.
Dan Chesters came off the bench recently [against KRC Genk], only for a small period of time, but they're all getting opportunities in and around the first team at the moment because they're obviously showing they're capable.
We want that to continue. We've got three U18s who are playing regularly in the U23s, firstly because they're ready, but secondly because they're capable, and I think that's healthy. If we can keep doing that, I think that'll be very good.
I know there are one or two boys who are out on loan – obviously Conor [Coventry] has gone to Peterborough, and that experience for him is probably the experience he needs right now – so I think it'll be a continuation of what's been going on.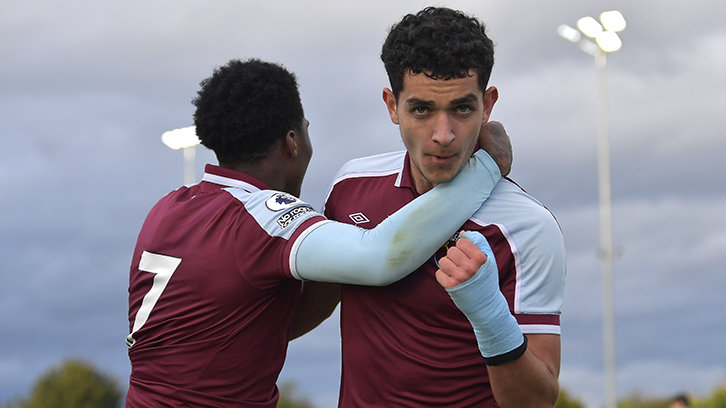 Your move also sees you reunited with U23s assistant coach Steve Potts, a former teammate of yours – how much are you looking forward to working with him again?
I've obviously known Steve for a long time, so it's nice to be working with someone you know. 
He's a great guy, Steve. He was a fantastic footballer when I played with him. I'm sure the young lads have learned so much from him, and I'm looking forward to learning from him as well. He's obviously been coaching for a long time now and hopefully I can give him something back as well. 
I'm really looking forward to it and hopefully we can really gel. We have done the first few days, and long may it continue.
 
We now have a number of former West Ham players coaching in the Academy set-up. How much does having that experience help in instilling the values of this Club?
I think everybody talks about the Academy, and has done for years, as a footballing Academy. 
There is a way of playing that the fans like. There's a certain style: they want you to pass the ball, they want you to play, they want you to be clever and bright – and I think that's what we want to keep trying to do. We want to keep trying to entertain, but in the right way.
It's about winning, but from our point of view it's also about developing, and if we can make our players tactically better and technically better, happy days. That will be the philosophy going forward.