It was a bittersweet feeling for Lisa Evans after West Ham United Women's 2-2 draw against Reading on Sunday afternoon. 
The Scotland international had returned to the starting XI against the Royals, her first start in Claret & Blue since the draw with Aston Villa in early September. 
Evans was lively throughout the game and got her just rewarded when she found the back of the net with a header after 20 minutes - her first in Claret & Blue since arriving on loan from Arsenal this summer. 
The Hammers would eventually give up a two-goal lead, with Emma Harries stabbing the ball over the line with only minutes remaining in the contest – which left Evans and the team deflated at the full-time whistle. 
"We're all gutted," Evans told West Ham TV.  "We dominated the first half and I thought [our play] was absolutely class, and we just couldn't get the third goal. 
"We dropped off towards the end and I don't feel like we managed the game well – and in the end we've conceded two preventable goals. At the end of the day, that's football and we're lucky now that we've got a game on Wednesday to look forward to."
It's not the first time that the Hammers have conceded late on in a game that they deserved to win. Against Aston Villa earlier on in the season, Harder's side look destined to pick up their first three points of the season, but Remi Allen headed in late on to share the spoils on that day. 
"I think we were even more dominant today compared with the game against Aston Villa. In the first half, some of our play was scintillating at times, playing with one and two touches. It was a really enjoyable game to play in, but it's really disappointing that we couldn't get the third goal."
The 29-year-old was deployed in a different role to what she has been used to under Olli Harder, playing just behind Claudia Walker in attack. The pair linked up well during the match, with Evans able to use her pace in behind the Royals back-line to good effect. 
Her goal came after some good build-up play, with Kateřina Svitková finding the head of the Hammers No.7, who headed beyond Grace Moloney in emphatic style.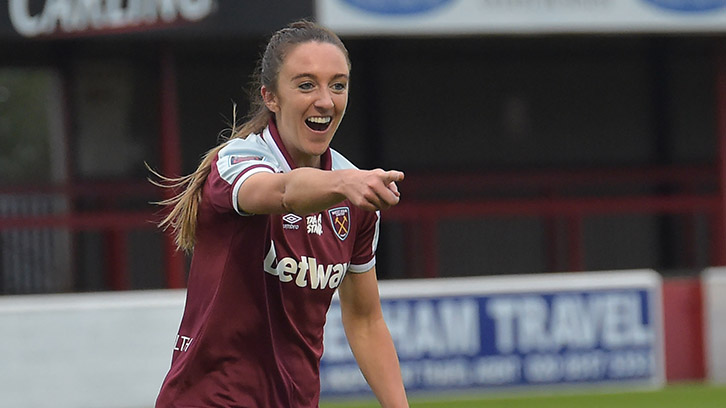 "Yeah, I'm buzzing to get off the mark, especially with a header – I don't score those very often. At the end of the day though I would have preferred to have the three points. 
"I played in a different role today which I haven't done for a while, and I really enjoyed it. Claudia [Walker] made it really easy for me and I think it worked really well. We knew going into the game that there would be space in behind Reading that we needed to exploit and I think we did that well today." 
Evans has had to wait a long time to make her full comeback from an injury that she sustained on international duty back in October. She was ineligible last weekend as the Hammers lost to her parent club, Arsenal, but was delighted to be back out on the pitch. 
"It feels like so long ago since I've played – I came on against London City Lionesses for 20 minutes, but I haven't played here since we played against Villa. It's really enjoyable to be back out there and to help the team," Evans smiled.

The Hammers will now look to put this painful ending behind them, as they travel to Birmingham City for the second match of the Conti Cup Group Stage. 
And Evans hopes that the team can make amends for the draw that took place last month between the two teams. 
"That's the game we need to get three points in and also we want to make amends for the League game which we played here against Birmingham. Obviously, we were disappointed to concede the equaliser in that game as well, and we hope that it's a pattern that we can shift. 
"Like I said, it's good to have another game and we're looking forward to getting back out there."